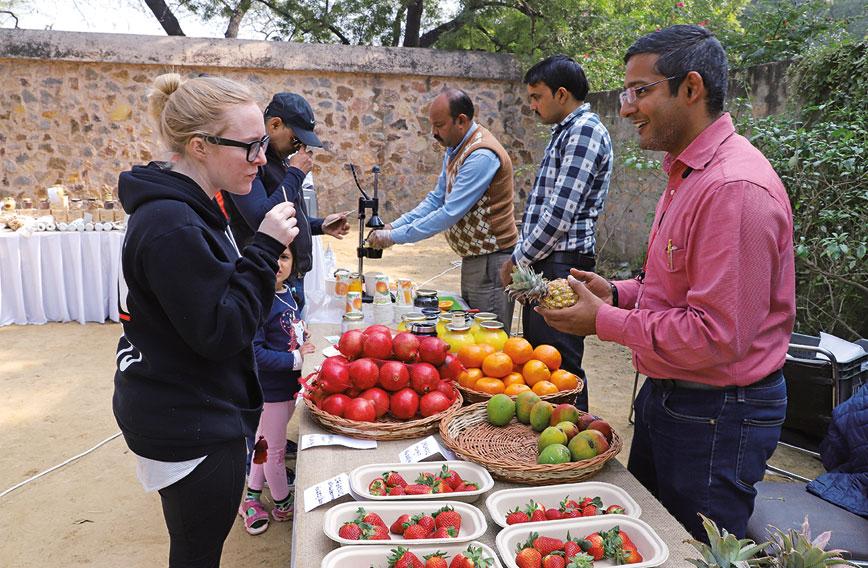 Fresh fruits and vegetables come from organic farms in and around Delhi | Photograph by Shrey Gupta
A nursery for a Sunday bazaar
Rwit Ghosh, New Delhi
Published: May. 18, 2019
Updated: Jan. 30, 2020
When Arjun Sahani, a mountaineer, found farmers growing crops organically in the upper reaches of Himachal Pradesh, he started a company called Nature's Soul with the idea of selling their produce in cities. It didn't work out quite as he had envisioned and he took to outsourcing organic agriculture to farmers on the outskirts of Delhi.
Sahani now has a shop for organic products in Defence Colony's tony C Block Market, but even so the logistics of reaching customers is daunting for growers, particularly for those with less money and social heft than him.
For the past several Sundays, however, small growers have gained access to the salubrious environs of Sunder Nursery, where the Earth Collective, encouraged by the Aga Khan Trust for Culture (AKTC) organises a market to bring buyers and sellers together.
Started in 2016 by Meenu Nageshwaran, a vegan chef, the Earth Collective has only recently moved to Sunder Nursery.
With a flowing scarf wrapped around her and a mug of tea in her hand, Nageshwaran says, "I used to wish that organic farmers would find a place to sell their produce. It's funny how I ended up creating that platform."
The market offers a variety of products — fresh fruits, vegetables, pickles, pashmina shawls and more. There are live cooking stations that rustle up vegan meals.
Prior to the formation of the Earth Collective, organic farmers in the Delhi-NCR region would sell their produce at melas or pop-up markets. Sales were poor and sometimes they would pay as much as Rs 15,000 per stall just to get some visibility.
Small farmers and entrepreneurs aren't adept at marketing. More often, inexpensive organic fruits, vegetables and foods don't get sold because people just haven't heard about them.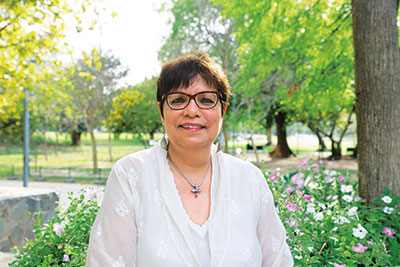 So it's easy to see why they have found solace at the Earth Collective in Sunder Nursery. "Earlier, I'd find many organic farmers and entrepreneurs tucked away in small pockets of the city. The Earth Collective has become a concentrated space for all of them. We also take care of everything," says Nageshwaran.
The Earth Collective is now a fairly expansive market for farmers in the Delhi-NCR region. It is also sort of exclusive. Nageshwaran is choosy about who can join. "It's the easiest and at the same time most difficult market to get into. If you hand me a brochure, telling me how many shops you're in and that you're on Amazon, forget it. But if I see a glint in your eye, and hear the passion in your voice, I know that I don't have to ask too many questions."
Stall owners are more than willing to talk to you at length about their products. Some, like Nature's Soul, are doing better but the going wasn't easy, says Sahani. "It was tough in the beginning but, as word of the farmers' market spread, we started to get customers, though numbers were small. People would ask questions about our produce and how much we charge. But now I can definitely say that the number of customers who come to the market
is growing."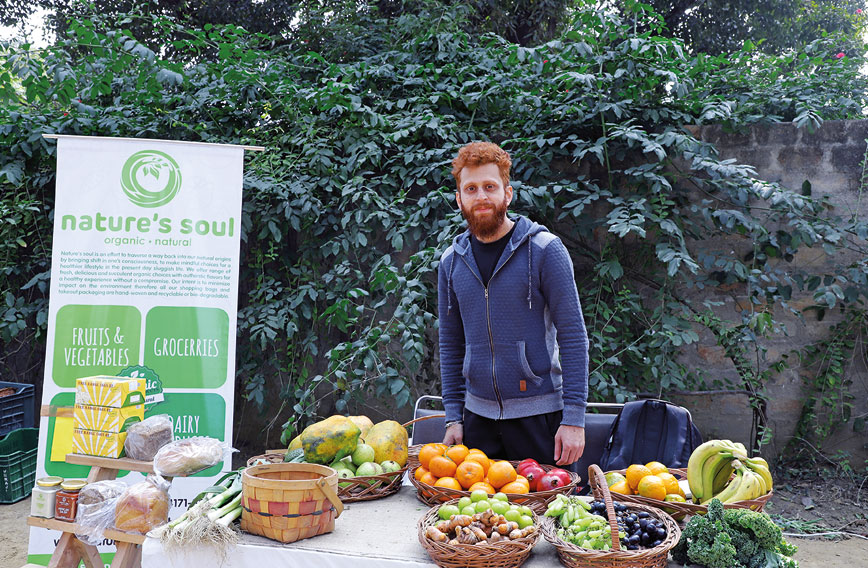 Arjun Sahani at the Nature's Soul stall | Photograph by Shrey Gupta
With more farmers turning organic, prices have come down. "Around five years ago I used to buy organic apples for Rs 400. Now I personally sell them for Rs 280 per kg. So, definitely, prices have been decreasing year on year," says Sahani. Nature's Soul was one of the first to join the Earth Collective. The company was founded roughly four months after Earth Collective began.
Interestingly, Nageshwaran has also ensured that stall owners don't compete with each other for customers. "She sorts out the vendors so that two people don't sell the same things. This way, we don't cannibalise each other's sales, everyone has sufficient produce and there is minimal waste," explains Sahani.
Many stalls at the Earth Collective, like Sahani's, participate regularly but there are others who come on a rotating basis. Most stalls that sell fresh produce are regulars, while the ones that sell freshly cooked food, household objects, or fresh fruit juices, rotate on a weekly basis.
The House of Nimo is one such rotating vendor. Its owner, Indrani, sells pashmina garments that she has sourced all the way from Ladakh. Indrani works with the Changpas, a nomadic tribe that lives in southeast Ladakh.
"We wanted to tell people where and how pashmina comes from. It was important to us to bridge the gap between the producer of pashmina and the customer," says Indrani.
Anish (left) and Indrani (right) from the House of Nimo | Photograph by Shrey Gupta
Profits are given back to the community though not always in the form of cash. Instead, House of Nimo provides the Changpas with what they lack like solar powered rechargeable batteries or books for their children. "We ask them what they need. Practical things are what they benefit from the most. We give them books but they don't always relate to them."
The prices of House of Nimo's pashmina garments — shawls and stoles — range from Rs 3,000 to Rs 5,000. These are reasonable prices. "People really appreciate the work we do and are always surprised at the prices," smiles Indrani. "Some stores charge up to five to eight times the price of these items. It's very similar to how the diamond industry works by creating an artificial scarcity."
Like Sahani, Indrani says she chanced on Nageshwaran. "We just happened to meet one day. She invited us to one of her exhibitions. We attended and we just loved it," says Indrani.
For Nageshwaran, Earth Collective is more than a market. "We're doing something on a much deeper level. I'm trying to help create memories and stories," she says. "There are children as young as five who wake up their parents on Sundays and drag them here. The children are the ones choosing apples and vegetables. That is what I want."
The Earth Collective's market resembles a close-knit family. As fresh produce vanishes off the shelves, stall owners and customers fraternise, laughing, before they go home and return the next Sunday.