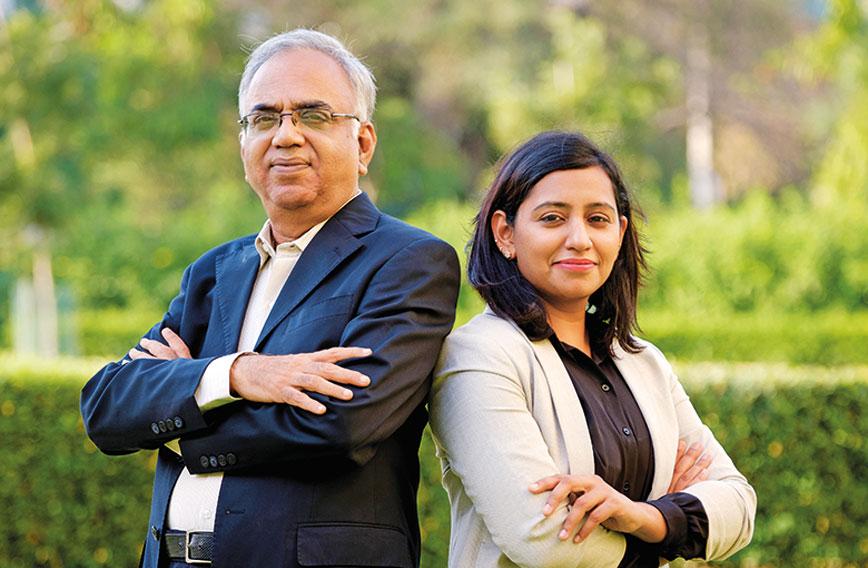 Harini with her father Varadarajan Sivakumar, founders of Earth Rhythm
Up close, safe and customized
Surmayi Khatana
Published: Nov. 13, 2021
Updated: Nov. 19, 2021
IS your skin too sensitive for just any soap? Does your curly hair need something special to shampoo with? Are you choosy about the face mask you use? Are you worried that your hand cream has too many chemicals in it?
You probably are and like a growing number of Indian cosmetics users you are most likely to have found what you are looking for from a string of small and ethically run companies that have been putting high-quality natural products on the market for consumers at very reasonable prices.
Many of these companies are homegrown and have been started for personal reasons because the founders couldn't find the products they were looking for in India. Others have come up because the business in natural products is good. But they all make personal grooming a lot safer.
Earth Rhythm is an example. When Harini Sivakumar was unable to find fragrance-free creams and soaps in the markets for her son who has Down syndrome and eczema, she took matters into her own hands by making soaps, lip balms and body butters at home.
It was 2015 and she called her venture Soapworks. In just three years, by 2018, she had enough success to launch Earth Rhythm with a bigger range.
"You could only find fragrance-free products in pharmacies, not in the supermarkets or grocery stores," she explains. A former banker based in Gurugram, Sivakumar tested the market with her soaps with `5,000 of personal savings for raw materials, by setting up stalls at fairs. Soon, people began approaching her with specifications of the types of soaps they needed.
"I saw that there are consumers looking for products like these but unfortunately, due to a lack of availability, they were all resorting to buying from MNCs and international companies. So, I thought, why can I not do something like this in India?"
It took a year to figure out the business. It meant going from banking and commerce, which had been her world until this idea dawned, to chemistry.
"I had to get commerce out of my head and relearn organic chemistry and inorganic chemistry," says Sivakumar, recalling the early days of her journey.
By 2018 she was ready to take the plunge and, with her father, Varadarajan Sivakumar, also a banker, Earth Rhythm was founded.
In 2020, Earth Rhythm registered for a manufacturing licence. While Harini's initial aim with Earth Rhythm (Soapworks at the time) was just to be a home-based entrepreneur, currently they deliver pan-India and also in Nepal, Bhutan, Lithuania, Sri Lanka, the US and UK. The growth has been on the back of a loyal customer base in India.
Focusing largely on skincare and haircare, Earth Rhythm also offers some makeup. A dedicated research and development team works to pick up international skincare trends in both West and East. "As a member of the World Cosmetics Council we are able to track skincare trends and identify new ingredients," says Harini.
Working on 'tech-based' skincare, Earth Rhythm makes their products under the supervision of certified chemists. All their products undergo clinical trials for four to eight weeks. A yearly schedule of upcoming products is made for the catalogue with a threshold of 130 products.
Prioritizing transparency in labels, an important part of developing the product, is the ECOCERT Certification, for safe, clean, and cruelty-free manufacturing.
"We source all our materials from organic vendors. Even for synthetic sources, we ensure it is ethically extracted. All of which is confirmed by ECOCERT, helping us communicate to consumers through our labels," says Sivakumar. "Consumers look for whether a brand is safe or not. Ethics and clean practices are reinforced with certifications."
Their sustainability practices include biodegradable or recyclable packaging, ensuring all ingredients are sourced ethically, while maintaining ECOCERT standards and being cruelty-free.
Their shampoo bars are their bestsellers, making up to 30 percent of revenue. They offer 10 types of shampoo bars which are free of sulfate, parabens, and fragrance, including a baby shampoo bar. The solid bars come in colourful metal tins. Green surfactants are used in the product to ensure that the grey water or wastewater is not full of pollutants. Their Murumuru Butter Shampoo Bar for curly hair, priced at `500, has quickly become a favourite.
Earth Rhythm offers four face moisturizers catering to different skin types as well as skin issues. All of them are fragrance-free and range from `600 to `750. Phyto Clear helps in soothing scars or wounds, Phyto Repair has anti-ageing properties, Phyto Fuse hydrates the skin and Phyto Ceramide, which we tried, prevents dryness and irritation. One can find the products on their website, where the results of their clinical trials with the product are also listed for reference.
Social media and micro-influencers on the internet played a huge role in the marketing of Earth Rhythm in the initial stages. "Now bigger companies are also realizing the sheer number of views micro-influencers can bring in," says Harini.
CUSTOMER FEEDBACK
The best feature of local companies like Earth Rhythm is the intimate relationship they maintain with their customers. Consumer response and feedback play a major role in the catalogue. "If we feel that a product is not doing well, we take it back to the drawing board. We ask our customers to fill out a questionnaire of what they expected, whether the product worked for them and, if not, what went wrong."
When a product is pulled from the catalogue, the team at Earth Rhythm goes through the list of people who bought it and asks them questions. This helps the team re-evaluate whether the formulation should change or whether customers were simply not excited by the product.
Earth Rhythm also tracks their consumer journeys, whether a product was bought
again. On a month-to-month basis they email and send questionnaires to understand how customers are interacting with their products.
Earth Rhythm has managed to retain their early customers with a repeat rate of 40 percent per month. They have very active customers, who email suggestions and discuss products with the eager team. The majority of Earth Rhythm's clientele are between 20 and 30 years old.
"We usually have 70 percent women and 30 percent men using our products, but we are very active and vocal about including men in skincare," says Harini.
INCLUSIVE WORKPLACE
Another thing that makes small homegrown companies special is their focus on building inclusive teams. Harini's interactions through her son with the community of adults with special needs and disabilities in Gurugram led her to train and hire them in departments like labelling.
The early employees, who previously worked as domestic workers, are currently supervisors with graduate degrees due to the conducive workplace environment of Earth Rhythm. "Whenever we interview any candidate, we also look at whether they are adaptable to an inclusive team in terms of class, gender, disability, and the kind of culture that we have worked to create."
Sustainability and ethical practices take the forefront for many of the new cosmetics companies. Dot and Key, a Kolkata-based company founded by Anisha Agarwal and Suyash Saraf in 2018, runs an Earth Program which accepts empty bottles of their products from customers and recycles them. Catering to niche skin issues, they offer a variety of clay masks and face serums priced from `400 to `500, packed in glass bottles and jars.
PERSONALIZED, TRADITIONAL
The rise of homegrown companies has also brought a 'back to the roots' approach with companies basing products on Ayurveda and home remedies. In that vein, delivering freshly made cosmetics is Nat Habit, founded by Swagatika Das. Based in Gurugram, they make natural cosmetics inspired by grandmother recipes.
They prepare their products in their specially set up kitchens with cosmetologists and doctors
to deliver them the same day. Their Fresh Hair Nutri Masks use oils, leaves, herbs and flowers and need to be refrigerated and are priced at `150 for one pack.
With new skincare regimes and complicated ingredient names finding their way onto product labels, the new cosmetics companies devote time and space on their blogs and social media to explain the uses and benefits of the ingredients in their products. Companies like Earth Rhythm use their social media posts as guides, categorized by skin types, for customers.
Taking this personalized guidance a step further, Oilcraft Naturals offers a consultative approach via phone calls in which they suggest bespoke regimens based on skin types and concerns that the customer might have.
Oilcraft Naturals was set up by Nina Dube Tiwari after realizing the need for natural products while she was pregnant. "I was looking for end-to-end natural products, completely ethically sourced, to use. I decided to fill the vacuum that I saw," Tiwari explains. "I wanted to make something reasonably priced that met international standards."
Tiwari, who also serves as president of GE Capital, has been in the natural cosmetics market space for over a decade. She caught on early to the rising trend of people caring more about what they consume or put on their skin.
Oilcraft Naturals sources ingredients and herbs from their own farms or directly from farmers. Their Rose Water Facial Mist, at `600, is a refreshing product made from crops cultivated in Kannauj, Uttar Pradesh. Headquartered in New Delhi, Oilcraft Naturals delivers across the world.
The new cosmetics companies work to put actual care into customer care. "We have hand-held some of our customers through their journeys as they and their skin change. Some are almost like family," says Tiwari.
One of the things that set homegrown companies apart from their international counterparts is the absence of 'fast beauty' and instead a paced introduction of well-researched products. Oilcraft Naturals invests time in their research and development to introduce new products that fill vacuums in the market.
"Products should be designed to be able to work across issues, a face mask working on acne can also work on pigmentation," says Tiwari, explaining why research matters. Oilcraft Naturals introduces two to three products every year, maintaining a catalogue of 100 products, which include massage oils, aromatherapy products, serums and face washes. The consumer now has a range of products and companies to choose from.