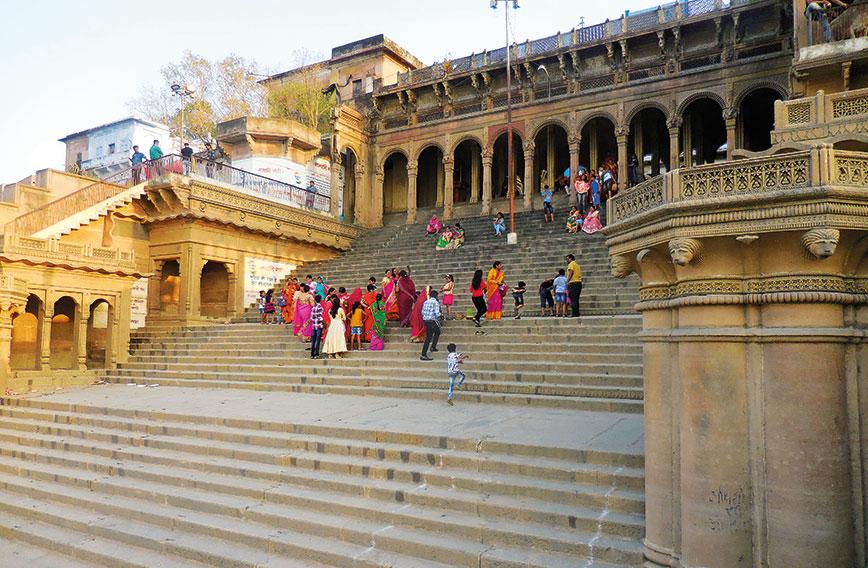 Ghats along the Ganga river in Mirzapur | Photograph by Susheela Nair
Weaving history and carpets in Mirzapur
Susheela Nair, Mirzapur
Published: Jul. 24, 2019
Updated: Jan. 30, 2020
The oldest hub of carpet weaving in India is Mirzapur in Bhadohi district of Uttar Pradesh. The Ganga flows past this town with its ghats, ancient temples and waterfalls. But I am here to understand the process of making intricate rugs and carpets for which Mirzapur is famous.
The genesis of carpet making in Mirzapur can be traced to the Mughal emperor, Akbar, in the 16th century. A caravan of Persian carpet weavers, it is said, on its way to the Mughal court was waylaid and injured by dacoits on the Grand Trunk Road. The weavers were rescued and given shelter by local villagers. The master weaver of the group decided to settle down here and share his skills with his benefactors. That is how the renowned carpet industry of Mirzapur took root.
Relaxing in the 200-year-old Obeetee bungalow, I thought of the artisans of Bhadohi district who have watched their parents weave and then become apprentices themselves. Many generations of artisans blossomed into gifted weavers over the past five centuries.
The decision to introduce the artistry of Indian rug-makers to the world in 1920 was taken here by Oakley, Bowden and Taylor, the founders of Obeetee. A visit to the Obeetee factory, one of India's largest makers of handmade rugs, with almost 100 years of history, was indeed an incredible learning experience.
My study sojourn started with a visit to the design department, the backbone of the rug-creating process. The artisans have traversed a long way from the 'nakshas' (master plates) used in the past. It was a delight to watch the designers blend fresh perspectives and traditional craft with state-of-the-art design technology and create authentic designs and visual masterpieces. From there we moved to the advance dyeing plant where pieces with distinctive and vibrant colours are re-created for different fabrics. There is also a colour bank that has in stock over 4,000 colour-fast shades of wool.
From the factories, different types of wool are dried and carpet designs are sent out with their 'nakshas'. We stopped at a village when we heard the click-clack of looms. We saw men sitting behind frames on which a net-like backing had been stretched tight, punching wool through the net in a process resembling embroidery that is called 'tufting'. When the tufting is complete, it is stuck on a packing of cloth with its edges tucked in.
Equally interesting were the exclusive women's units. We gazed in admiration at women carpet-makers moving in a systematic manner, knotting each warp to weft with measured fluidity under the supervision of Obeetee inspectors. A single Bhadohi carpet can boast up to 425 knots per square inch — the penultimate figure in premium carpets.
Then the carpets return to the factory to be washed and dried. Washing is the next stage which transforms the carpet into a stunning work of art. It is the washing cycle which establishes the final texture of the piece and infuses the carpet with vibrancy and a soft lustre. All carpets are tested before being shipped to some of the biggest clients in the world.
Obeetee ensures that its environmental footprints are as light as possible. During our factory visit we took a peek at the factory's state-of-the-art effluent treatment plant which is committed to releasing no hazardous water into the environment. The water consumed in the manufacturing facilities is treated to the highest standards before disposal and used sustainably.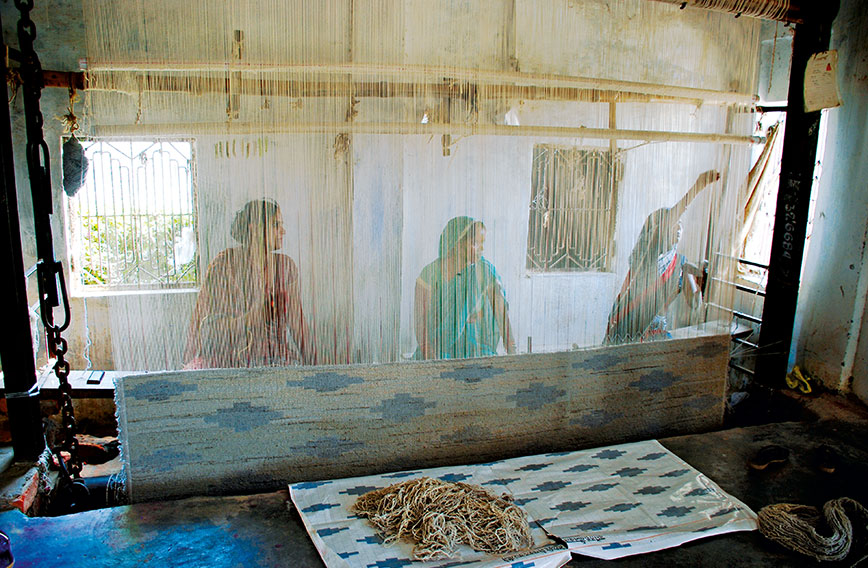 Village women being trained in weaving rugs | Photograph by Susheela Nair
WOMEN WEAVERS

To ensure that the art of carpet weaving continues, Obeetee believes in women's empowerment and leads a training programme for women weavers. "We believe that women should have access to equal opportunities. We teach time-honoured weaving skills to empower women and give them a viable long-term employment opportunity. A stipend is also provided to motivate them. Today more than 1,091 women have participated in our weaving programme and 655 are professional weavers with Obeetee, weaving rugs. Creches have been opened to support working mothers," explained Angelique Dhama, chief marketing officer of Obeetee.
"We have partnered with Sulabh International and built toilets in the villages, especially for elderly women and schools. Through 'Project Mala' the company provides quality education services to schoolchildren besides medical check-ups, school supplies and food. There has not been a single instance of employing child labour," added Dhama.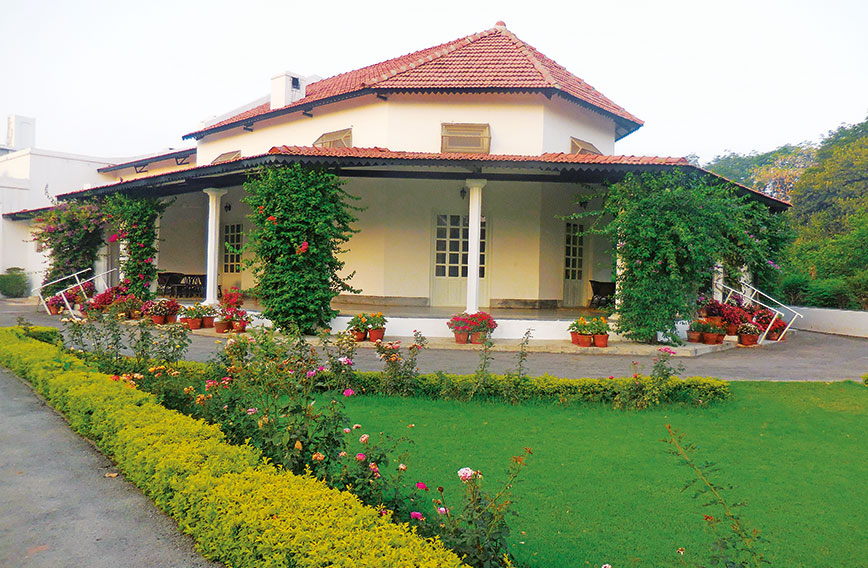 The Obeetee bungalow is a heritage structure | Photograph by Susheela Nair
Obeetee provides work to over 25,000 independent artisans and has 1,000 permanent employees. The company has one foot ensconced nostalgically in India's heritage crafts while the other is directed in the pursuit of cutting-edge designs. As part of the 'Proud to be Indian' campaign which translates India's vivid design vocabulary into a modern context, Obeetee has collaborated with India's best creative talents like Tarun Tahiliani and the visionary duo of Abraham & Thakore to take its endeavours to greater heights.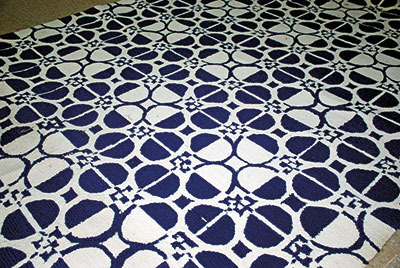 (left)A typical hand-knotted carpet | Photograph by Susheela Nair
An interesting highlight of Obeetee is the trail traceability of its rugs. Tap their keyboard and you can see each carpet's digital fingerprint. You can track its loom owner (only the details of his or family), design, dyes, depot and buyer. Each customer can scan a QR code embedded in the tapestry of the carpet and read about its weavers. It will give details of collection and personal details of the weaver and also establish that it was not woven by child labour. This kind of personal touch brings together the end user and the weaver.
The biggest carpet created by Obeetee weavers measures 452 sq m and has billions of intricate knots. It adorns Rashtrapati Bhavan.
So the next time you see a carpet made by Obeetee in a five-star hotel, think of the skilful hands, the attention to detail and the devotion to craft that has gone into it.