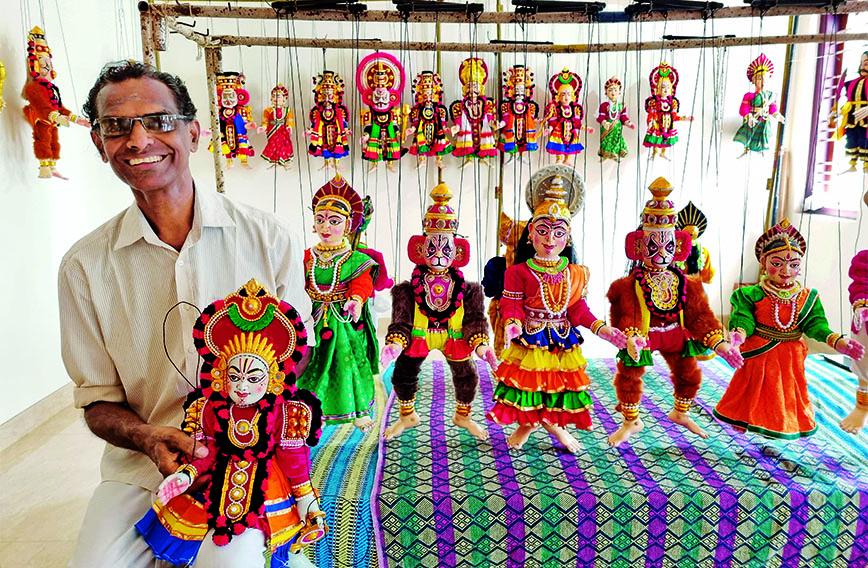 Ramesh K.V., master Yakshagana puppeteer, with his pantheon of vibrant puppets
Puppets wait for their museum in Kasaragod
Shree Padre
Published: Jul. 27, 2023
Updated: Aug. 12, 2023
ONE hundred puppets from the Epics are waiting patiently for their museum to open. Their creator, 58-year-old Ramesh K.V., master Yakshagana puppeteer, has run out of money.
The museum is his labour of love and has, so far, been financed with savings and loans. The building is up in the Pilikunje area of Kasaragod in Kerala, but it is not enough. Much more needs to be done to make it habitable for his puppets and, with their expressive faces, they are biding their time.
Ramesh sits despondently on a sofa in his three-storied house. "I really don't know what to do next," he says. "When we started performing 40 years ago this art was already declining. Yes, about 100 to 125 years ago puppet shows were popular and we had more than 50 Yakshagana puppet teams. By the 1980s this number declined to eight and now there are just two."
Yakshagana bayalata is a traditional form of theatre which developed in the coastal regions of Karnataka and Kasaragod in Kerala. It combines dance, music, dialogue and stage techniques with a unique flourish. Yakshagana refers to nature spirits (yaksha) and people (gana).
In Yakshagana bayalata, actors play mythological roles. The Yakshagana puppet show is a miniature form of Yakshagana bayalata. From behind small screens, sutradharis (meaning the one who holds the strings) make the puppets enact the same scenes.
The two teams that still hold performances are Ramesh's Gopalakrishna Yakshagana Bombeyata Sangha (GYBS) which adheres to the Thenku thittu or southern style of Yakshagana and Kogga Kamath's team, Uppinakudru, which performs the Badagu thittu or northern style. "If both wind up, then it is the end of this art form," says Ramesh.
It was this thought that haunted him. After wracking his brains for some time, the idea of a museum struck him. He spent all his savings plus borrowings from friends and family to build the museum. All of 4,500 square feet, it was completed in 2013. The first floor has an exhibition hall where 50 puppets are being displayed right now. His dream is to house 1,000 puppets. It has an office, a library and a guest room for researchers. The second floor has an auditorium and a stage.
Why 1,000 puppets? "Because there is a lot of variation in each role. Even the woman's role or the servant's role in our puppet shows has dozens of variations," he says. "Veteran Yakshagana artistes have promised to guide me in creating all kinds of puppets made from soft wood."
In the old days, Yakshagana bayalata puppet shows used to start at 10 pm and carry on until the first rays of the sun highlighted their tent. Coastal Karnataka used to have over a dozen Yakshagana bayalata teams who performed every night for half the year. Some temples even owned one or more Yakshagana troupes. Then there was Harake bayalata, performed by devotees when their prayers at a temple were answered.
Similarly, Yakshagana puppet shows used to run two and a half hours. But all this glory is now history. Yakshagana puppet shows are rare and confined to an hour and sometimes just to 30 minutes.
Despite this, until the pandemic, Ramesh's GYBS used to be invited to perform here and there but post-Covid even those rare invitations stopped, making it difficult for him to repay his bank loans.

"String puppetry is tough and given a lot of importance globally. Out of six strings, even if one gets twisted during a performance, or if there is a single wrong move, it is noticeable. It is really important to conserve this rare art form," says Dr Vayalkara Jayarajan, folk researcher and founder of the Folkland International Centre for Folklore and Culture, based in Payyanur, Kerala.
STARTING EARLY
Ramesh says it was his father, K. Venkatakrishnayya, owner of a printing press and an art aficionado, who encouraged him to become a traditional puppeteer. Ramesh was the eldest of his six children. "My father groomed me and my three brothers as artists," he says. When he was in Class 6, his father gifted him a book on Karnataka's puppet shows which captivated him. Two years later he showed Ramesh how to make a clay model of Lord Ganesha.
After that, there was no stopping Ramesh. He began making puppets using branches of trees and coconut shells. His sister stitched the costumes. His turning point came in 1980 when he went to watch Kogga Kamath's Yakshagana puppet show. Ramesh was casually strolling around their camp when he came to know they needed a harmonium player. Ramesh volunteered at once. He learnt how sutradharis move the puppets and how to enact Yakshagana roles from Yakshagana actors.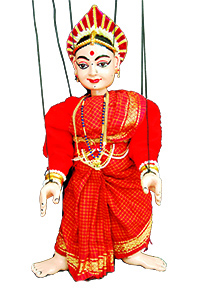 Ramesh's biggest strength came from his family who joined enthusiastically. "We formed a sort of family team, me, my three younger brothers and four cousins. With the help of recorded songs, we could easily hold a performance," recalls Ramesh. Whether it was costumes, music, props or travel, it was his close-knit family that delivered.
His sisters, Geetha and Anitha, have always stitched and designed the puppets' costumes. Dr K.V. Omprakash, his younger brother, works at the Hassan Institute of Medical Sciences and is also an expert puppeteer who joins the troupe occasionally. Another brother, K.V. Shrivathsa, is an instrumentation engineer, well-versed in bhagavathige (mythological songs) and in playing the chenda. Geetha's husband, P.K. Venugopal, handled administration until he passed away in 2007.
In 1981, Ramesh's troupe performed for the first time. It was an in-house show at the behest of his relatives. "We thought we'd do just this one show," says Ramesh. But the performance was rivetting, and everybody enjoyed it.
Besides, word spread. Ramesh began receiving invitations to perform from nearby temples and schools. A few VIPs attended the shows and were full of praise. The all-round appreciation encouraged Ramesh to start GYBS.
His younger brothers were still in school. "I was obsessed with puppet shows. The sounds of the chende and the maddale of Yakshagana would be ringing in my mind. I thought, if I continue with this hobby, it will affect the education of my brothers. But my father was enthusiastic too. We had acute financial difficulties at that time. All this was overcome by my father's will power, sincerity and good contacts."
In the initial years the troupe included a bhagavath or a singer who narrated the story in poetry form, and two helper artists. This added to their expenditure. So, after a few years the troupe began using recorded songs and bought a large vehicle.
Although GYBS is located on the Kerala border, the biggest demand for their shows came from Karnataka where it is an ancient art form, across the coastal belt up to Kasaragod. They also held shows in Delhi, Kolkata, Sikkim, Mumbai and several other places where this art form was unknown. They used to hold around 15 to 20 shows every year before the pandemic.
Despite their professionalism, earnings continued to be meagre. "We spent more than what we earned," confesses Ramesh.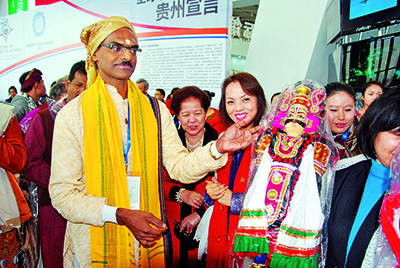 In 2010, when their troupe was selected to represent India at the International Puppet Festival in Czechoslovakia, they didn't have money for travel and other expenses. They needed Rs 2.5 lakh. The Kerala government didn't help, the Karnataka government promised help but started taking its own time.
Finally, it was Sudha Murthy of Infosys who gave Rs 1 lakh while Dr Veerendra Heggade of Dharmasthala contributed another Rs 25,000. The team somehow managed to raise the rest and made it to Czechoslovakia. They returned with plaudits and an international award.
Their other performances abroad in Lahore, Paris and in China were thumping successes. Researchers of puppet shows came to Kasaragod to gain more knowledge about their puppet show and people turned up to learn puppetry from them. Some foreign museums bought their puppets.
MAKING A PUPPET
Despite no formal training, Ramesh makes beautiful eye-catching puppets. He uses a lathe now but it still takes him months to make a puppet out of soft wood. The puppets don't last long.
"What we have right now is the fifth generation of puppets. In our long journey, we must have abandoned about 500 puppets," says Ramesh. For their proposed museum, they are planning to display puppets made of teak so that they last for 500 years, quips Ramesh.
The idea of building a puppet museum was inspired by a child's innocent query. In 2010, sponsored by Sudha Murthy, GYBS decided to celebrate its 30th anniversary by performing free puppet shows for children in 30 schools in the four districts of Kasaragod, Dakshina Kannada, Udupi and Chikkamagaluru.
The programme was called Chinnara Anganakke Puththali Yatre or 'golden tour to children's arena'.
After each performance, the team would show children the puppets and explain how they were made and deployed with just six strings each. They found the children engrossed in the demonstration. At the end, they would invite students to come up and try their hand at puppetry. This was the best part for the children. They participated excitedly.
At the end of one such show, a shy student stayed back in the hall. They asked him what he wanted and he said: "Can you teach me how to play these toys the way you do?"
"I was really touched," says Ramesh. "I realized that our art form does have promise, that there are youngsters who are fascinated by it and can take it forward. After thinking, this idea of a puppet museum struck me."
Ramesh's old house was dilapidated. Instead of spending Rs 5-6 lakh to repair it, constructing a new one would be wiser, he thought. "That house will be for the family. But where will the puppets go?" he asked himself. So, he built a three-storied house with a museum for the puppets. It has cost him around Rs 1.5 crore.
To make one puppet takes him a month and costs Rs 30,000. "I welcome well-wishers to sponsor some puppets for the museum. We will display them along with the donor's name," he says.
Contact: Gopalakrishna Yakshagana Bombeyata Sangha (Ramesh K.V.) – 94467 72277