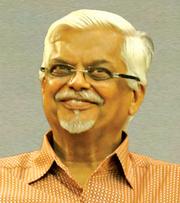 SANJAYA BARU
Nothing unsettles the old Delhi Darbar more than to find a hitherto unknown name hog the headlines. The question "Kovind who?" brings back memories of the day Pratibha Patil was declared the United Progressive Alliance's (UPA) candidate for the job. Minutes before her candidature was announced, in 2007, a prominent television journalist called me. He had heard from his 'sources' that the candidate would be a woman from Maharashtra. Was I aware who? I was at the time in the Prime Minister's Office. I had not yet heard who the UPA had picked so I was unable to offer a name. The journalist took a guess and his channel ran the story — "Nirmala Deshpande likely to be named UPA candidate for President"! Nirmalaji was a Gandhian familiar to the Delhi Darbar because of her involvement in peace-building between India and Pakistan. Minutes later the name of Pratibha Patil was announced. The Delhi commentariat asked, "Pratibha who?"
Even as we once again read and hear debates about the essential and adequate qualifications of the head of state, and many remain nonplussed by the name of Bihar Governor and former member of the Rajya Sabha Ram Nath Kovind, there is a story that comes to my mind that I can now narrate.
In May 2007 Prime Minister Manmohan Singh asked me to prepare a list of about 10 names of prominent women from different walks of life — politics, academia, science, literature, culture and social service. It had been decided that the president should be a woman and so the search was on. I spent an entire weekend thinking of names, with the help of my wife, a university professor. We prepared an impressive list of the who's who of distinguished women leaders from all walks of life. After all, this person would be India's first woman head of state.
To be honest the name of Pratibha Patil was not on our list. A few days before Ms Patil was to be sworn in as president I was summoned by Prime Minister Singh and asked to draft her post-election acceptance speech, in which the newly elected president thanks members of the electoral college. This is one of the speeches that the president is free to draft on her own. All the official speeches of the president, at home and abroad, have to have the prime minister's imprimatur but there are some speeches that a president can draft on her own and speak her mind. An acceptance speech is one such. So I was surprised to be asked to draft that speech.
Should I consult Ms Patil? What would she want to say, I wondered. Write what you think she should say, I was told by the PM. So I sat down and drafted a speech. The PM read it and thought it was okay. The draft was then sent to Congress President Sonia Gandhi for her approval. Ms Gandhi made several changes. An entire paragraph drawing attention to the fact that Ms Patil was the first woman president was surprisingly scratched out. References to Jawaharlal Nehru and Indira Gandhi were introduced. After reading the final draft Ms Patil made only one addition to the text — a quote from Sant Tulsidas!
Ms Patil was a nice lady, as I soon discovered. Perhaps to convey her gratitude, President Patil invited me to the first official banquet hosted by her. I was surprised to find my favourite dessert —shreekhand — served. Rashtrapati Bhavan chefs were never known for being innovative. It was always the usual gulab jamun or rasmalai. I went up to the rashtrapati to compliment her on her decision to serve shreekhand – a speciality of Maharashtra and Gujarat. She smiled and said, "I am glad you liked it. I made it!"
I narrate this episode to draw attention to the fact that a personable woman politician completely unknown to the Delhi Darbar became India's first woman president. Her most important qualification? She was a Congress party loyalist. One should also remember that 10 out of 12 times Congress prime ministers have chosen Congress politicians for the post of president. So how can the Congress, or anyone else who did not make an issue of this in the past, now object to a BJP prime minister naming a 'not-so-prominent' party loyalist as president?
Indeed, how many can name all presidents without the help of Google? Sure, there would be much higher recall of a name like A.P.J. Abdul Kalam or even Rajendra Prasad, but even now most who care to remember the name of Sarvepalli Radhakrishnan think he was a Tamil from Madras! Public memory about the occupants of Rashtrapati Bhavan is patchy. The occupants of the 'palace on Raisina Hill' have come in all shapes and sizes. The only thing common to a good majority — 10 of the 13 presidents — is that they were all members of the Indian National Congress. So why have so many of our so-called public intellectuals asserted that Prime Minister Modi ought to have picked a non-party person acceptable to all? Economist-turned-public intellectual Amartya Sen insisted that the next president should be 'an inspirational figure of elevated national standing' and not merely a party political personality? I do not recall his saying that in 2007, or 2012!
It is true that the occupant of Rashtrapati Bhavan can elevate or make a mockery of the country's highest constitutional office. President Zail Singh was criticised for declaring that he would pick a broom and sweep if asked to do so by Prime Minister Indira Gandhi. Some presidents have been criticised for their own corruption in office but most others for turning a blind eye to the enormous corruption within the President's Secretariat. One president who was highly regarded by high-minded persons was accused of taking away carpets and paintings from Rashtrapati Bhavan while vacating! It is an office that has had its ups and downs. President Pranab Mukherjee has elevated the profile of his office by undertaking a series of worthwhile projects that have lent grace and charm to the presidential palace. Hopefully, the next President will continue this tradition.