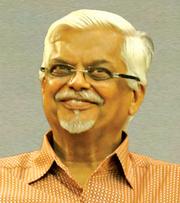 SANJAYA BARU
Anxiety about the future within the business community created by the break-up of the united state of Andhra Pradesh has been replaced by renewed hope in both the new states of Andhra Pradesh and Telangana. It is business as usual in the metropolis of Hyderabad-Secunderabad-Cyberabad.
The hope generated among business leaders by the end of three decades of Communist rule and the decisive victory of Mamata Banerjee, on the other hand, has given way to renewed concerns about what lies ahead. Similarly, political stability in Bihar under the leadership of Nitish Kumar has not had much impact on inward investment in that state.
On the other hand, the move to New Delhi by Gujarat's supremo, Narendra Modi, and his replacement by lacklustre leaders has not dampened the enthusiasm of business-persons to invest in Gujarat. And the political uncertainty in Tamil Nadu following the death of Jayalalitha and the split in the ruling party has not made any difference to the environment for business in the southern state.
What does all this add up to? Economically developed and business-friendly states continue to attract new investment despite political change and less developed states continue to remain unattractive to new investors despite political change.
It may surprise many to know that the regional divergence in industrial development and economic growth that we see today in India has persisted for well over a century despite far-reaching political changes across the subcontinent.
In British India the more developed regions were the Bombay and Madras Presidencies, followed by undivided Punjab. The less developed regions included the Bengal Presidency and the United and Central Provinces. Fifty years of planning after Independence did not alter that pattern. Free India's more developed states have been Gujarat, Maharashtra, Tamil Nadu, Punjab, Haryana, Karnataka and erstwhile Andhra Pradesh.
Economists who have analysed regional patterns of development have put forward various hypotheses to explain this phenomenon. Some believe peninsular India has done better than the states of the Gangetic Plain because of access to the sea, higher levels of education and a higher degree of urbanisation. Some believe the Green Revolution has only helped perpetuate a pattern first established during British rule because agricultural development too was localised in states that were industrially advanced. Perhaps all these factors are responsible in their own way.
It cannot, however, be said that the developed states have consistently had better political leadership than the less developed ones. After all, states like Bihar, West Bengal and Rajasthan have had some very good chief ministers and long periods of political stability. That, however, does not seem to have made much difference.
One consequence of the regional coincidence of higher levels of education, a more productive rural economy and higher degree of urbanisation has been that the developed states have also been home to new business enterprise. Indeed, the emergence of new 'local enterprise' in one or more sectors of the economy — agriculture, manufacturing and services — seems to distinguish in a significant way developed states from the backward states.
Home-grown enterprise is the big differentiator. When Gujarati business invests in Gujarat, Tamil business invests in Tamil Nadu, Punjabi business invests in Punjab, others come in. Local enterprise development 'crowds-in' overall investment. The absence of dynamic local enterprise acts as a dampener on non-local enterprise. Thus, if Bengali business will not invest in Bengal, who will? The argument can also be extended to the national level. If Indian business stops investing in India, which foreigner will come and invest here?
The business development of Hyderabad and Bengaluru in the 1990s and since 2000 has been largely on account of local enterprise. That phenomenon explains the overall economic development of Gujarat, Maharashtra and Tamil Nadu as well.
All this is not to deny the role of political leadership. In Andhra Pradesh Chief Minister Jalagam Vengala Rao made all the difference. Andhra Pradesh before Vengala Rao was industrially backward. Andhra Pradesh after Vengala Rao began competing with industrially developed neighbours like Tamil Nadu and Maharashtra.
Development-oriented local political leadership is a necessary but not sufficient condition for development to strike root. Thus, when a young, educated, forward-looking political leader like Akhilesh Yadav became chief minister of Uttar Pradesh, many businessmen from the state decided to invest in it. However, they were soon disappointed to find that change of leadership was not a sufficient condition.
On a recent visit to Uttar Pradesh, I met young entrepreneurs who had pinned their hopes on Akhilesh. Some had even returned from the United States, giving up promising careers there, to invest in UP. They were all disappointed. They are now praying that Yogi Adityanath will prove different and will not disappoint them. If Chief Minister Adityanath wants to bring in new investment into UP and keep existing investors from moving out, he will have to show that UP is as good a place as any to do business in. One consequence of the new Goods & Services Tax is that the role of area-based incentives is less relevant to the economics of business. In any case, it will take a lot for states like Bihar, West Bengal and Uttar Pradesh to bring in new investment, competing with the states of peninsular India and the region around New Delhi.
To add to all the problems that plague less developed states, it now seems as if most of the law and order problems occur in these very states. From terrorism inspired by religious radicalism, sectarianism and Maoism to cow-protectionist vigilantism, most recent law and order problems also seem to be largely localised in the less developed states of northern and central India. This would further scare investors away and encourage them to remain invested in the states of peninsular India.
For India to be able to sustain upwards of 8.0 per cent annual economic growth it is necessary that development takes root in the subcontinent's less developed regions. This requires better governance, better infrastructure, better law and order and a forward-looking political leadership. The Gangetic Plain has waited patiently for the growth process to move up from Peninsular India. There is not much Delhi can do. It tried, with half a century of central planning, public investment and incentives for private investors to move in. That model has failed. It is now up to the local political and business leadership to step in and pull these regions up.