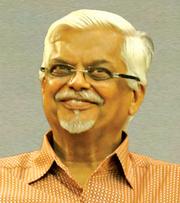 SANJAYA BARU
I was amused to read a tweet from Indian external affairs minister Subrahmanyam Jaishankar in which he quoted former Union minister Suresh Prabhu approvingly to say, "The rootless are ruthless." He was speaking at the annual Ideas for India Conclave near Vadodara. The tweet enthused the supporters of the ruling Bharatiya Janata Party (BJP). It elicited 1,500 likes and 577 retweets. I wondered in what context Prabhu had deployed that catchy phrase. The BJP enthusiasts thought he was referring to 'left, liberals' — their pet hate. One of them tweeted, "Those who forget their past, loose their future. Vedas have sustained our civilisation."
So, I googled. Guess what? Prabhu was plagiarizing either from an Iranian rapper's song or from the 1996 Human Development Report (HDR) of the United Nations Development Programme (UNDP) written by Pakistan's Mahbub ul Haq. The HDR quote is as follows: "Human development is the end — economic growth a means. Economic growth, if not properly managed, can be jobless, voiceless, ruthless, rootless and futureless, and thus detrimental to human development. The quality of growth is therefore as important as its quantity; for poverty reduction, human development and sustainability."
The UNDP's HDR, as many readers of Civil Society would know, triggered a global debate in the mid-1990s on the quality of growth and forced the Indian government, centre and states, at that time to pay greater attention to public investment in education, healthcare and social welfare. The HDR's reference to rootlessness and ruthlessness of growth was a left-liberal critique of what is referred to as 'neo-liberal' economics that places greater emphasis on growth per se, neglecting its welfare consequences.
My Google search also revealed another, more recent, potential source of Prabhu's inspiration. It's a song called "Jet" sung by an Iranian rapper, Nadia Tehran. Tehran voices the alienation of the Iranian expat. "Luxury refugee / Apology? Not from me / Dior head to toe / Yeah, I came in on a boat / Rootless and ruthless / Smiling, I'm toothless / Catch me at the airport / Fly like a jet." Talking about her song, she told a journalist, "This is the diaspora life."
Of course, Prabhu was not the first to deploy that idea in the service of nationalism. Britain's former prime minister, Theresa May, put it eloquently when she said at her party's annual conference in 2016, "If you believe you are a Citizen of the World, you are a Citizen of Nowhere." However, there is a difference between an expatriate and an emigrant. Expats become globalized out of choice. Emigrants, often out of necessity.
For Nadia Tehran, enforced emigration is the cause of rootlessness. The emigrant then becomes ruthless in search of a new life. Many in the Indian diaspora contradict that assumption. They may be ruthless in pursuit of "life, liberty and happiness" in the US of A, but they remain very rooted not just in their values but also in their prejudices. There is, therefore, a paradox in the rootedness of Indian emigrants. The thousands who cheered Prime Minister Narendra Modi at the 'Howdy Modi' rally in Houston were all Indian emigrants who had left home in search of a better life in America. Yet, they cheered the leader of a party that has demonized a section of migrants into India.
It was equally incongruous to see hundreds of thousands of Indians cheer US President Donald Trump at a 'Namaste Trump' rally in Ahmedabad, when Trump is the one who is building walls to keep immigrants out of his homeland. What has Trump done for India that so many cheered him so enthusiastically? He gets a higher approval rating in India than in the US!
Sanjaya Baru is a writer and Distinguished Fellow at the Institute for Defence Studies & Analysis in New Delhi.