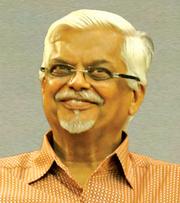 SANJAYA BARU
THE decision of the external affairs ministry to issue an official statement in response to tweets by American singer Rihanna and Swedish social activist Greta Thunberg, has created quite a stir. Some senior Indian diplomats have taken the view that the Indian government should not have officially responded to social media tweets, while the supporters of the Narendra Modi government are elated that the government has put these Western upstarts in their place. The government has argued that it finds Twitter's 'toolkit' an incendiary device that enables mobilization of civil society against the State. It wants to nip toolkit-inspired social mobilization in the bud.
What exactly is the role of diplomacy in shaping public opinion? This has been a subject of considerable discussion within Indian diplomatic circles for several years. It is significant that it was only a few years ago that the external affairs minister, Subrahmanyam Jaishankar, felt compelled as foreign secretary to advise Indian ambassadors around the world that they should reach out to the leaders of mainstream media in their respective countries and build a good relationship with them. This advice drew attention to the fact that few Indian diplomats have done so in the past.
Today the challenge is bigger. It is no longer enough for diplomats to reach out to mainstream media. They have to be able to manage social media too. Most are simply not equipped to do so. To make an impact in social media one needs to think like a political and social activist, not like a diplomat!
During my time as media adviser to the Prime Minister, in the early 2000s, I found that no more than a handful of Indian ambassadors were on a first name basis with influential journalists in countries where they were posted. When I requested the ministry of external affairs to arrange meetings with senior journalists in national capitals that Prime Minister Manmohan Singh visited, few Indian diplomats were able to do so. Only in Washington, DC, and London were they able to gather a few journalists and almost all of them happened to be non-resident Indians.
On the other hand, my experience as an editor in India from the early 1990s was that several ambassadors posted in New Delhi maintained regular social contact with senior journalists. I recall how Ambassador Frank Wisner of the United States visited the offices of the Times of India to informally interact with a couple of us senior editors at the time. Interestingly, many in New Delhi in fact frowned upon such social contact between Indian media and foreign diplomats. Journalists accepting invitations to cocktail parties at foreign diplomats' homes were accused of allowing 'good Scotch whisky to influence their views'! Hopefully, things have changed since then.
Given the importance of public opinion in a democracy, diplomats should make it their official business to shape it by maintaining good relations with those who shape such opinion. In the old days, so to speak, this meant reaching out to mainstream media. Today, it means having a grip on social media. So it is understandable that Indian diplomacy has become active on social media. This in fact began in the early 2000s when diplomats like Navdeep Suri and Vishnu Prakash used social media to reach out to public opinion.
While engaging social media is important, how and when one engages should be carefully planned. Should the ministry of external affairs have reacted to Rihanna and Thunberg's tweets in support of Indian farmers in the manner in which it did? Perhaps not. Could Indian diplomats have actually reached out directly to these ladies? They may well not have the required access. The government did get the likes of Sachin Tendulkar and Lata Mangeshkar to put out tweets in its defence but it may have been wiser to do so discretely without the government's and the ruling party's heavy hand being so visible and in-your-face. The calibrated manner in which the official and non-official tweeting was done did not impress anyone but the hardcore loyalists of the Modi government.
Diplomacy has long ceased to be about government-to-government (G2G) relations. It has increasingly become about building business-to-business (B2B) and people-to-people (P2P) relations. Over the years attempts have been made to construct a 'bilateral relationship index' based on measuring parameters that define G2G, B2B and P2P relations. Nitin Pai of Takshashila Institution published one such index in Pragati and I wrote a column in Business Standard exploring the idea.
The point of such an exercise is to determine which dimension is important for which country. In India's relations with Russia or China public opinion at home may matter but it would play little role in the target country. On the other hand, a government in the United States or the United Kingdom cannot ignore public opinion while promoting relations with India. Hence, in countries where public opinion matters diplomats have to devise intelligent ways in which they can reach out to it and try to shape it.
Recall the anti-Australia wave that gripped Indian media a decade ago when Indian students were attacked on Australian streets. Australian diplomats mounted an enormous exercise in India reaching out to public opinion. It worked so well that the number of Indian students studying in Australia has gone up sharply over the past decade. Australia is now giving Britain a run for its money attracting fee-paying Indian students.
It is in recognition of the role of public opinion in India that foreign diplomats reach out to Indian media and seek to build a strong relationship. Indian diplomats should also do the same in countries of their posting. The government should give them the required funds to finance the effort. Merely issuing statements out of New Delhi serves no purpose other than to keep domestic Indian public opinion happy.
Sanjaya Baru is a writer and Distinguished Fellow at the Institute for Defence Studies & Analyses in New Delhi.