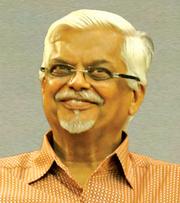 SANJAYA BARU
Power politics is not a morality play! That quotable quote may well be found in Machiavelli's tracts but it was a statement I often heard former Prime Minister Manmohan Singh make, explaining the many twists and turns that his precariously perched coalition government had to make to remain in office. If power politics is not a morality play, coalition politics is even less so. The world over.
All those who have had a moral issue with the manner in which the Bharatiya Janata Party (BJP) cobbled together a coalition government in the states of Goa and Manipur should quickly take a course in coalition management. Political coalitions are like amoebas. They constantly change their shape, grouping and regrouping.
No one understands this better than Manmohan Singh. After all, he became Prime Minister in 2004 because the Congress party's bitter rival, the Left Front, chose to extend support to the United Progressive Alliance (UPA), after the election results were announced. The Common Minimum Programme was an afterthought that Sitaram Yechury and Jairam Ramesh put together as a fig leaf that enabled their party leaders to stand together in public.
Then, when the Left Front withdrew support, in July 2008, the Congress Party was quite happy to immediately seek and secure the support of the Samajwadi Party — despite the utter contempt in which Congress President Sonia Gandhi held Mulayam Singh Yadav, after he ditched her in May 1999. At the time Sonia was ready to head a coalition government, with 272 MPs in hand. Mulayam pulled the red carpet from under her feet by denying that he had ever extended support to a government headed by her.
In 2008 I was witness to the drama of the great UPA coalition twist. To be fair, Mulayam was not in it for money. Maybe some of his supporters were. Mulayam wanted to retain political relevance. He went to great lengths, as I have described in detail in my book, The Accidental Prime Minister: The Making and Unmaking of Manmohan Singh, to find a legitimate basis for making his political switch. He drafted none less than former President Abdul Kalam to justify his expediency.
Till the beginning of July 2008 Mulayam Singh Yadav rejected Manmohan Singh's major foreign policy initiative, the India-US civil nuclear energy agreement, on the grounds that friendship with the US would upset Indian Muslims. President George Bush was killing Muslims in West Asia. This has made him unpopular among Muslims in India. The nuclear deal would cement closer relations with the US. Hence, reject it. That was Mr Yadav's transparent logic. But, when opportunity presented itself to get a stab at power, and Mulayam certainly hoped to be inducted into Manmohan Singh's government after his vote in support of the nuclear deal, he did a twist.
Was that an act of immorality? Hardly. Remember, power politics is not a morality play. Mulayam did what any politician anywhere in the world would do to get a ministerial berth by adjusting his policies a bit. It was a political act. Mulayam Singh offered his support in exchange for political benefits. That is how coalitions the world over have been formed. The benefits are not necessarily monetary and in Mulayam's case I am convinced it was not so. He wanted a cabinet berth. That is legitimate political bargaining and all coalition governments around the world are familiar with such tactics.
Those who think that the phenomenon of 'aya Ram and gaya Ram' in politics is peculiarly Indian should get a video of the Danish television series, Borgen, and watch every one of its episodes. From Denmark to Japan, from Germany to Britain, every democracy that has had coalition governments knows that coalitions get reconstituted from time to time. Former enemies become friends. Former friends part company. Long before Hollywood thought of the idea of 'friends with benefits', coalition politics did.
The problem with the Congress party is that it has not run too many coalitions to be able to quickly think of ways of creating and sustaining one. In 1996, when the Congress party performed poorly and the BJP emerged as the single largest party, Prime Minister P.V. Narasimha Rao tried to cobble together a coalition that could have allowed the Congress to retain power. Before he could get enough regional parties on his side, the anti-P.V. elements within the Congress, led by Madhavrao Scindia, decided to concede defeat. It was then that a Congress-supported United Front government was formed under the leadership of H.D. Deve Gowda. Apart from the UPA, the Congress has not run too many coalitions. On the other hand, despite the increasingly centralising tendencies within the BJP, that party has had a longer track record of grouping coalitions together. Its deft maneuvering in Panaji and Imphal put the Congress to shame!
For a student of politics what should be particularly interesting is the fact that despite the recent concentration of power within the BJP in the hands of the Prime Minister, the BJP has demonstrated greater agility and its mid-level leaders like Nitin Gadkari and Ram Madhav were able to act with stunning speed. The concentration of power in the Congress has clearly been such that even a senior leader like Digvijay Singh was unable to take decisions on his own. Agility is key to the management of coalition politics. One has to beat a rival before one gets worsted by the rival.
To those who do not understand the currency of power all this might come across as lacking in ethics and principles. But, as Dr Singh would often say, power politics is not a morality play!