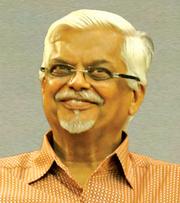 SANJAYA BARU
ON August 5, 2019, I met Arun Jaitley, the Bharatiya Janata Party (BJP) leader, for the last time at his home. Soon after, he passed away. As I was ushered into his room, where he sat uncomfortably with many tubes inserted into him, I saw him watching the discussion in Parliament on the Union government's decision
to repeal Article 370 of the Constitution that gave the state of Jammu and Kashmir (J&K) a special status.
"You must miss being there and they must miss you too," I said to him. He smiled wistfully. Jaitley was a star parliamentary debater. The press gallery would be full when he spoke, whether criticizing or defending the government of the day. His speech in Parliament in 2015 on the matter of the National Judicial Appointments Commission still rings in one's ears. But then, there were so many. Be it in English or in Hindi, he spoke with passion, demonstrating his command over facts, and held his audience spellbound.
Jaitley was not an exception. There have been many parliamentary orators like him. Indeed, in my judgement, among the greatest of parliamentary speakers in my three decades in New Delhi remains, unquestionably, Atal Bihari Vajpayee. Recordings of his speeches in Parliament are still viewed on YouTube and millions watch them even today. Some of the most illuminating parliamentary debates were the ones on the India-United States civil nuclear energy agreement in the period 2005-08. If Jaitley, Arun Shourie and Yashwant Sinha were the star speakers of the BJP, Kapil Sibal, Anand Sharma and P. Chidambaram spoke eloquently for the government.
Some of Prime Minister Manmohan Singh's best speeches, erudite and hard-hitting, were made during the several debates on the nuclear deal. In a debate on the government's decision to waive loans to farmers, Dr Singh suddenly departed from a written draft speech to quote the poet, Oliver Goldsmith, extempore from memory:
"Ill fares the land, to hastening ill a prey, / Where wealth accumulates and men decay: / Princes and lords may flourish or may fade; / A breath can make them, as a breath has made; / But a bold peasantry, their country's pride, / When once destroyed, can never be supplied." Members heard him in stunned silence and the argument was sealed.
Reporting such experiences has been the stock-in-trade of generations of journalists in Parliament. What now? There are the occasional interventions of a Manoj Jha of the Rashtriya Janata Dal, or a Mahua Moitra of the Trinamool Congress, that are not only heard within the House with interest but also make it to social media and remain there to be viewed again and again.
Sadly, however, there is no one from the treasury benches, not even the prime minister, who makes a speech worth hearing in order to be either educated or illuminated. Entertained? Yes. There are many entertaining speakers on both sides of the House, but few erudite ones. Prime Minister Narendra Modi has not only made his appearances in Parliament rare but has used his opportunities to speak more to mock the Opposition than explain his policies. The tone and tenor of parliamentary debates are set by the leader of the House and the leaders of the Opposition. On neither side of the Lok Sabha or Rajya Sabha do we find much to inspire these days.
If Parliament is in such a sorry state, what of state legislatures? Unfortunately, one does not get adequate news coverage nationally of what happens in state legislatures. Perhaps there are legislative assemblies in which debates are more lively and educative. I have watched a few in my home state of Telangana where in the state legislature one can see that both the chief minister and his senior colleagues make an effort to speak cogently and address issues and so do members of the Opposition. Perhaps other state assemblies also have spirited discussions. The question is: how many bother to listen to them, on television or social media, and how well are they reported in print and online media?
Parliamentary reporting has also suffered along with parliamentary debate. There is far too much focus on corridor gossip and controversy than on substance. Many journalists use their access to the lobby to network. Rarely does a news report of substance emanate from Parliament these days. The live telecast of Parliament and legislatures was originally aimed at offering the citizen a peep in. What the viewer now gets is either a lot of shouting in the background or a sanitized view that rarely gives the flavour of the proceedings.
What also discourages a viewer of parliament television is the thin attendance on most days. A member may be making an important speech but when the camera pans and shows a virtually empty house one wonders how important that intervention would have been from a policy perspective. Is anybody listening?
All this is a loss for civil society. Getting people interested in parliamentary debate and discussion is an important aspect of democracy. I recall visiting Stockholm in the 1990s and walking into the visitors' gallery that was open to all. I went in, sat in a crowded gallery and came out astounded that, as a foreign tourist, I could do this. Civil society engagement in the legislative process is necessary and an important part of sustaining parliamentary democracy.
There is so much public and media focus on elections but so little on what the elected do. Most newspapers have ceased to publish 'Today in Parliament/Assembly' columns. Television shows only drama, when it is staged, and rarely nuanced debate. All this is more recent. When the nuclear deal debates went on even private TV channels televised the proceedings live because the discussions were so riveting and consequential. Both have become rare.
When was the last time you were glued to your radio or television, listening to a debate in Parliament that was both entertaining and illuminating? Honestly, I cannot recall any debate from the past five years.
Sanjaya Baru is a writer and Distinguished Fellow at the United Service Institution of India