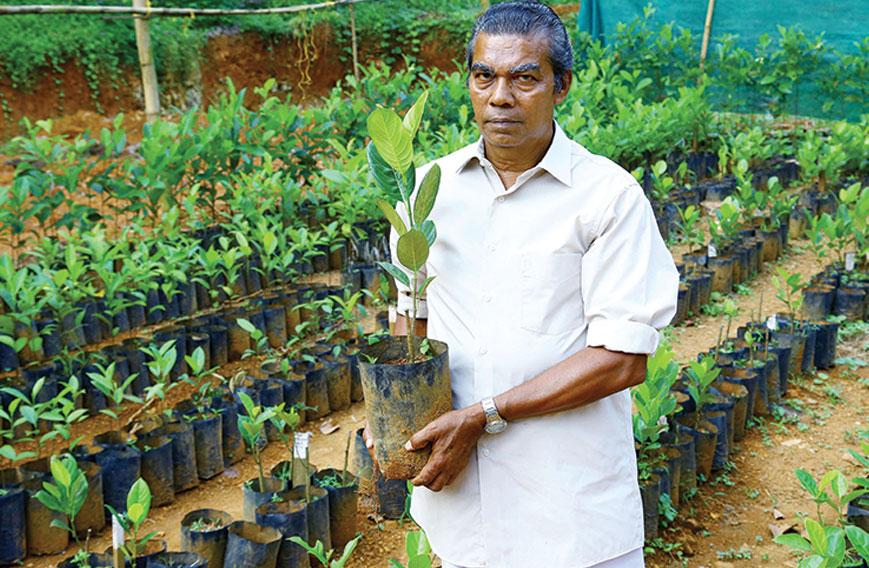 Thomas Kattakkayam has collected 114 varieties of jackfruit and plans to get to 200
Tracing the many relatives in the jackfruit family
Shree Padre, Kottayam
Published: Jan. 06, 2017
Updated: Jun. 15, 2017
Jackfruit was born and cultivated in India but how many varieties do we have? Nobody really knows. But ask Thomas Kattakkayam, a 71-year-old farmer in Kottayam district, and he can provide a few clues. Kattakkayam has collected 114 varieties of jackfruit and plans to stop at 200.
Throughout last year Kattakkayam was away from home, scouting around for good jackfruit varieties. Most of his selections are from his own district, Kottayam. He has not selected any variety without first tasting the fruit. "Only 40 percent of what I ate could be shortlisted," he says.
Kattakkayam is actually a rubber farmer. His 10-acre estate near Pala in Kottayam district is thick with rubber trees. Recently, he cleared one acre of rubber to make room for the jackfruit plants he had painstakingly collected. On that land he planted 100 jackfruit grafts. Kattakkayam is carefully watching them grow, assessing their qualities and picking out the best varieties for propagation.
"In five or six years, I hope to be able to harvest jackfruit throughout the year. Then I'll make it my staple crop," he says. It is not without reason that this seasoned farmer is keen to grow jackfruit 365 days of the year.
Jackfruit isn't easily available in Kerala in October and November, its traditional off-season. Yet, Kattakkayam has already consumed two jackfruit. One has passed his taste test and will be propagated shortly.
Kattakkayam has two very valuable all-season varieties of jackfruit trees. "I have been observing both for the past 18 months. At least once in three or four months, I visited the trees to check their performance," he recalls.
Kattakkayam says these two mother trees yield fruits of an average weight of 12 kg. About 50 fruits are currently growing on them. The lowest yield he observed was about 20 fruits ...