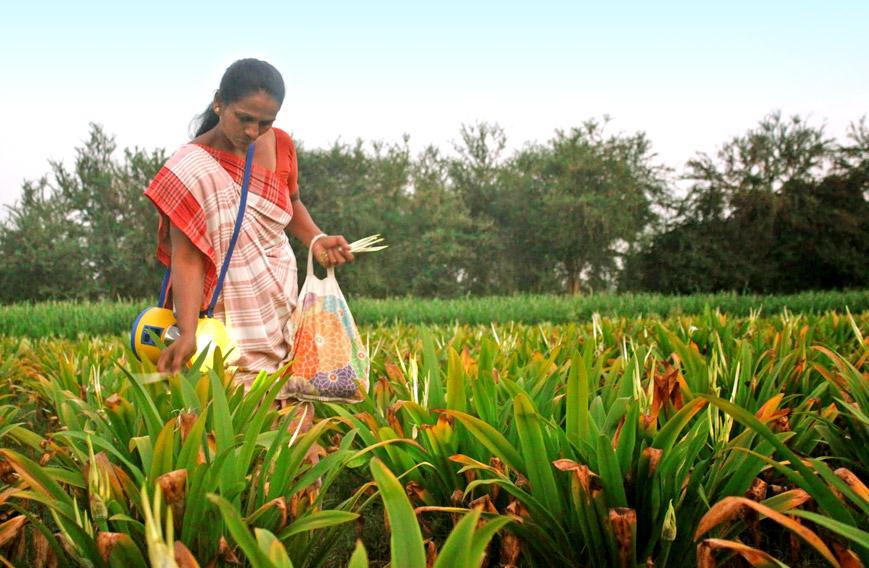 Flowers and spices are collected before dawn with solar lanterns
SEWA lighting up fields
Tanushree Gangopadhyay, Ahmedabad
Published: Feb. 29, 2016
Updated: Dec. 05, 2016
For nearly two years, the mosque in a village in Kashmir would be enveloped in darkness when the sun dipped. It had no electricity. A woman equipped with the requisite training from the Self Employed Women's Association (SEWA) offered to light up the mosque with solar lights. But the men would not allow it. Lighting up the mosque is not a woman's job, they said.
After much persuasion, the maulvi reluctantly agreed. The woman arrived and briskly fixed solar lights. The mosque began to glow at night. The maulvi was impressed. He visited her home and gave her a cash award.
SEWA is helping its members in Kashmir, Gujarat and other states to assemble, repair, buy and sell solar lamps. Women are finding such lighting very useful, especially for agricultural work.
"In Kashmir we trained members of SEWA in assembling and repairing solar lights. Our work received an impetus ever since Farooq Abdullah became Union Minister of New and Renewable Energy. Today, 22 villages in Kashmir use solar lanterns in their homes. Women get micro-loans to finance solar lanterns," says Reema Nanavaty, Director of SEWA.
In 2008, SEWA carried out a survey to find out the economic status of its members. "We found our women spent 45 per cent of their income on fuel and energy for cooking. They walked long distances to collect water and firewood. So we started the Hariyali Green Energy programme with support from the International Finance Corporation (IFC). This is a synergy between energy and access to appropriate technology. The women have been given solar lanterns and solar cooking stoves," says Nanavaty.
The women are thrilled with their solar lanterns. Solar pumps are also doing well. But the solar stoves haven't been a success for many reasons.
Women in Surendranagar district of Gujarat assemble solar ...