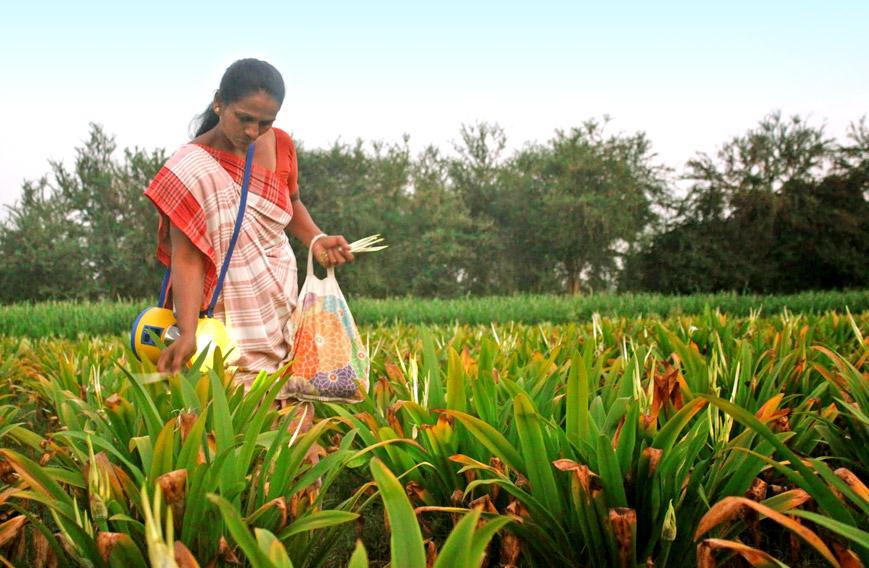 Flowers and spices are collected before dawn with solar lanterns
SEWA lighting up fields
Tanushree Gangopadhyay, Ahmedabad
Published: Feb. 29, 2016
Updated: Dec. 05, 2016
For nearly two years, the mosque in a village in Kashmir would be enveloped in darkness when the sun dipped. It had no electricity. A woman equipped with the requisite training from the Self Employed Women's Association (SEWA) offered to light up the mosque with solar lights. But the men would not allow it. Lighting up the mosque is not a woman's job, they said.
After much persuasion, the maulvi reluctantly agreed. The woman arrived and briskly fixed solar lights. The mosque began to glow at night. The maulvi was impressed. He visited her home and gave her a cash award.
SEWA is helping its members in Kashmir, Gujarat and other states to assemble, repair, buy and sell solar lamps. Women are finding such lighting very useful, especially for agricultural work.
"In Kashmir we trained members of SEWA in assembling and repairing solar lights. Our work received an impetus ever since Farooq Abdullah became Union Minister of New and Renewable Energy. Today, 22 villages in Kashmir use solar lanterns in their homes. Women get micro-loans to finance solar lanterns," says Reema Nanavaty, Director of SEWA.
In 2008, SEWA carried out a survey to find out the economic status of its members. "We found our women spent 45 per cent of their income on fuel and energy for cooking. They walked long distances to collect water and firewood. So we started the Hariyali Green Energy programme with support from the International Finance Corporation (IFC). This is a synergy between energy and access to appropriate technology. The women have been given solar lanterns and solar cooking stoves," says Nanavaty.
The women are thrilled with their solar lanterns. Solar pumps are also doing well. But the solar stoves haven't been a success for many reasons.
Women in Surendranagar district of Gujarat assemble solar lanterns of five watts each, says Heena Dave, coordinator of SEWA in Dhrangadhra. Each lantern costs Rs 3,500.
Women in the flower business in Anand, Vadodara, Dholka and Ahmedabad, for instance, find solar lighting very useful. They begin work at 3 am. First, they pray and offer flowers to the gods. Then they go to their fields with their solar lanterns and pluck roses, marigolds, neeli and other flowers at that early hour. The air is filled with the fragrance of flowers as the women make their way to the mandi with their solar lanterns lighting the way.
"Flowers are fresh at that time of the night. More important, we have to reach them to the markets by 6 am or they cannot be transported for sale," explains a woman flower plucker.
Spices such as cumin and cotton are also collected at that hour with solar lanterns. Cumin, an expensive spice, is easier to pluck at night when the air is cool. At lower temperatures the delicate flowers that contain pods of cumin tend to cluster together and can be quickly collected. During the day the pods separate and the cumin seeds get sprinkled in the mud.
Hansaben, a cumin collector, recalls her grandfather placing bedsheets near the cumin plants so that the pods and their seeds could be collected. "As children we collected each cumin pod painstakingly," she recalls.
Fields are watered at night with solar lighting. The women sometimes remove the bulb from the lantern and strap it on their foreheads. This leaves their hands free for plucking. The lights also keep animals away from the fields.
Several companies are making solar stoves but the women prefer their chulhas where they can make their rotlas. "If we pay Rs 3,000 in instalments for solar stoves, we may as well spend Rs 5,000 as a deposit for a Liquefied Petroleum Gas (LPG) cyclinder and stove," they say.
The women also relate stories of disasters involving solar stoves. A teenager died when her solar stove burst, they say.
However, solar pumps have been very successful in the Little Rann of Kutch, says Nanavaty. Around 18,000 saltpan workers or agariyas who are members of SEWA manufacture salt. Families leave their villages and move to the Rann area in October and harvest the salt in June. Gauriben, a veteran saltpan worker, is very happy with her solar pump. Earlier, they used diesel pumps that required as much as 1,500 litres per day to lift water used for making salt.
"Today we save between 350 and 450 litres of diesel daily. We can now pay our instalments for the solar pump within five years," says Gauriben.