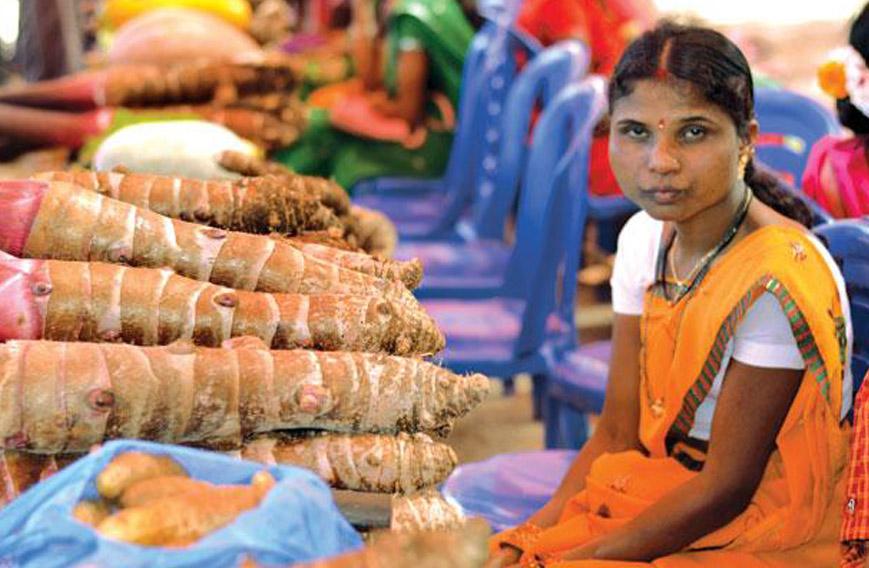 On the trail of giant tubers in South Kannada
Shree Padre, Joida (Karnataka)
Published: Nov. 26, 2015
Updated: Dec. 05, 2016
Joida taluk in Uttara Kannada is so remote and badly connected that the local Kunbi tribals trudge 20 km and sometimes even 50 km just to catch a bus. Joida mostly has no transport, no electricity, no hospital and no mobile network. Seriously ill people have to be wrapped in a sheet and carried to the nearest town. If, by a stroke of luck, a bus turns up, it may be possible to arrive at a hospital in time.
But if you think Joida should be written off, think again. Remote and backward it may be, but in recent times it has found a place on the country's agricultural map. Cut off from the rest of India, the Kunbis have been growing an amazing variety of tubers organically. Their main tuber, is the big taro (Colocasia esculenta), which grows to the average height of a man. Agricultural scientists are now trying to gauge if the Kunbi taro is distinct. If yes, the Kunbis can apply for geographical indication.
The Kunbi tubers caught the attention of Balachandra Hegde Sayimane, a farmer and forestry researcher who works as a coordinator with SWIFT (Sahyadri Wildlife and Forest Conservation Trust) in Nilkund. He was researching non-timber forest produce and had to stay overnight at a remote Kunbi village.
"I couldn't escape the sight of tubers in all the houses I went to. I realised that tubers play a very important role in the lives of the Kunbis. The only money they earn is by migrating to Goa to work as farm labour. It struck me: can we help them earn a good income from tubers? They won't need to migrate then. "
Sayimane organised a one-day Tuber Fair at Joida on 19 November and invited a five-member team of agricultural scientists from the Central ...