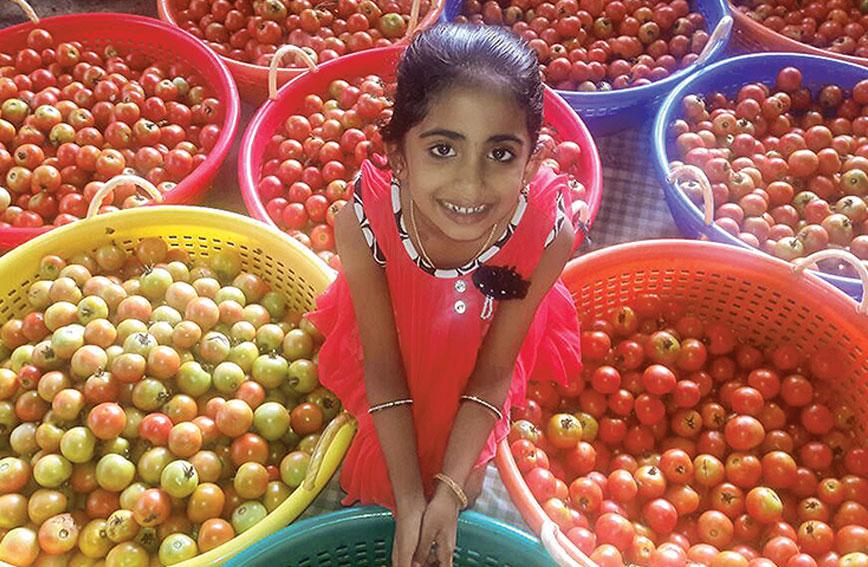 Tomatoes grown by Ranjit Chitteth with grafts from KAU
Kerala gets the tomato it always wanted
Shree Padre, Thrissur
Published: Feb. 17, 2017
Updated: Jan. 30, 2020
Groups of farmers regularly visit Mala in Thrissur district after learning of this prime vegetable growing belt from the media. They invariably return impressed by the profusion of tomatoes. Apart from tomatoes, fields in some 20 acres are dotted with brinjals and chillies.
But it is tomatoes that capture their attention. What's so special about growing tomatoes? It's unusual in Kerala. Apart from three panchayats in Palakkad, tomato is not cultivated anywhere in the state because farmers are fearful of bacterial wilt, a disease that tomatoes catch easily in coastal states.
But now there is hope. The Kerala Agricultural University (KAU) in Thrissur has grafted tomato plants resistant to the disease.
Grafting is a method by which two plants are joined to form a single plant. The upper part (scion) of one plant grows on the root system (stock) of a tougher plant.
"KAU is the only university in India that has technologically perfected grafting of vegetable plants and made them commercially available," says Dr K. Narayanan Kutty, professor, horticulture.
This new development is significant for Kerala. Tomato is the highest consumed fruit in the state. No housewife's shopping list is complete without a kilo or two of the red fruit. The state imports nearly its entire tomato requirement from Tamil Nadu and Karnataka.
But this is now changing. Last year KAU produced 400,000 grafted vegetable plants. Most were tomatoes followed by brinjals and chillies.
Grafted vegetable plants, unlike fruit grafts, can't be kept for too long. Their stems are slender and delicate and they have to be transported carefully.
So the grafted vegetable plants aren't kept in ready for sale condition. Farmers place orders for the grafted plants months in advance. They buy the seeds of their choice and hand them over to KAU which then raises plants and grafts them. It takes around 45 days for the grafted vegetable plants to be ready for delivery.
Dr Narayanan Kutty holding up a graft in a greenhouse at KAU
Three farmers
Three years ago, Ranjit Chitteth, with a diploma in engineering, became a full-time farmer in the Ashtamichara area of Mala. He started growing tomatoes on just 30 cents and then increased it to three acres. "One acre fetches me a profit of Rs 1 lakh," he says.
Along with Sinoj K.S. and Joseph Pallan, Chitteth practises staggered planting. "We plant 3,000-4,000 tomato plants every month. Our tomatoes are much sought after because they are tasty and grown under the 'safe to eat' concept," says Chitteth.
The three farmers sell their tomatoes to six high-end vegetable shops in Ernakulam and Kodungloor. In August, Tamil Nadu tomatoes sold for Rs 10 per kg here. The three Mala farmers sold their tomatoes for Rs 35 per kg.
"Our tomatoes generally sell at between Rs 40 to Rs 70," says Sinoj.
Abdul Razak, a kitchen garden campaigner from Parappanangady in Malappuram, travels 100 km to buy grafted tomatoes, chillies and brinjal, the three solanaceous cousins, from KAU. He grows them in his model garden to inspire others and he distributes some plants to schools and associations when they invite him to speak on homestead cultivation.
"I give beginners two or three grafted tomato plants. When they see tomatoes grow wondrously, they are sure to take to cultivation," says Razak.
Balachandran, a vegetable farmer from Kottarakkara, Kollam district, has been growing tomato, brinjal and chillies from KAU on 10 acres for several years. He is happy with two Indian Institute of Horticultural Research (IIHR) varieties — Arka Rakshak and Arka Samrat, which yielded 10 kg fruit per plant.
Balachandran has put in place a 'safe to use' network of farmers and a retail outlet called Krishimitra where they sell their produce.
"I sell tomatoes for Rs 90 per kg," he says proudly. "So do my fellow farmers." His 3,000 plants yield nine tonnes. He makes a neat profit of Rs 3 lakh.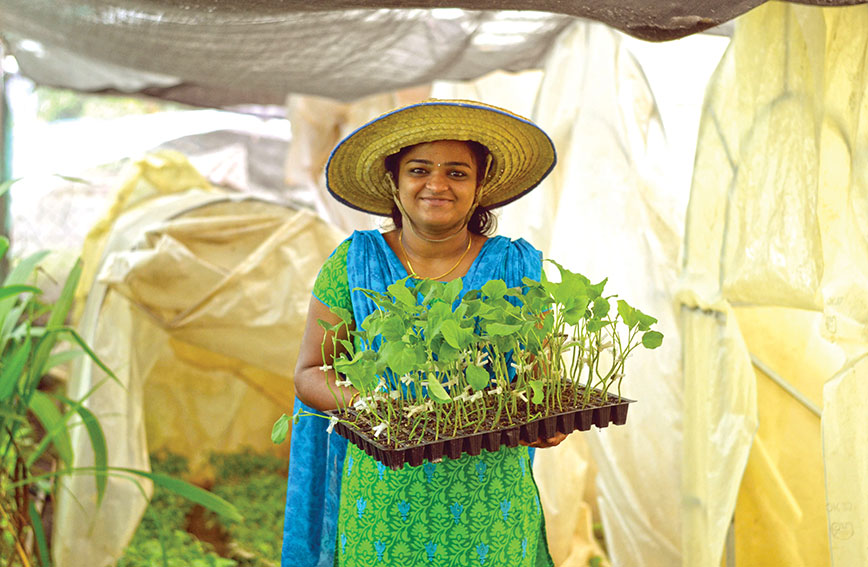 Grafted plants need gentle hands. Here, a set is being shifted to a mist chamber
T. Nallappan, a farmer from Palakkad and a member of the Vegetable and Fruit Promotion Council of Kerala, cultivates KAU's grafted tomato plants on 20 cents. Not only are the tomatoes resistant to bacterial wilt, they yield fruit for a longer time. The expense is only 10 percent higher.
But it's tougher for him to sell tomatoes at high prices. Tomatoes from Tamil Nadu pour into Palakkad. "Recently, tomato prices fell to Rs 4 per kg. Unless we grow organically and have a strong marketing set-up we can't expect high prices," he explains.
New trends
"We have a very virulent strain of bacterial wilt in Kerala," says Dr Kutty. "Coastal areas like Goa, Odisha and West Bengal are similarly affected. Even if we bring resistant varieties from elsewhere and plant them here, they contract the disease."
The problem is that inoculums of the bacteria get embedded in the soil so sooner or later other crops get affected. In the past, when farmers in Mala tried growing chillies and tomatoes on a large scale, they had to give up because the crops just wilted and died, says Joseph Pallan, an experienced farmer.
Though grafted plants have played a major role in the success of farmers, other factors have contributed too. Vegetable farming in Kerala has undergone major transformation in recent years. Farmers have taken to hi-tech methods, like precision farming and poly houses. Practices like plastic mulching, drip irrigation line embedded beneath the mulching sheet and fertigation (supply of nutrients through irrigation) now enable farmers to get the right yield at the right time. So they can plan their marketing strategies in advance.
The quality of the crop is also the same because of uniform irrigation, scientific manure and micronutrient management.
The 'safe to eat' concept has caught on among consumers. To implement this farmers don't use any chemical pesticides once the crop has reached the flowering or fruiting stage. Only a mild dose of pesticide can be used if needed before this stage.
"We have been popularising the use of pheromone traps and sticky traps for insect attacks at later stages," says Dr Kutty.
Most vegetable farmers undertake cultivation on leased land. Since they aren't sure of getting the same plot the next season they don't build permanent irrigation pipelines in the soil. Temporary pipelines that can be quickly dismantled are used.
An interesting innovation by farmers is the bonus crop. After the tomato or ladyfinger crop has reached fruiting stage, farmers dibble cowpea into the same hole where the tomato is planted. By the time the tomatoes are ready for harvesting, cowpea vines begin climbing the tomato stem which acts as a prop.
"We just have to give a fertiliser dose and keep irrigating," says Sinoj. "We are easily earning Rs 60,000 per acre from cowpea. That's why we call it a bonus crop. In this way we are reducing the production cost of tomato and ladyfinger."
Clips and wilt
Solanum torvum, a wild brinjal plant (pea eggplant), is used as rootstock for grafting all solanaceous plants. It is a well-known grafting technique. But when KAU took it up for mass production many problems came in the way.
In 2013 vegetable grafting got underway seriously at KAU. A major hurdle Dr Kutty faced was reinforcing the slender tomato plant. The rootstock could not hold the newly joined top without external support.
The clip method turned out to be the most suitable. Chinese clips were procured but they were of inferior quality. Good quality local clips that can be used five or six times were obtained. One graft costs Rs 4.
Demand for grafts has exceeded production. This year KAU might end up producing 600,000-700,000 grafts. Fifty percent will be tomato grafts and 30 percent chillies.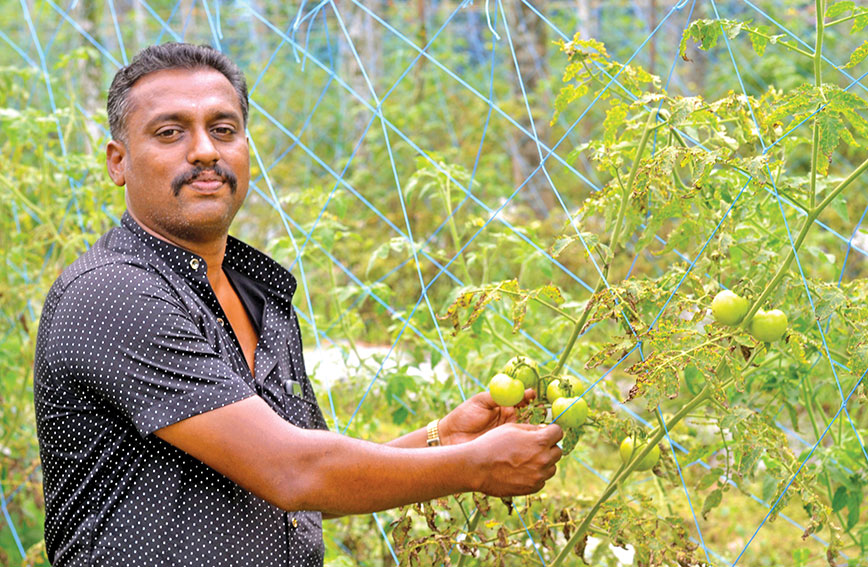 Ranjit Chitteth in his tomato garden
The grafted plants are immediately shifted to a post-grafting mist chamber. Irrigation has to be carefully done. Excessive moisture can invite fungus growth. At KAU, hand sprayers are used.
Transporting grafted plants is not easy. KAU provides iron stands that can be mounted in an auto-rickshaw or pick-up van. Four thousand plants can be carried at a time. The tomato grafts should be collected when the day temperature is not above 35o Celsius. The summer months — February to May — are not suitable for picking up grafts. The farmer has to plant the grafts immediately.
Spreading knowledge
Farmers appear to be happy with grafted vegetable plants. Zacharia, who practises precision farming in Perumbavoor in Ernakulam district, has been growing all three solanaceous vegetables. His favourite is brinjal. He says not a single brinjal died of bacterial wilt and he earned 30 percent more.
The Asian Vegetable Research and Development Centre (AVRDC) has taken thousands of grafted brinjal and capsicum plants for trial plantation to Chikmagalur, Tumkur and Raichur districts of Karnataka. The feedback they received is that the yield from brinjal was higher and the plants lived longer.
In Kerala farmers hope that tomato cultivation will pick up. "Three years ago Chitteth started farming with grafted plants. Now a dozen farmers are following in his footsteps. Farmers from other districts have been coming here to take a look. People are seeing a successful model in front of them," says Pallan.
But since grafted plants can't be stored and sold, decentralisation of commercial grafting is the only solution for farmers far away from KAU.
KAU has already trained staff at AVRDC in grafting. But they faced problems of germination in the rootstock plants. "However, we bought grafted plants from KAU and gave them for trials. The results are quite encouraging," says Sephy Joseph, Deputy Manager of Vegetable and Fruit Promotion Council Keralam (VFPCK) at Ernakulam.
S.K. Suresh, CEO of VFPCK, confirmed that demand for vegetable grafts exceeds supply. "We are not able to meet the demand. But we are submitting a proposal for large-scale production of vegetable grafts."
"Easy availability of vegetable grafts will scale up commercial production of these vegetables and urban vegetable farming will get new impetus," says Chitteth.
Unlike Tamil Nadu and Karnataka, Kerala does not have private nurseries for grafted plants. There wasn't any demand so far because mostly big seeded vegetables like snake gourd, cowpea and pumpkin, which didn't require nurseries, were grown.
Dr Kutty cautiously started a nursery for winter vegetables some time ago, unsure if Kerala farmers would be ready to pay Rs 2 or more for a plant. The state government had started various schemes to encourage terrace gardening, grow bag vegetable cultivation and so on, all of which required nurseries. But the hectic purchase of grafted vegetable plants at Rs 4 apiece shows that the Kerala farmer is willing to pay.
The agriculture media in Kerala is also very active and disseminates information quickly. Kerala has a government-run Farm Information Bureau and a regular TV documentary series, Kissan Krishideepam. There are also several TV channels, farm journals and farm pages in Malayalam dailies that provide information in real time.
"Thanks to grafted plants, Kerala can definitely produce its own tomatoes," says Dr P. Rajendran, Vice-Chancellor of KAU. "Tomatoes from neighbouring states have considerable pesticide residue and consumers are getting health-conscious. This safety angle will be another big incentive to grow tomatoes locally. We will be training staff in all our 27 stations in the state. Hopefully, in another decade our state will produce 50 to 60 percent of its tomato requirement."
The other two diseases that could strike tomato are leaf curling virus and early blight. But these are not that serious, assures Balachandran.
"There is also fusarium fungal disease and the nematode problem. They aren't a major headache thus far. As the area under commercial cultivation expands new problems might come up but we will deal with them," says Dr Kutty. There is no need for Kerala to be wary of the tomato anymore.
Dr Narayanan Kutty - + 91 94956 34953; cnkutty@gmail.com