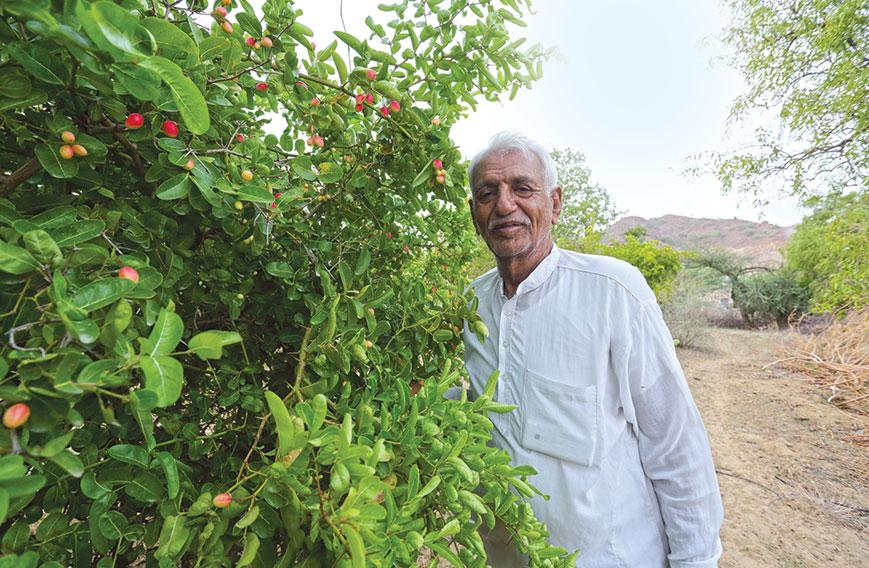 Chhogalal Soni poses with one of his fruit trees
An orchard in the desert
Civil Society News, Barmer
Published: Nov. 25, 2016
Updated: May. 02, 2017
At 68, Chhogalal Soni has the gruff ways of someone accustomed to taking on challenges. A tall man, with gnarled hands and a burly manner, he has a diehard demeanour. In the first few minutes when we meet him it becomes clear that he is someone who likes to go the distance.
For 12 years now, he has been achieving what many thought would be impossible — growing an orchard of fruit trees in the sands of the Thar desert in Rajasthan.
We link up with Soni in Barmer town. But 12 km away at Marudi village is the theatre of action where Soni's soul belongs. Here he has a 14-hectare farm, which was originally just sand, but now also has innumerable trees growing, almost impossibly, in the sand.
Locally, Soni has come to be known for his unusual passion to green the desert in ways that hadn't been imagined before, not in Barmer at least.
Soni seems very much a man caught up in his own world as he enters his farm through two small crudely built rooms on the periphery.
Yet in his own taciturn style he lets it be known that he does like the attention he gets. Journalists like us, from Delhi, stopping by to meet him, are all part of a private high.
"I want the world to remember me for something I have done. Something impossible. So I decided to grow fruit trees in the sands of the desert," he tells us.
But what is the secret of his success? How does he grow fruit trees in conditions where almost nothing else grows and rainfall isn't in plenty though the occasional deluge does strike Barmer?
"It is hard work. It means spending long hours tending to the plants. Watering them, giving them nutrients. I've ...