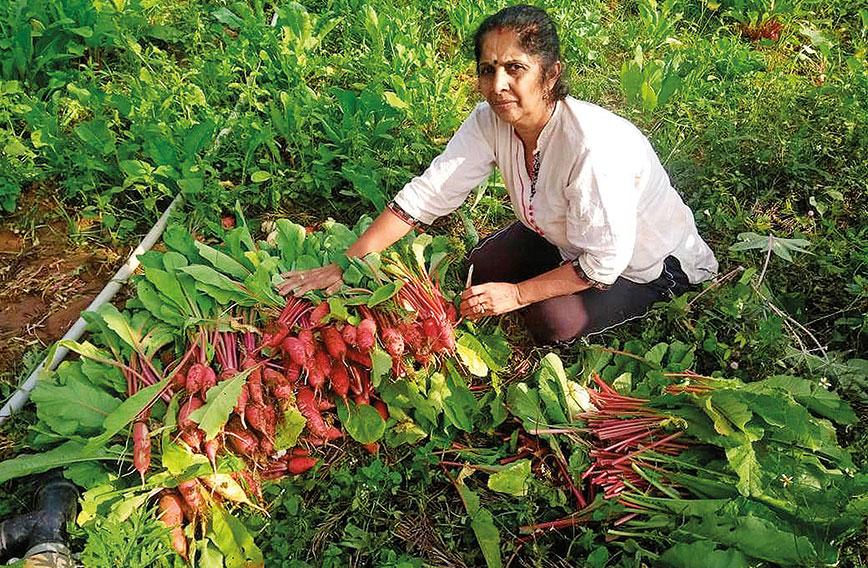 Hema Ananth working on her farm
Hema Ananth loves farming, her veggies make people happy
Shree Padre, Hassan
Published: Jan. 27, 2020
Updated: May. 28, 2020
Every morning and evening, a tiny shop opens in Kuvempu Nagar, a residential locality a short walk from Hassan Railway Station in Karnataka.
Farm-fresh organic fruits and vegetables are placed on a table. There are eggs too. A board displays prices of the produce. Customers buy what they want and place the money in a cash box. The shop doesn't have a salesperson, a supervisor or even a CCTV.
"My daily sales target is `1,000," says 56-year-old Hema Ananth, owner of the unmanned shop and an exemplary farmer.
Although Hassan is a vegetable growing district, farmers don't make much money. Most of it goes into the pockets of traders. So Ananth figured it was better to sell directly to consumers.
"We don't get more than 25 percent of the price charged to consumers. This way I make some money and the consumer gets farm-fresh produce at a very reasonable price," she explains.
Milk costs `40 per litre and vegetables are priced between `20 and 40 per kg. No premium is charged for the produce being organic.
"My children are so accustomed to the milk I take from here that they don't like the milk sold in packets," says H.K. Ramakrishna, a regular customer. "Hema offers us very healthy organic produce. I can't help her on her farm. So sometimes I volunteer to arrange her vegetables on the table."
Ananth has about 70 regular customers. She says direct selling saves her time and enables her to sell small quantities. "Going to the market to sell five or 10 kg isn't feasible," she says.
Not once has a customer failed to pay. For some doctors she keeps vegetables, fruits and milk aside. They come at odd hours and prefer to pay her a flat rate of `5,000 at the end of the month.
For the past four years she has replicated this model in the monthly organic market held in Hassan. "Everybody knows it's my stall. If I am not manning it, people just put the money in the cash box."
Ananth says the idea came to her after she began giving people fresh vegetables and found it made them happy. After yoga classes at Ananth's home, trainees were delighted to receive fresh vegetables. They insisted on paying. So, she started her tabletop shop.
Ananth has received many awards for being a commendable farmer. She received the Dr M.H. Mari Gowda Award for Best Woman Farmer in 2008-09 from the University of Agricultural Sciences in Bengaluru. In 2017-18 she was awarded the Best Horticulture Farmer Award by Bagalkot Horticulture University.
Adding value
Ananth has a 30-acre farm, 11 km away in Gowripura village. Coconut trees grow on 20 acres. The farm has two bore wells, eight farm ponds and earthen tanks. A small dairy farm with 18 cows yields 60 litres of milk per day. The cows graze on a five-acre plot during the day. In the evening they are stall-fed.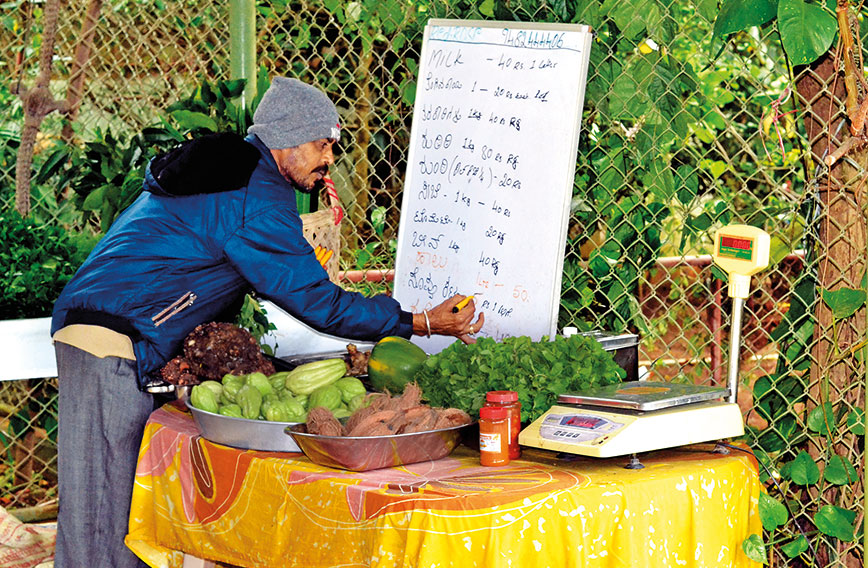 Ananth's little shop doesn't have a salesperson or even a CCTV
"If you see this farm on Google Earth, it looks like a forest," says Ananth who has been a farmer for 20 years. Her farm has lots of agroforestry trees. Every year she sells 500 trees and earns around `3-4 lakh. She replants 2,000 trees.
Ananth drives to her farm at 5 am to supervise things. She returns with milk at 7.30 am. By 9 am she is back on her farm, joining her staff in doing manual work. At 5 pm she returns home with freshly harvested fruits and vegetables which she places on her table for sale. Then she attends to her household chores.
Ananth has 1,500 rain-fed coconut trees out of which 1,000 yield coconuts. One tree yields 200 coconuts. Water isn't an issue. The farm is on sloping land. Run-off from 50 acres on the higher side is directed to a big pond below. If water dries up in this pond, water from tanks lower down is pumped up. There are also contour bunds to capture rainwater. All these measures have increased the sub-soil moisture.
Ananth's farm isn't a high-tech one. Organic fertilisers are used. Vegetables, especially mint and fenugreek, are grown through the year. Drip irrigation is used for irrigating vegetables.
What is remarkable is how Ananth has successfully converted farm produce into value-added products. She found that she earned very little from selling coconuts. Twenty-two years ago, the price of a coconut was `10. It is almost the same today. So she decided to convert her pile of coconuts into virgin coconut oil.
Ananth travelled to Sri Lanka and learnt how to make coconut oil through direct micro expelling, a method by which roasted coconut gratings are pressed into a machine to extract oil.
Her father, Krishnappa, gave her `10 lakh to start a virgin coconut oil unit. Working 12 hours a day, her three-member team uses 200 to 250 coconuts a day to produce 20-25 litres of oil. One litre is sold for `510.
Though many farmers in Hassan grow coconut, not one was using oil extracted from their coconuts. Instead they bought oil from the market. Ananth says she did try to encourage them to switch to coconut oil, without success. Now some of them bring their coconuts to her unit to get the oil extracted. She charges them a nominal `60 per litre. She also transports their coconuts to her unit at Gowripura free of cost. Farmers can collect their oil from her shop and place the money in the cash box.
Eighteen years ago, she grew turmeric on a large scale. But there were no buyers. Instead of getting upset, Ananth went to Erode to learn how to dry turmeric. She came back and converted all her turmeric into powder in batches and eventually earned `3.5 lakh. That lesson gave her a lot of self-confidence.
She doesn't sell raw ginger anymore. Instead it is converted into mouth freshener. Juices, pickles, jams are also made whenever her farm yields more than what the market can absorb.
Some years ago she planted thousands of grafted orange plants. Unfortunately, the plants yielded citron lime which is very sour. The advice she got was to cut off all her orange plants. But Ananth refused. Soon the plants blessed her with a good crop of citron lime which she uses to make pickle.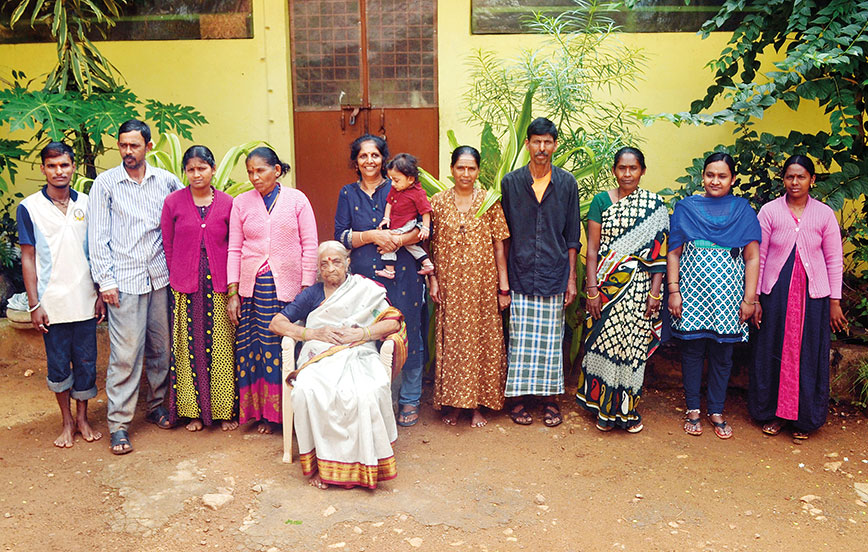 Ananth with her team
In her part of Hassan she is also known as Red Rose Hemakka because she was the first to cultivate roses in the district. In 1998 the Ananths constructed a house for themselves which they named Red Rose. Her father, Krishnappa, said, "Now that you have named your home rose, why don't you start cultivating roses?"
Ananth knew nothing of rose cultivation. She travelled to rose-growing areas of the state and booked a few thousand plants. In 2005, her five-acre rose garden was ready. No one else was growing roses and the town's daily demand was around 25,000 to 50,000 roses which were bought from far away. Merchants were happy to pay her `1 per stalk. Ananth says on some days she earned `10,000 to `12,000 for roses. Soon other farmers began growing roses, sending prices tumbling. So Ananth wound up her rose garden. But the moniker, Red Rose Hemakka, remained.
Early days
Ananth was born in a farming family in Ooty. Her father, Krishnappa, encouraged her to become a farmer and employ other people. Her grandfather's land was lying unused in Gowripura and he suggested she begin farming there. "The land will teach you," he told her.
Fortunately, Ananth befriended two old and wise women, Manjamma, who is now over 70, and the 102-year-old Puttamma. Both were well-versed in farming and now live on the farm. With their help Ananth converted her grandfather's barren land into a verdant farm. She works alongside her team of 17 farm hands. Her Gowripura farm is a popular study tour centre now. At least 20 student and farmer groups visit every year.
Contact Hema Ananth at 94824 44406 (7-8 pm).