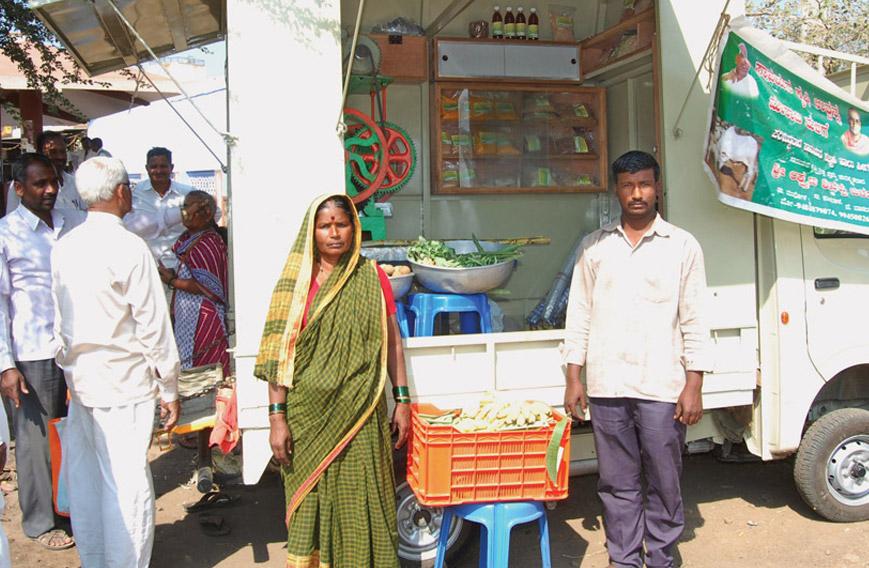 Organic veggies from field to van to customer
Shree Padre, Kasargod
Published: Mar. 21, 2016
Updated: May. 17, 2016
Saikumar Billur was working long hours in a cement factory after doing a diploma course in engineering and he wasn't happy. He came from a farming family near Mudhol in Bagalkot district of Karnataka and missed the bucolic life he had left behind.
One day, his father messaged him: "Come back to our village. Work with me. I will pay you more."
Saikumar packed his bags and headed home. He figured that if he worked for such long hours for his family, he would not only earn more but be happier.
His father, Lakshman Shivappa Billur, 64, had started a small business from a Tata van. An organic farmer, he would load his farm produce into the van and take it to different places in Mudhol for sale. Organic sugarcane juice was quickly becoming his bestselling product.
This unique method of selling directly to consumers was picking up and he needed helping hands.
Saikumar now drives the van and works as cashier, salesman and campaigner for organic products. "Since it is our own work, I don't get bored or tired. I meet new customers, talk to them and try to create a bit of awareness," he says.
"Pay the organic farmer now or the doctor later," reads the status on his smartphone.
For Lakshman this is a long-cherished dream coming true. He switched to organic farming 15 years ago and now grows sugarcane on three acres of his eight-acre farmland. On the rest, he grows wheat, turmeric, chickpea, vegetables and fruits like papaya and sapota.
"I like to grow poison-free foods for consumers of my taluk. Now that my fellow farmers and I bypass middlemen, we get a better price," he says.
A sugarcane-crushing machine occupies centrestage in his Tata van. His mother, Sushilabai, helps Saikumar in extracting sugarcane juice.
...