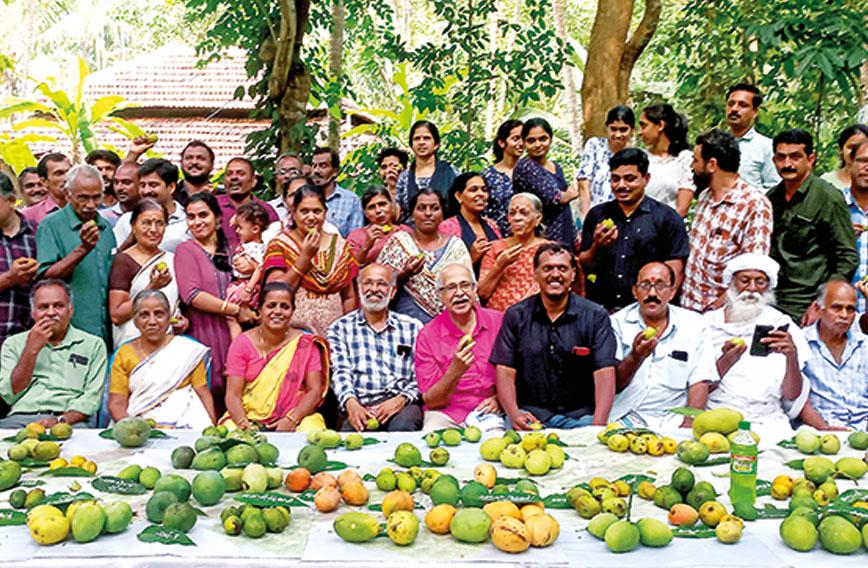 A mango feast under the shade of a large mango tree in the village
India's mango village has 102 varieties
Shree Padre, Kannapuram
Published: Jun. 25, 2022
Updated: Jun. 25, 2022
EVEN in Kerala's scorching summer, Chunda Kuruvakkavu, a hamlet in Kannapuram of Kannur district, is surprisingly cool. Huge mango trees shield people from the blistering sun, forming a lush green canopy over rooftops. This picturesque little village is a treasure for Kerala and for India. Twenty middle-class families living here have conserved 102 local mango varieties on small pieces of land in a radius of just 300 metres.

Two years ago, on July 22, National Mango Day, the Kerala State Biodiversity Board recognized Kuruvakkavu as a Mango Heritage Area and Kannapuram panchayat as a Mango Heritage Village. Such an honour has been bestowed for the first time on a village and its panchayat.

Indigenous mangoes are called nattumavu in Malayalam and each house in the village has many varieties, some with unusual features. Take Parthasarathy's Kaitha Madhuram mango. It smells like a pineapple. Kaitha in Malayalam means pineapple. "When this fruit is at our home, we can't fool visitors by saying we don't have it. The mango's aroma tells the truth," jokes Parthasarathy, who has six varieties on his half-acre. R. Gopalan Master's mango, Pavizharekha, is another outstanding specimen. It's delicious and has an unusual orangish colour. You can find this mango only in two houses. Unnikrishnan Namboodiri has more than 30 varieties on his small plot.

"We have documented these 20 houses thoroughly. The other houses also have local mango varieties," assures 42-year-old Shyju Machathi, the enthusiastic crusader behind this community conservation effort. He is a senior civil police officer, a designation in the Kerala State Police, posted in the nearby Valapattanam Police Station and he lives in Kuruvakkavu.

For six years, Machathi and his neighbours have been identifying and documenting mango varieties in the village. Every household now has a signboard with the names of the mango varieties it grows. A map depicts where the trees are located with serial numbers. Machathi has also compiled a book with photos of 150 mango varieties, listing each variety's features in detail: colour, pulp, shape, taste, fibre, use, bearing habits and so on. He has added a few mango varieties from neighbouring areas too.

In 2021, Machathi received the National Plant Genome Saviour Award for his efforts at documenting and conserving native mango varieties across Kerala. His group, called Nattumanchottil — which means 'under a local mango tree' — has been organizing exhibitions and meetings at Kannapuram on native mango varieties since 2017.

In six years the Nattumanchottil group with no infrastructure, funding or even experts has managed to achieve what no other group, perhaps in all of south India, has done. It has placed Kerala firmly on the mango map of India.
TREES AND GRAFTS

Here's how it all began. Six years ago, a 200-year-old mango tree, of the rare Vellathan variety, was cut down on Unnikrishnan Namboodiri's premises. Everybody liked the tree and its luscious fruit. "Whoever ate that mango would find it hard to forget its taste," recalls Machathi. The villagers felt bad about losing the tree. Avid discussions took place on what could be done. Someone suggested it could be conserved by simply grafting it. An expert was called, who grafted many scions of the felled tree on root stocks. The effort was a success and the variety was conserved. The local media picked up the story.

The incident sparked interest among the residents of Kuruvakkavu regarding their native mango varieties. How many did they have? At the time Machathi was running a Facebook page named Nattumanchottil. It became the main platform for disseminating information on mango varieties and a group congregated around it. In the first year, Machathi and his group exhibited 35 mango varieties and 65 the following year.

Machathi says that the Nattumanchottil movement has three objectives. The first is locating mango varieties, the second is identifying varieties, the third is disseminating selected varieties to interested groups.

In 2017, his group organized a get-together, inviting nearby relatives to a sadhyam (feast) of dishes made with mangoes. All 35 mango varieties were displayed. The event was a success. Subsequently, Nattamanchottil began organizing exhibitions which evoked considerable interest. In the following two years the exhibitions became bigger, more people took part and the group's knowledge also grew.

For their third exhibition they invited Dr Joseph John, then principal scientist of the National Bureau of Plant Genetic Resources (NBPGR) in Thrissur, as a guest. They had, by then, collected 100 mango varieties. Dr John advised them to do things more scientifically by documenting, propagating and planting each variety. "Dr John's participation was the turning point," says Machathi.

After a few months Dr John visited Kannapuram with a graftsman. Over two field visits NBPGR identified 100 varieties with Machathi and his friends. The scions were taken to NBPGR who grafted them and included them in their gene pool.

Machathi spends all his spare time in local mango research. It has become his life's passion. He has been identifying mango varieties across Kerala and, in the process, has learnt grafting too. If he gets a reliable tip-off, he rushes to the spot, collects all details and documents the mango. If the variety looks promising, he takes its scions home. At home, he always keeps root stocks ready so that he can graft without delay.
NAMELESS AND UNIQUE

After a two-year hiatus due to the COVID-19 pandemic, Nattumanchottil organized an impressive exhibition and meeting on May 2 under the shade of a large mango tree in the village. Over 170 mangoes were displayed, mostly collected by Machathi and his group. A few were from elsewhere in Kerala. For instance, Sureshkumar Kalarcode, a progressive farmer, brought as many as 30 varieties from Alappuzha.

Collecting mangoes for the exhibition was challenging, admits Machathi. "Harvesting from tall trees is impossible. We had to make do with fallen fruits. To prevent the fruit from over-ripening, we got friends to keep the mangoes in their fridges and bring them out on the day of the exhibition," he says.

The varieties on display were amazing. There were mangoes slightly bigger than a gooseberry. There were fruits so large you couldn't hold them in one hand. The colours and aromas were overwhelming. Volunteers needed 90 minutes to name and arrange all the exhibits on a table. Each mango's name, used by villagers, was written on a mango leaf. Some were tentatively named by Machathi and his team.

The names went: Madhura Cheriyan (sweet and small), Manjal Tolikkatti (yellow, thick-skinned), Kovilakam Green (temple green), Thenga Mangam (coconut mango), Soap Manga (soap mango) and so on.

"The problem for us in conserving mango varieties is that the same variety has different names in different areas," says Dr Suma A., a scientist at NBPGR. "Proper documentation, identification and awareness are a priority for indigenous mango conservation. The State Biodiversity Board should bring out authentic publications listing all the mango varieties to rule out confusion."

The exhibition was an exclusive affair to which scientists and mango conservationists were invited. There were two panel discussions: one on coordination between scientists and farmers to conserve mango varieties and the second on preventing wastage by marketing and value addition of local mango varieties.

The event was organized on the premises of Karunakaran M.P., a senior member of Nattumanchottil. After the discussions, participants went to visit small plots brimming with mango trees and full of fallen fruit. Everyone picked up the mangoes and gorged on them.
More feasting was in store. At A.V. Jayachandran's home, women had been busy since early morning preparing an elaborate lunch of 20 dishes, mostly made with mangoes. The menu was unusual and mouthwatering.

Two types of mango juice were served followed by lunch. There was green gram gruel and several mango curries, a rare combination. Raw mango pal payasam was a special attraction.
"Many neighbouring housewives cooperated. Each one knew a few preparations. We drew up a list, cooked separately, and then brought all the dishes together," said Vaniram V., who hosted the guests.

The sad reality is that most of these excellent mango varieties go waste. Each compound has bags full of fallen mangoes. Locals aren't very keen to consume their own fruit. "Decades ago, traders used to take a few trees on contract. Though the returns were peanuts, at least the fruits were used. But nowadays harvesting fruit from tall trees is tough and risky. So traders don't turn up," says Dineshan Cheriyandi, a schoolteacher and group member.

Such mangoes would have good demand. But no one is marketing them. At a session post-lunch, this issue was discussed. Would online marketing help? But harvesting is difficult so the number of mangoes they could sell might be too small to get buyers interested. Half the trees are more than 50 years old and very tall. Their owners are either middle-aged or elderly. So the first hurdle is to harvest the mangoes. Then an adequate number would need to be collected for sale. As for value addition, it is easier said than done.
RAISING ORCHARDS

Machathi, however, is unfazed by such difficulties. He has set his sights elsewhere. After documenting all the mango varieties in Kannapuram and the adjoining panchayat of Cherukunnu he decided to disseminate the best varieties across Kerala. He discussed his idea with former Agriculture Minister V.S. Sunilkumar. Why not spread the best Kannapuram and Cherukunnu varieties in all 14 districts of Kerala, he suggested. The minister was impressed and ordered mango orchards to be set up in 100 panchayats in and around Kannur.
The project, named Sugathakumari Manthopp, after the late environmentalist, Sugathakumari, was implemented last year. The government spent `3 lakh and the District Agriculture Farm in Karmbam in Kannur district produced 10,000 grafts which were duly distributed to 100 panchayats last year by Sunilkumar at an inauguration ceremony held in Kuttanellur Government College.

But nobody got to know the fate of those precious grafts because in a government project there is no feedback mechanism. Unsure about the result of his efforts, Machathi changed his approach. Nattumanchottil now offers grafts to those with land who are keen to raise small mango orchards. They named their initiative Cheru Manthopp which means small orchard.
So far, in three districts Cheru Manthopps have been established — in Police Academy, Thrissur, in Kannapuram by a teacher, Dinesan Cheriyandi, and in Alleppey by a group called Team Thanakulam.

Cheriyandi is an expert at climbing big trees. He helps Machathi by harvesting fruits or collecting scions from selected trees. A teacher in Kendriya Vidyalaya, Kannur, his wife, Jyothi C.U., owns half an acre in Moraza, three km from Kannapuram. The couple has planted about 50 Kannapuram mango trees here. The gene pool is only a few months old. "We have no commercial purpose in mind. This is just to conserve some of the best varieties for future generations," explains Cheriyandi.

Sureshkumar Kalarcode, a farmer in Alleppey district, has raised a beautiful gene pool in his neighbourhood on a vast stretch of land with a tank. The land belongs to a temple. It used to be covered with thick undergrowth and was the haunt of antisocial elements. Sureshkumar and his friends formed a social group called Team Thanakulam. After getting permission from the temple, they cleared the wild growth, built a boundary wall and planted 80 Kannapuram mango varieties provided by NBPGR, Thrissur. The group meets every week. It has arranged for drip irrigation. The grafts are growing well and a few plants sprouted flowers in the first year itself. They hope the trees will fruit next year. Machathi says he is proud of this effort.
PROTECT AND PROPAGATE

Although no blueprint has been drawn up to commercially exploit this treasure of mangoes, it is still important to protect and propagate them. "So far there is no government effort or scientific effort to conserve native mango varieties. Rubber plantations have resulted in high genetic erosion of native mango varieties," explains Dr Joseph. "When a person starts rubber cultivation, the Rubber Board insists that one acre of rubber trees shouldn't retain more than eight to 16 trees of other species. So trees which are not rubber have to be felled. This rule has forced farmers to cut down many local mango trees. More than 90 percent of the state's genetic wealth of native mangoes has vanished."

Dr Dinesh M.R., former director, Indian Institute of Horticultural Research (IIHR), says, "Some local varieties might be pest or disease resistant or resistant to waterlogging and salinity. Such qualities can be utilized successfully as root stock in grafting. Only a few native varieties adapt to all environments. Most varieties are micro-climate specific like the famous appe midi of Karnataka. They don't adapt to other areas.

"We did advise farmers in Kolar, a few years ago, to brand and sell local mango varieties in makeshift stalls on the sides of highways. It got a good response. In the Sirsi area, there is an excellent native variety called Varate Giduga. Its pulp is like butter. It can be promoted as a table variety, but quantity is the issue."

His opinion is endorsed by Dr Murugan Sankaran, principal scientist, IIHR. "Out of over 1,000 mango varieties, we commercially cultivate only 20 to 25. We don't know the traits of other varieties," he says. "They might have farmer-friendly qualities. For example, using the root stock of Vellaikolumban, an indigenous variety, if we graft varieties like the Alfonso, we can end up with a tree with a smaller canopy. If we can organize supply chains and promotion, selected native mango varieties will also find markets. Lal Baba, a variety of Chittoor, was branded Babu Reddy Mango and became popular. Sakrekutty, a small local mango, is popular not only in Karnataka but in Tamil Nadu and Andhra Pradesh as well."

"Conducting diversity fairs of indigenous mangoes in different areas is a good way to bring native mangoes into the limelight. This strategy worked well for jackfruit. Hundreds of jackfruit festivals were held in Kerala and Karnataka," says Dr Dinesh M.R. "Success lies in offering people a taste of such fruits."

The village could also select 10 to 15 of its best varieties from Kannapuram and Cherukunnu panchayats and popularize those. Their special features can be published in a booklet with photos and made available to people.

"We have at least 15 varieties that can be commercialized," says Machathi. He cites the Kula Nirayan mango. Its name means 'bunch full'. The fruit is very large, around 800 gm. Each bunch has 12 to 18 fruits. The tree yields fruit regularly through the season and isn't prone to fruit fly attacks. Right now, there is only one tree of this variety, a 70-year-old one at Machathi's mother's house in nearby Pappinasseri.

Machathi is attracting media attention. People from different areas call him to find out about grafts, fruit varieties and so on. But, apart from conservation, he has no commercial objectives. "We haven't accepted any financial contributions from anyone. I don't want money to be an attraction in this mission. I have managed all incidental expenses of the movement. But if families get some additional income, it will be a great incentive and help our efforts. Maybe they could sell grafts of their own mother trees. That will strengthen our movement."
He says that in subsequent studies they identified about 208 native mango varieties in Kannapuram panchayat. "There may be around 300 if you comb further," he says.
But mango varieties aren't limited to Kannapuram. "If locals develop a keen eye and start intensive surveys, there are other panchayats like Pattuvam near Thaliparamb which also have rich diversity," says Cheriyandi.

Sureshkumar Kalarcode's suggestion is to make the movement sustainable through sale of grafts by families. "At Mannuthy in Thrissur, near the KAU, hundreds of houses have learnt grafting. They are looking for regular assignments. If selected variety grafts are made available to them, on an agreement basis, they can produce and supply grafts on a regular basis. The individual households of Kannapuram can re-sell them later."

Well-wishers and fruit lovers who have been watching the Nattumachottil movement since its inception say it is a one-man show led by Machathi. "I too realize that," he admits. "I do the major work of identification, documentation and propagation. But my teammates support me in every way when we organize exhibitions and get-togethers. They accompany me on my survey trips and help me with so many tasks. Lately, many more people are getting interested in our movement."

He has saved his award money of `10 lakh from the Genome Saviour Award to buy a small plot and develop it as a gene pool and learning centre. His second ambition is to organize a heritage walk in Kuruvakkavu to show its natural beauty and mango diversity to visitors and encourage them to buy mangoes and plants from the homes which have conserved this treasure for so many years.

Contact: Shyju Machathi - 94967 87872, nattumanchottil@gmail.com