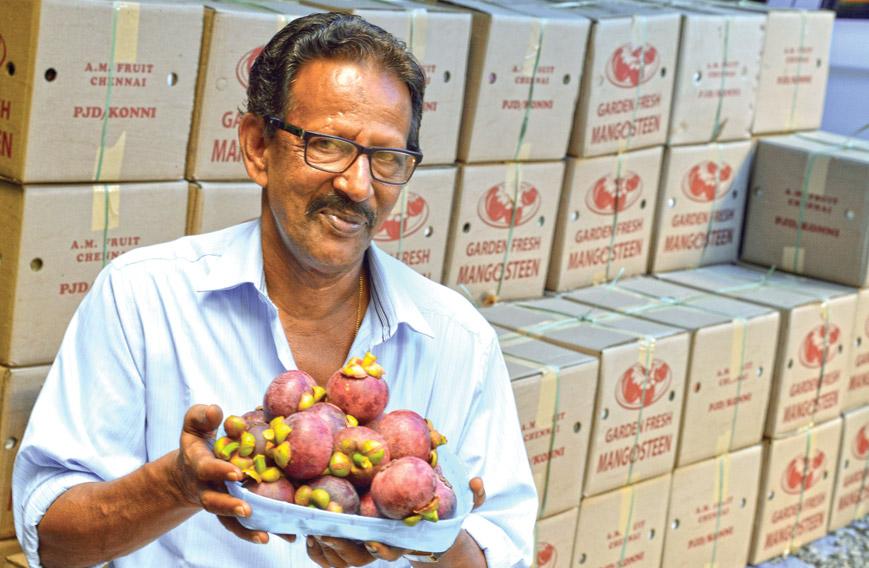 Mangosteen bonanza in Kerala village
Shree Padre, Chalakudy
Published: Nov. 01, 2016
Updated: Jan. 06, 2017
The road to the spectacular Athirapally Falls passes through Pariyaram, a little known village near Chalakudy town in Thrissur district of Kerala. Tourists don't stop here. There is no reason to except one — mangosteen, a fruit of Indonesian origin, is grown so successfully in Pariyaram that it is called 'mangosteen village'.
Pariyaram earns more than Rs 1 crore annually from this fruit. The village has struck an unusually farmer-friendly deal with a buyer in Chennai. The fruit is assessed while it is still growing on the tree and the farmer is paid in advance. Only then are harvesters sent in to pluck the fruit, pack it and load it on a bus going straight to Chennai, avoiding random middlemen.
No government subsidy exists for mangosteen. Nobody promoted its cultivation. Not a single folder has been printed about it. Yet mangosteen cultivation is spreading just by word of mouth. Neighbours first noted the tree's progress in adjacent fields and then decided to plant their own mangosteen trees. There is probably no house in Pariyaram that doesn't own one or two mangosteen plants. A few have five or 10 trees. A sizeable number of households have a coppice of over 50 trees.
It isn't as if mangosteen (Garcinia mangostana) is grown only in Pariyaram. Many parts of Pathnamthitta and Ernakulam districts grow it too. But nowhere is the crop grown as abundantly as in Pariyaram village. Nowhere is the fruit tastier. Yet, strangely, there is no local demand. The people of Kerala don't know about this small money-spinner that is thriving in their midst.
M.K. Marlin, a 58-year-old farmer, is the architect of the village's marketing strategy. Marlin pioneered mangosteen cultivation in Pariyaram.
For two months, from April 25 every year, Marlin's shed is a hive of activity. Almost the entire mangosteen ...