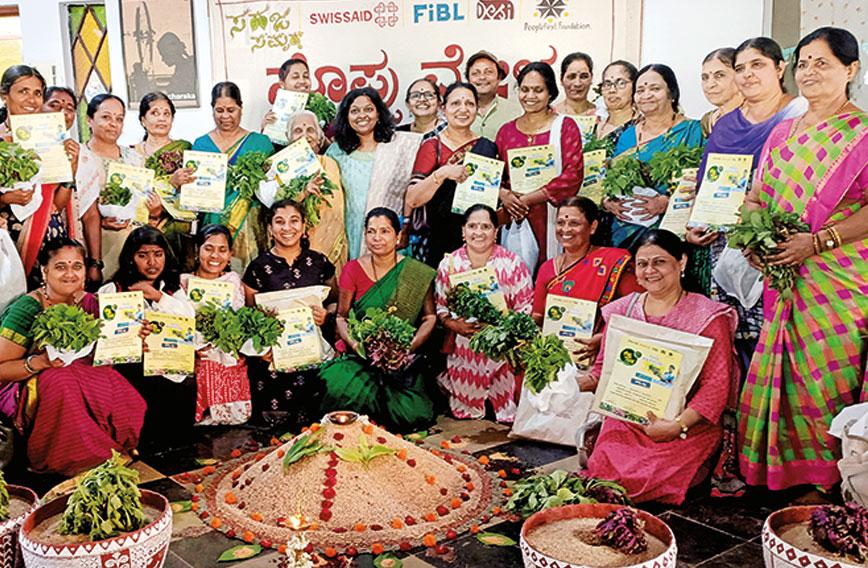 Winners and judges of the green leaves cookery competition held at the Soppu Mela
At Soppu Mela, nutritious greens to go wild over
Shree Padre, Kasaragod
Published: Mar. 10, 2023
Updated: Dec. 08, 2023
THE small venue where a two-day Soppu Mela or Green Leaves Fair was being held in Dharwad, in Karnataka, was overflowing with leaves of different colours, sizes, textures and hues. Farmers arrived from near and far with bundles of unfamiliar leaves — some with medicinal qualities and others known for their nutritional value.
The variety of edible greens that were brought to the fair surprised even the organizers, Sahaja Samruddha and Desi Angadi. Despite the small venue, and crop failure due to unseasonal rains this year, the Soppu Mela turned out to be a huge success. In two days, 13 stalls sold Rs 63,000 worth of leaves and value-added products made with leaves.
"We had just eight to 10 days to organize the fair. We weren't expecting that many leafy vegetables to turn up. Yet leaves arrived from faraway places like Heggadadevanakote, Belagavi, Savadatti, Kundagola and Gokarna. A lady, Parvathamma, from a distant village brought 15 wild leaf varieties for exhibition and sale," says Dr Prakash Bhat, a key member of Desi Angadi, a local group that's been holding an organic vegetables and organic products market in Dharwad every week.
Doctors and nutritionists often underline the importance of eating greens. Yet consumption of greens has been declining. City folk are familiar only with leaf varieties like amaranth, spinach and fenugreek. But there are innumerable varieties of uncultivated leafy vegetables in rural homesteads and in the wild which deserve space on every plate.
Madurai's Keerai Kadai shops, which exclusively sell green leafy vegetables and value-added products made from leaves, have turned out to be hugely successful. Started by two former engineers in Coimbatore three years ago, the green leaf shops have branches in the US too. The company claims that it sources produce from 1,500 farmers. It also exports greens and green leafy products to many countries.
In Kerala, Eleyariv (Knowledge of Greens), a movement started by Sajeevan Kavumgara, an activist in Thalassery, has caught on in the state. It has made many families aware about greens and encouraged them to grow such leafy varieties in their homesteads.
GENE COLLECTIONS
Sahaja Samruddha, joint organizer of the Soppu Mela, is an NGO based in Bengaluru and was planning to organize the fair in the city, but intermittent rains forced it to postpone the idea. Crops also got destroyed in the rain. Instead, it partnered Desi Angadi and held the fair in Dharwad, a small city and district headquarters.

In Karnataka, many farmers grow green leafy vegetables like amaranth. But a movement to develop green consciousness hasn't been initiated. Sahaja Samruddha has recently started a gene pool collection of about 30 to 40 amaranth varieties painstakingly collected from different states. The seeds of these leaves can be bought from their seeds division.
"Unfortunately, in cities like Bengaluru, greens are grown using sewage water. They look crisp and fresh but emit an odd smell and are tasteless. Also, such leafy vegetables contain traces of heavy metals from sewage and are very harmful to consumer health," says Krishna Prasad, director of Sahaja Samruddha. In comparison, uncultivated leafy vegetables are unlikely to contain traces of hazardous substances.
There were eminent farmers too who came to the Soppu Mela with their produce. Prasada Rama Hegde, 45, who has been honoured with the National Plant Genome Saviour Community Award, apart from other awards, is from a farming family in Kanagodlu, Yallapur (near Sirsi). Hegde, who had come with 80 leaf varieties, has a vast diversity of wild leafy vegetables on his farm — most of them uncultivated and with medicinal value.
"The tradition of using leaves as both food and medicines is still prevalent in our village, but it is fast disappearing," he says. "Our elders used such leaves. The younger generation has no knowledge and is reluctant to take the trouble of collecting greens from the wild and using them."
Hegde also proffered advice on the use of such plants. Chutney made with kannekudi leaves increases body temperature during the monsoon months, he explained. Tambuli, a yoghurt-based raita made with another wild plant, helps to increase haemoglobin levels. He said in his taluk, Yellapur, about 25 to 30 uncultivated leaves are used for both food and medicine.
In the rural Gadag-Dharwar belt, Hakkarike Soppu, another uncultivated leaf variety, is regularly eaten fresh along with roti-based meals. A range of other varieties like pundisoppu, kiriksali, rajgir and amaranth are also stir-fried and consumed.
On the second day a green leaves cookery competition was organized. "We had 30 entries. Participants cooked traditional recipes with leaves. Prathima Pawar, an 80-year-old lady, stole the show. She made 11 different dishes and won the first prize," says Sunanda Prakash, manager of Desi Angadi.
NEW LEARNING
Sahaja Samruddha has vast experience in organizing crop fairs. They have held a millet festival, a tuber festival and a jackfruit festival in the past. "But Soppu Mela required new learning. We had to carefully harvest the leaves hours before the sale, cover bundles of leaves in thin jute bags and sprinkle small amounts of water occasionally," says Shantha Kumar C., coordinator of Sahaja Samruddha. If urban consumers had access to such nutritious uncultivated varieties, they would certainly buy them, he felt.

Sometimes leaves are mixed and stir-fried together or dunked into sambar or some other lentils. The underlying science is to provide essential nutrients and nutraceuticals for health.
Ninety-year-old Putteeramma of Panyadahundi in Chamarajanagar district knows of at least 100 such plants and their medicinal uses. These are abundantly available during the monsoon. In rain-fed areas, leafy vegetables are grown on bunds of irrigated fields.
Her son, Shivalingegowda, is working with the Institute for Cultural Research and Action (ICRA), an NGO in Bengaluru, which has documented Putteeramma's knowledge of Berake Soppu in a book, Putteerammana Purana.
"When we collect plants from our fields, we don't uproot the whole plant. We just cut the shoots for our use. This helps the plant to keep growing. During the monsoon season we cook Berake Soppu regularly. I can recognize about 50 soppu plants," explains Shivalingegowda. Berake Soppu is mostly sold by elderly women on roadsides and not in regular vegetable markets.
"To attract more consumers we need to package greens attractively with jute sheets and highlight their medical and nutraceutical benefits," says Krishna Prasad. Selling in cities requires facilities like daily transport and coolers, explains Krishna Prasad who advocates organizing farmers of leafy vegetables into clusters.
Sahaja Samruddha is now looking into whether Subjee Cooler, a low-cost fridge developed by Rukart, a company based in Thane, can help farmers of leafy varieties.
Contact: Shantha Kumar C., Sahaja Samruddha — 94487 74871