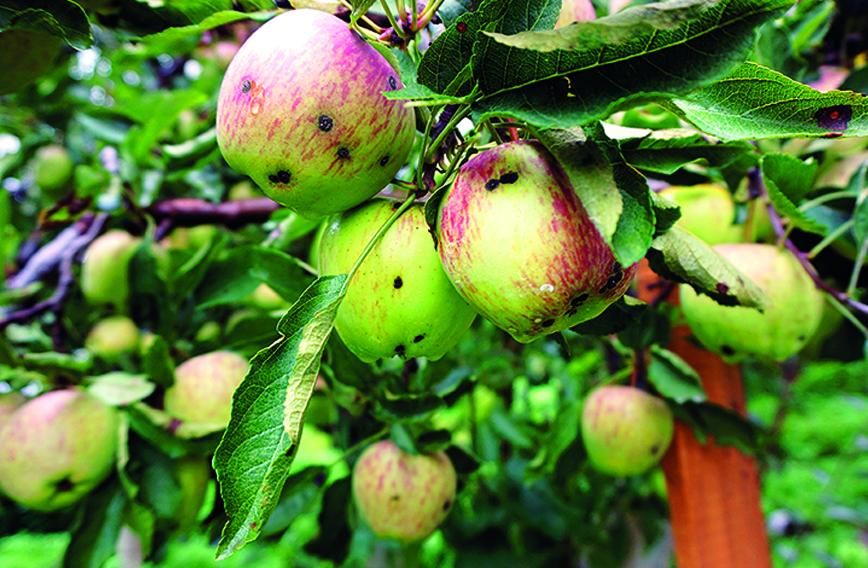 Apples struck by the deadly scab disease
Bad apples: Scab takes a big toll in Himachal
Raj Machhan, Chandigarh
Published: Sep. 24, 2020
Updated: Mar. 08, 2022
Apple orchards in Himachal Pradesh have fallen victim to a disease called scab after a gap of 38 years, taking growers by surprise. In certain pockets as much as 60 percent of the apple crop has been affected.
Ashutosh Chauhan, an orchardist from Ratnari in Shimla district, says, "The last time this disease broke out was in 1982-83. I was probably in kindergarten. Most of the new generation of orchardists are way too young to have any memories of it. Now, it has spread again and we failed to diagnose it in its early stages."
Like every year, orchard owners had been on guard against more common diseases like mites, marssonina blotch and alternaria leaf spot. "But growers noticed the disease only when it appeared on the fruits as small brown spots," says Ranvijay Singh, a grower from Rohru.
Orchardists say that the disease caught the Horticulture Department of the state unawares. "Even they were not able to detect it in the early stages. They started issuing advisories on spraying schedules only after scab had spread to large parts of the apple-growing areas," says an orchard owner based in Tikkar area of Shimla district.
At present, scab has impacted almost the entire apple belt of Kullu, Mandi and Shimla districts, with varying degrees of severity. State farmer bodies such as the Kisan Sabha say that over 60 percent of orchards in the state have been affected by the disease.
Apple scab is a fungal infection caused by Venturia inaequalis. The fungus attacks the fruit, leaves and shoots. It can substantially reduce fruit yields in apple orchards. It distorts the size, shape and colour of the fruit. Apples affected by scab are not fit for human consumption. If the fungus is not controlled, it can cause early fruit and leaf drop and reduce the yield the following year. During winter, the fungus mainly lives in the fallen leaves. It becomes active in spring, releasing spores into the air which then infect the flowers and new leaves.
Estimates by the state government put apple production in 2020 at 30 million boxes. However, orchard owners are expecting the number to be much lower. "The crop is expected to be 40 percent, or even lower, of what it was in 2019," says Chauhan, who is also the vice-president of the Progressive Growers Association. Himachal Pradesh produced over 40 million apple boxes (each box containing 20 to 25 kg of apples) in 2019. On average, the state produces Rs 4,000 crore worth of apples every year.
What has caused the incidence of the disease after such a long time? The former vice-chancellor of Dr Y.S. Parmar University of Horticulture and Forestry, Dr Vijay Singh Thakur, says, "Every disease goes through a boom and bust cycle. For apple scab, this cycle extends over 15 to 16 years. We were able to control the incidence of scab in 1982-83, but a pathogen cannot be altogether eliminated. It lies dormant and then makes a reappearance."
Back in 1982-83, apple scab had impacted almost all apple growing areas, resulting in huge losses to orchard owners. The situation had turned grim to the point that the state government had to step in to buy the produce from growers.
ERRATIC WEATHER
Thakur says that the disease did manifest in 2004, but it was limited to small pockets in Mandi and Kullu districts.
"I had forecast in May that scab was set to affect apple orchards this year. But orchard owners adopted a casual approach, which led to its spread as an epidemic," he says.
Erratic weather conditions in 2020 have contributed to the manifestation of this disease on a large scale. It was an extended winter this year. Plus, it rained heavily in spring, resulting in high moisture content in the air. The average temperature remained around 20 to 25 degrees C, leading to high humidity levels — conditions most favourable for the spread of scab. "By the time people realized the gravity of the situation, the disease had already assumed epidemic proportions," says Dr Rajender Jhobta, a surgeon and a keen horticulturist from the Jubbal belt.
The outbreak of the disease in apple orchards in Kashmir is another reason for its appearance in Himachal. "Apple growers in Himachal import plant saplings from Jammu and Kashmir. And it's highly likely that scab entered orchards in Himachal with the infected saplings," Jhobta says.
He added that the orchard owners in the 1980s and 1990s followed a rigorous schedule of fungicide spraying and the disease was brought under control over the years. In the last 15 to 20 years, people got the impression that the disease had almost been eliminated until it resurfaced again this year.
MITIGATING MEASURES
Jhobta has been growing apples organically. "I am trying out methods to control such fungal diseases through biological means. An organic orchard naturally has plants with stronger immunity and that is a big help," he says.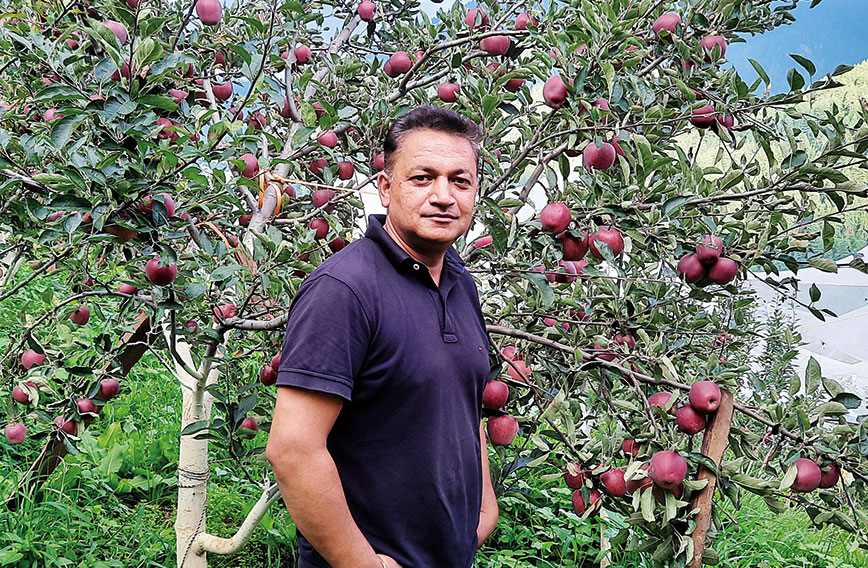 Ashutosh Chauhan
Horticulture Department officials, however, downplay the occurrence of the disease, limiting it to a few pockets of the apple belt. "In Shimla district, it has occurred in a few pockets in areas such as Rohru, Narkanda, Kharapathar, Jubbal, Kotkhai, and Chirgaon. In fact, it was not only scab, but multiple infections. But we have been able to control it," says Des Raj, deputy director of the Horticulture Department. "Our field officers turned into scab warriors. We executed scab campaigns, created groups on WhatsApp, and undertook clinical testing.The growers too implemented an aggressive spraying schedule."
Controlling the disease involves spraying of fungicides on the trees after short intervals. It is the advice from the goverment, but it has led to a big increase in the cost of production, says Rajpal Singh, an orchard owner from Rohru.
Faced with erratic weather conditions, coronavirus, and now apple scab, the year 2020 so far has been one of the harshest for apple growers.