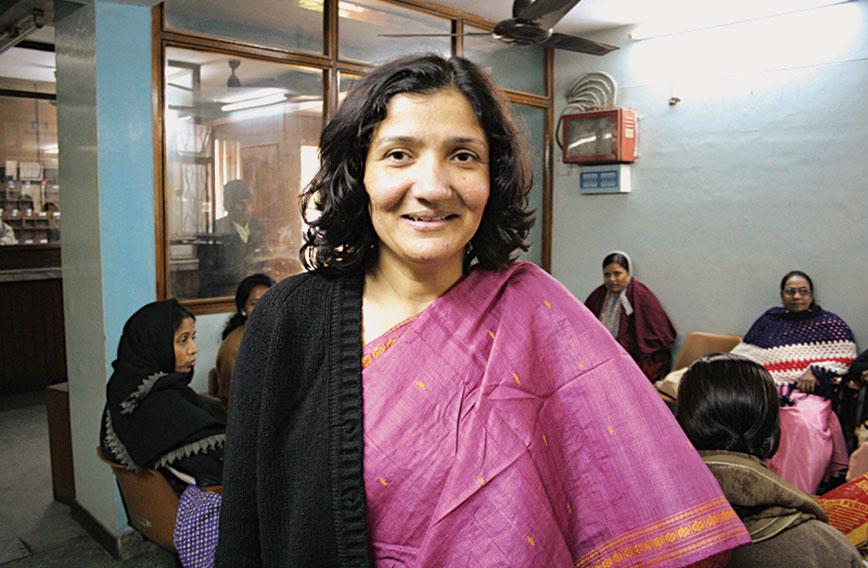 Published: Aug. 29, 2019
Updated: Sep. 24, 2019
There is the Triple Talaq Bill and much before that there was Zakia Soman, fighting for the rights of Muslim women. Back then she was a trenchant critic of the BJP. But currently she is a champion of the bill moved by the Modi government. She also believes a codified Muslim family law is the need of the hour. She is among the Muslim women who are happy with triple talaq being made a punishable offence.
Soman became the champion of Muslim women's rights when she founded the Bharatiya Muslim Mahila Andolan (BMMA) in January 2007. "I realised that Muslim women need to be empowered to combat communal forces and fight the patriarchal, fundamentalist and feudal forces within their community."
Soman has been able to successfully mobilise Muslim women to fight for their rights. In the past dozen years, 70,000 women have become members of the BMMA. It plays an extremely important role today given the consistent attempt to drown out Muslim voices. Zakia Soman's voice is still loud and clear.
Below is a piece that appeared in Civil Society's September-October 2010 edition. Read on.
Zakia Soman helped to start the Bharatiya Muslim Mahila Andolan in January 2007 to empower Muslim women fight communal forces as well as fundamentalist and patriarchal elements within their own community. Three years later membership has risen to 22,000 in 15 states. And women from different religions are joining a union meant for Muslim women.
Zakia is an eyewitness and a victim of the Gujarat carnage of 2002. She and her family had to flee to save their lives. It is an experience which turned her from a genteel working woman to an ardent activist for women's rights.
Even before the Gujarat riots her grandmother's house had been ravaged. Her parents' house was burnt and attacked in the frenzied build-up to LK Advani's rath yatra in 1990, before the Babri Masjid demolition in December 1992. 
But young Zakia and her family placed their faith in the pluralist, secular synthesis of Gujarat, the tradition of Gandhi and the freedom struggle, and the solidarity of their predominantly Hindu neighbourhood in the Azad Society in Ahmedabad. And Zakia was not even remotely involved in activism or civil society issues.
Zakia has an MA and M Phil in English Literature. Her mother was a respected high school teacher and her father, a principal in a prominent local college in Ahmedabad. Her upbringing and surroundings were typically modern, liberal, secular, without the remotest trace of orthodoxy. Zakia held on to this liberal stream, hoping that fanaticism was nothing but an accidental aberration. But it all changed after the State-sponsored Gujarat riots of 2002.
Before that, Zakia worked as a college lecturer in Ahmedabad, teaching Communication and English till 1997. She then joined as a manager in an educational/teaching programme with Intel. But after 2002, everything changed.
Zakia remembers: "Those days I lived near the National Institute of Design with a considerable Muslim population in the locality. After 28 February, the Godhra killings and the organised hysteria and carnage that started in Ahmedabad by the communal forces, I was really, terribly scared. I thought they will get us in the night: raat mein hamari baari hain. It's another story, how we escaped. I called my friends in the police. I was aghast, almost all of them, and all of them Hindus, refused to help point-blank. Then one friend, a police officer, helped us escape to safety– and yes, he was a Muslim. I was shattered."
"In the relief camps, every day, I heard different stories, heart-rending stories. You know how tragic and devastating were the relief camps, and the horror stories, and the abject atmosphere of terror. Almost everyone had a macabre story to tell. Then I realised what it means to be alive, remain alive. My personal life, self identity changed. My social and political life, thus, had to change."
Zakia got involved with Harsh Mander, Shabnam Hashmi and other activists who staked their lives for peace, relief and rehabilitation and to heal the protracted trauma in the collective psyche. Then she worked with eminent lawyer Mukul Sinha, whose Jan Sangharsh Morcha has fought for legal justice to the victims and survivors against all odds, when not one lawyer would stand up to the communal forces. In 2003, Zakia took up the campaign on POTA cases with Sinha whereby 300 innocent boys were put in jail on cooked up charges. She joined a multitude of forces, including exceptional individuals and secular fighters, who chose the tough, polarised battleground of Gujarat to usher in the healing process.
"I also realised then that Muslim women need to be empowered to combat communal forces and fight the patriarchal, fundamentalist and feudal forces within their community. They must feel from inside the need for gender justice, the need to assert their life-affirmations, their fundamental rights, their dreams and aspirations," says Zakia.
Hence started the Bharatiya Muslim Mahila Andolan in January 2007, with a big conference in Delhi (see Civil Society, Feb 2007).  A pleasant surprise was that Hindu, Christian and women from other faiths joined this organisation. Majority of them were from poorer sections, many of them young girls and home-makers. "We realised that isolated women were struggling in various parts of the country, without a collective representative and independent body. So we all got together."
At that time Zakia said, "You watch out. By next year this time, we will have 10,000 members. And we will be a crucial force in the social and political space." Three years later, membership has risen to 22,000 and is growing in 15 states with the poor sections of women still holding the scaffolding, but the organisation growing beyond the boundaries of religion, caste or class.
She believes that Muslim Personal Law should be "gender-just and humanity-just" – based on the principles of justice enshrined in the Constitution of India. "There should be codification of the Islamic law and not just random generalities and orders. It should be subservient to the Constitution of India," she says. "All women are equal citizens of this country."
Does this politics and social awareness help in the sexual, political and aesthetic liberation of women?  "Yes," says Zakia Soman. "Mobilisation leads to synthesis, for instance, against the burqa, or in the willingness to stand up or fight for your rights."
Has there been male resistance within the community. "Not much and happily so," she says. "Except for some mad mullahs and exceptions, most men have backed us. This is a positive fall-out of the Gujarat experience. Besides, the aspiration levels of Muslim girls and women have gone up."