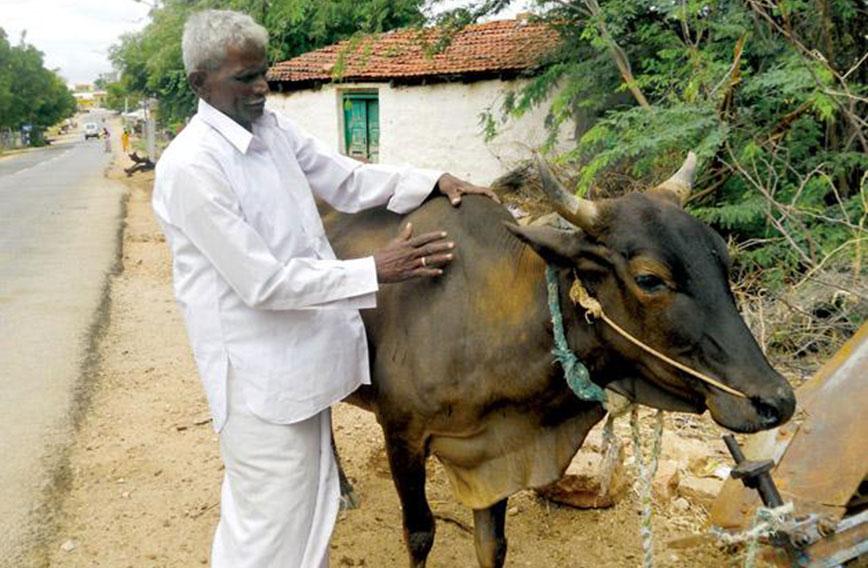 Published: Aug. 29, 2019
Updated: Sep. 24, 2019
Boya Pedda Rajanna is a traditional veterinarian with vast knowledge of animal medicine. The fact that he dropped out of school after Class 3 doesn't matter. He learnt animal medicine from his father who had learnt it from his father.
Villagers of Golla in Andhra Pradesh turn to Rajanna when their animals fall sick even though there is a government veterinary clinic with a qualified vet nearby. Perhaps it is because he never says no, even if they knock at his door in the middle of the night. He travels 200 days a year to villages around Golla to treat sick animals, for no fee.
Rajanna holds a patent for his cure for mastitis and has been honoured by the National Innovation Foundation. Formal education has not stood in his way. His family is obviously not happy because they are a farming family and his absence doesn't help. But Rajanna selflessly trudges on to far-off villages to ensure that the animals are healthy.
Below is a piece that appeared in Civil Society's September-October 2012 edition. Read on.
A small green home in the sleepy village of Golla never sleeps. Harried villagers come knocking on this poor man's door, often in the dead of the night. Their animal is very sick, they tell Boya Pedda Rajanna as he lets them in. Your healing touch is needed, they plead. Rajanna, Golla's barefoot veterinarian for 30 years, never lets them down. He disappears into the dark, torch in hand, to reach the suffering animal.
The midnight knock does raise the hackles of Rajanna's wife, Lakshmakka. She knows it is a distress call. Somebody's cow or buffalo is seriously ill. But her husband wakes up readily. Sometimes he returns alone at sunrise or a day later.
Golla is 47 km from Anantapur district in Andhra Pradesh. Although this village has a government veterinary clinic with a qualified vet since decades, it is Rajanna whom the villagers turn to. "Why should we go there when Rajanna cures any ailment our animals suffer from?" retorts an old man from a crowd that has gathered outside Rajanna's home.
Identified by the Honeybee Network, Rajanna was honoured by the National Innovation Foundation (NIF) for his unstinting services this year. In March, former President of India, Pratibha Patil presented him the award at Rashtrapati Bhavan. Rajanna also holds a patent for his cure for mastitis, an illness that attacks the udder of animals.
Rajanna's amazing knowledge of animal medicine is hereditary. His grandfather, B. Narasayya, was a traditional veterinarian and passed his knowledge to his son, B. Madappa, who then trained Rajanna by taking him on his rounds.
He dropped out of school in Class 3. But he can read, write and sign papers. To differentiate him from his younger brother, who was also named Rajanna, his parents added Pedda to his name. In Telugu, Pedda means elder.
Rajanna treats a range of animal illnesses – indigestion, inflammation of the stomach, fever, foot and mouth disease, diarrhoea, mastitis, epilepsy and fractures.
"I treat snakebite also although that is not very common in my area. In fact, I cure all kinds of health problems cows and buffaloes suffer from. But if an animal eats iron nails or other objects, I cannot treat that," he says. The object could get lodged in a dangerous spot and he doesn't want to take a risk.
People phone him too for help. But most villagers prefer to take him to treat their sick animal. Transport is not always available. So Rajanna walks and walks.
On an average, how many kilometres does he walk? Rajanna looks puzzled. "I don't know," he says. "Who would count that?" After much persuasion by his family, he says offhand, "May be around 200 km per month." His family members protest. "No, no, he has walked much more," they say.
"First, he goes to see the ailing cow. If he has a fairly good idea of the health problem the cow is facing, he collects his herbs on the way. If the problem is not clear, he has to search for the herbs after diagnosing the cow," says Sarmas Khan, his neighbour. "All this means walking to and fro for long distances. But he is used to it."
On a rough estimate, Rajanna spends 200 days a year on the road to ensure livestock in and around Golla stay fit and fine. His beat varies from 2 km to 25 km. He covers the neighbouring villages of Gangavaram, Kottala, Konapura, Seerpi, Viroopapally, Dodagatta, Kalyanadurga, Mudigel, Ontimedi, Borampalli, Mallipalli, Varli and Hanimireddypalli.
The most touching aspect of Rajanna's work is that despite investing so much time and effort, he never charges for his services. He accepts bus fare, if he is lucky enough to find a bus to hop on to. "It is not fair to take money for treating the dumb animals that serve us," he says. "This is what my grandfather and father taught me. I can't go against my family's legacy."
His knowledge of medicinal herbs has mainly come from his father. But years of experience have taught him new lessons. For instance, Rajanna doesn't keep a stock of herbs or leaves in his house. "These have to be collected afresh. Only then will they have the desired effect," he says.
To collect his herbs he has to walk into the government's reserved forest area. One such jungle is in neighboring Gangavaram village, 6 km away. Another one is at Vidyakunta village, 18 km away.
Over the years, he has had to walk deeper into the jungle because of deforestation. "Plants are there," he says. "But to get them I have to walk much more. If it doesn't rain in one area, I have to search for the plant in another area where it has rained."
He says mastitis, the swollen udder disease, is of two types. He prescribes a medicine made with a specific herb, mixed with garlic and pepper. It is to be fed once a day for three days to the cow. Most cases get cured in three days. But for some cows, the healing process takes around eight days.
According to Gyan, an NIF publication: "Mastitis is an infection of the tissue of the breast that causes pain, swelling, redness and increased temperature of the cow's breast." It affects the quality and quantity of milk. The primary cause of mastitis in cattle, goats and sheep are microorganisms such as Streptococcus, Staphylococcus, Pasteurella, E coli and Klebsiella.
"The test results of Rajanna's formulation against bacterial mastitis proved very promising. Further work is going on to refine it and make it more efficient," writes Gyan.
The publication further states, "Though Rajanna knows a number of good herbal practices, his practice for the treatment of mastitis needs special mention. This practice was documented during a workshop organized with the support of the district administration, Anantapur. The data was processed by NIF and the plant sample verified. After literature review, it was found that the practice was unique. Accordingly, a patent (1013/CHE/2011) was filed in the name of Pedda Rajanna for this practice."
The most common disease in his area, says Rajanna, is a disease he calls kunda. The animal's legs develop pain and it can't move. "There are five types of kunda and each one has to be treated in a different way," he says.
Another treatment Rajanna is very successful with is increasing the milk yield of cows whose milk output has declined. His neighbour, Dadulurappa, says: "My cow was giving 2.5 litres of milk every day. I don't know why but suddenly my cow began giving less milk. It went down to only half a litre. At that juncture I consulted Rajanna. He prescribed three days of medicine and my cow began yielding 2.5 litres of milk once again." Rajanna also treats the problem of blood oozing with the milk.
Rajanna does not prescribe herbs and plants over the phone even if he has a clear idea of what the animal's ailment is. "Villagers don't have enough knowledge to clearly diagnose an ailment. It could be something different. I have to see. They may not be able to identify the specific herbs I advice over the phone. And finding those herbs in their locality is out of question," he explains. These practical difficulties come in the way of making Rajanna's task easier.
How many medicinal plants can Rajanna identify? He looks mystified. Honestly, he has never counted, he says. "May be 20," he quips. In fact, after conversing with him it is clear he can probably identify at least 100 herbs. Interestingly most of the medicinal plants he is using are uncultivated and available in their natural habitat.
Rajanna's family consists of farmers. He has five acres, 3 km from his home. The fields are rainfed and their main crop is groundnut. "Since he is always on the move, we have to shoulder the responsibility of all farming activities," says his wife. Rajanna admits he doesn't get much time to lend a helping hand. All the women go to work on their field to make up for Rajanna's absence. They have their own herd of cows.
"He is very compassionate to animals," says P. Ganesham, a retired Brigadier and coordinator of the Honeybee Network in Andhra Pradesh who played a big role in identifying Rajanna. "Once he gets news that an animal is ill, he gets restless. An extraordinary norm he follows is to keep track of the health of the animal post treatment. A poor person like him does this at the cost of losing his farming income. Naturally his family is very unhappy about this."
"It is very rare to find such dedicated people," says Ganesham. "There should be some mechanism to help their families financially so that they can carry on their noble work in peace."