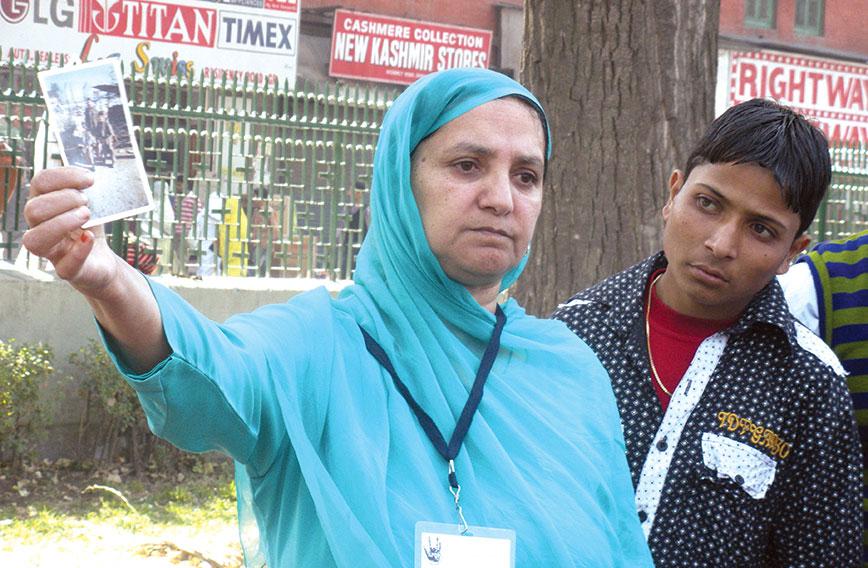 Published: Aug. 29, 2019
Updated: Sep. 24, 2019
In 1990 in Srinagar, when Parveena Ahangar's son went missing because he was mistaken for a militant, the question was, "Where is my son?" After she shed the fear of standing up to authorities, the question became "Where are our sons?"
Ahangar founded the Association of Parents of Disappeared People (APDP) in 1994. The organisation has been fighting impunity laws and advocating the repeal of the Armed Forces Special Powers Act (AFSPA) in Kashmir. The APDP is somewhat of a solution to the lonely struggles of parents of disappeared people. Together, the parents play the role of psychologists or counsellors for one another.
Ahangar's 29-year search goes on — her son is still missing. But she is not just fighting for herself. She is fighting for the thousands who have gone missing. She has not allowed her lack of formal education or her grief to immobilise her. Her fight for human rights in highly militarised Kashmir is far from over. She is rightly called the Iron Lady of Kashmir.
Below is a piece that appeared in Civil Society's September-October 2010 edition. Read on.
There are a few Kashmiri women who have achieved international recognition. Parveena Ahangar, 50, is one of them. Married at 12, without any formal education, Parveena has mobilised women who even after decades of the conflict in Kashmir are yet to know where their missing near and dear ones are.
The night of 18 August, 1990, was a turning point in Parveena's life. On that fateful night her son, Javed Ahmad Ahangar, then a 17-year-old student, was picked up allegedly by the Army who mistook him for a militant during a midnight raid on his uncle's house at Bodhipora in the Batmaloo area of Srinagar City.
"Another neighbour yelled and asked people to assemble. I was informed about my son's arrest the next day after morning prayers. I confirmed his arrest since I saw his clothes in the house from where he was taken along with his wallet with some money and his identity card," recollects Parveena.
She started an agonising search for her son. She informed the local police station about his arrest and staged a sit-in on the road for a full day. She ran from pillar to post but her heartbreaking efforts proved futile.
After a six- month search for her son, she finally approached the court which ordered an inquiry into her missing son's case. Parveena approached almost all the powerful politicians in the State but in vain.
The inquiry, she says, put pressure on the Army who then offered her Rs 10 lakh and other perks to withdraw her case. The president of the Kashmir Bar Association at that time, advised her to accept the offer. Parveena replied: "I cannot do it. I cannot sell my child. I will search for him as long as I am alive."
For four years nothing substantial happened in her case. The state government's request for sanction to prosecute the accused Army officers was not granted by the central government, she recalls. In 1994, determined to continue her struggle, Parveena formed the Association of Parents of Disappeared People (APDP).
Slowly, people from other villages came to know about APDP's activities and they began to get involved. "People from Handawara, Kupwara, Bandipora, Baramulla and Anantnag also joined and we grew bigger. I then realised that I am not the lone sufferer. There were others in far worse conditions," Parveena says.
Before the APDP was formed, parents of the disappeared would fight their battles separately. Now it is a collective struggle and their voices are being heard, believes Parveena. "Return our children if they are alive! If they are dead, give us their bodies!" the APDP members chant in unison as they sit in protest in a Srinagar park on the 10th of every month, reminding the State of their demands.
For many years APDP has been the only organisation documenting disappearances in Kashmir. On 26 August, 2009, the State government finally revealed its own tally of the disappeared. It said 3,429 have been confirmed missing between 1990 and 1999. No formal tally exists for the last 10 years. The APDP believes 8,000 to10,000 people are missing. But the State government acknowledges only about 3,000 disappearances in the last 20 years.
Parveena Ahangar's determination to give a voice to the missing turned her from a semi-literate homemaker to an international activist for the parents of missing children. She represented APDP at the Asian Federation Against Involuntary Disappearances (AFAD) in the Philippines in 2000. She has travelled to many countries attending seminars, conferences and workshops. In 2003, she was in Thailand, in 2005 she went to Indonesia, in 2006 to Chang Mai, in 2008 to Geneva and in 2009 she went to Cambodia.
"We are not alone and it feels good when people listen to you," says Parveena. "At such meetings we share our stories, our grief and give each other courage. It helps us to fight on."
"It is no longer a fight for my son. It is a fight for all the disappeared. They are all my sons," says Parveena who is chairperson of APDP. Even 20 years after her son's disappearance, she still searches for him. "The relatives of people killed at least have a last glimpse of their children. The families of the captured know the jails where their relatives are being kept. But the relatives of the disappeared have nowhere to go. Not even a graveyard," she laments.
Parveena remembers in the Philippines she saw a statue in memory of the missing erected in a church. Upon her return, the APDP tried to set up a memorial in Srinagar – a marble plaque with the names of the disappeared. But Parveena says the police demolished the stone and she and an associate were charged with trespassing.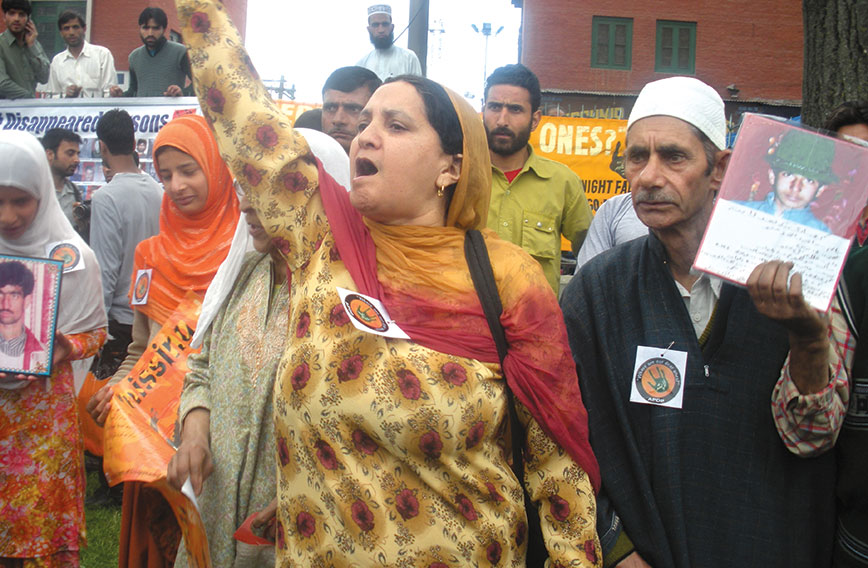 "There is no place where people like me can go to unburden our grief when we are missing our children," she says of the destroyed memorial. "People like me can neither sleep at night nor relax during the day. You just spend your time thinking about your son, wondering if he's alive and where. Is he in jail or in the interrogation centre? Has he gone into the hills? Maybe he is underground? I cannot bear the idea of a person approaching me and saying that my missing son is not alive. I always pray for the well being of all missing persons," she says.
  "I must admit that my first reaction after my son's abduction was fear coupled with traumatic shock. Now I have shed all my fears. I go from place to place and town to town to meet other families of the disappeared. Fear is only damaging when you allow it, when you wallow in it. But once you fight back, fear loses its power," she says.
In the course of their struggle Parveena says the relatives of disappeared persons have become psychiatrists themselves. "Most of the victims do not go to psychiatrists for treatment. When fellow victims meet we weep and we even sing songs. That is the 'treatment' we provide," she explains.
An epitome of courage, she has mobilised families of the disappeared in Kashmir to fight impunity laws. In November 2008, she petitioned the United Nations Working Group on Involuntary and Enforced Disappearances, (WGIED) to impress upon India the need to repeal the Armed Forces Special Powers Act, Unlawful Activities Prevention Act, Public Safety Act, Disturbed Areas Act and other laws that enable impunity in Jammu and Kashmir.
She also prayed to the UN to urge the Government of India to ratify and implement the provisions of the International Convention for Protection of All Persons from Enforced Disappearances (2007) and to enact amendments to laws to empower the NHRC and SHRC to investigate crimes committed by the security forces.
On 10 July, 2005, three Kashmiri women who have made a difference to many lives in the conflict-torn valley were nominated for the Nobel Peace Prize. Parveena Ahangar was one of them.