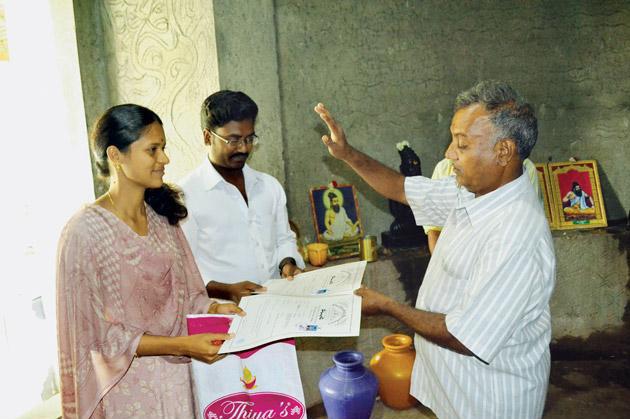 Dr K P Arjunan blesses students who have got Siddha degrees
K.P. Arjunan
Published: Aug. 29, 2019
Updated: Sep. 25, 2019
In traditional medicine, reading the pulse is a part of diagnosis. An evolved physician will find what he needs to know about a patient from the way the pulse goes.
Dr Kalyani Parasuraman Arjunan was one such physician widely respected for his diagnoses. He was known to have identified serious ailments like kidney failure and cancer through pulse reading. He died in the early hours of 25 September 2019.
He was a practitioner of Siddha, one of the oldest forms of medicine known to mankind. In fact, he was the 47th descendant of Puttu Maharishi, the first guru to start a school to teach this branch of medicine.
Revered by thousands of students, Dr Arjunan has treated innumerable people for free, setting up medical camps and travelling to remote regions to see patients.
He has spread awareness of Siddha and earned respect for this stream of traditional medicine. Today, Tamil Nadu and Kerala offer postgraduate degrees in Siddha medicine.
Below is a piece that appeared in Civil Society's September-October 2013 edition. Read on.
One morning four fresh graduates from Government Siddha Medical College in Chennai came to pray at a tiny shrine in the lower reaches of Vellore's Fort Hill. The shrine is dedicated to Puttu Maharishi, the first guru to start a gurukulam (school) in the 15th century to teach Siddha medicine.
After praying the graduates sought the blessings of a middle-aged man standing nearby. They bowed before him and respectfully asked him to bless their degrees.
The man they approached is Dr Kalyani Parasuraman Arjunan, 58, an outstanding practitioner of Siddha medicine and a guru to hundreds of Siddha students. According to historical records, Dr Arjunan is the 47th guru of the Puttu Maharishi Tradition.
"We learn mostly theoretical knowledge in college. To gain practical knowledge, including how to make medicines, we approach Dr Arjunan's gurukulam. I spent around 60 days there to update myself," says Dr B.V. Thiyagarajan, a BSMS (Bachelor of Siddha Medicine and Surgery).
Siddha medicine dates back to 2,500 years. It is one of the oldest systems of medicine known to mankind. The land of its birth is Tamil Nadu. The basic concepts of Siddha medicine are similar to Ayurveda. Both advocate 'food as medicine and medicine as food.' The difference between the two lies in their methods of diagnosis and use of herbs.
"Over the last 30 years, Dr Arjunan must have provided medical services to 30,000 to 40,000 people in Vellore. He has conducted 3,700 medical camps and treated about 500,000 people free," says G. Hariramamurthi, Assistant Director and Head, Centre for Local Health Traditions, Institute of Ayurveda and Integrative Medicine at the Foundation for Revitalisation of Local Health Traditions (FRLHT), in Bangalore. "I have travelled to 18 states in the country. I have yet to find another person who has done such extensive work in healthcare," he says.
FAMILY OF PHYSICIANS
Arjunan inherited his medicinal knowledge from his family. His father, Parasuraman, and mother, P. Saroja Ammal, were well-known Siddha healers. So were his grandparents and their ancestors.
Born and brought up at Sathuvachari in Vellore, Arjunan dropped out of school after Class 8. But his initiation into the world of plants and medicines started when he was just four years old.
Arjunan vividly describes Vellore as it was 50 years ago. "There were only three streets in a radius of 18 kms. The population was sparse. There was a forest in Sathuvachari, surrounded by farmers' fields. After 6 pm people stayed indoors since wild animals like cheetahs and bears used to roam freely."
Young Arjunan's training was rigorous. "If patients arrived at night, we had to run to the hill to get medicinal plants. We had to identify these herbs in the darkness of the night."
Is that possible? Arjunan replies, "My father taught us. He would first introduce the herb to us and then teach us how to identify the plant and its medicinal properties. This training would end when we became adept at fetching plants at night. We were able to recognise the plant by feeling its physical properties: its shape, thickness, size, texture and smell."
Arjunan's parents owned 27 acres. In 1970, their land was acquired by the government and sold as residential plots. Life became tough for the family. They received no compensation, not even the promised government job. After a lot of struggle the government gave them some rocky land.
On this land, Arjunan's family built a gurukulam with a unit that makes medicines. In 1974, an unprecedented flood washed away all their valuables, including a priceless collection of 160 palm leaf scriptures. One had 400 to 500 pages. Inscribed on these was knowledge of Siddha medicine, astrology and vaastu.
Only one palm leaf scripture, 500 years old, was spared. It is the family's most treasured asset. The script is in Tamil but only an expert would be able to decipher it. The family hasn't tried to get it read, fearing it might be copied.
Arjunan began his career as a traditional bonesetter at a clinic in Sathuvachari. He taught his brothers, Palamuthu and Dambachari, his skills of collecting plants and bone setting. Finally, he handed over his clinic to Dambachari, who treats about 50 to100 patients every day.
In 1980, Arjunan started the Sri Puttru Maharishi Social and Medical Service Centre (SPMSMSC), a voluntary organisation, to heal people with Siddha medicine and spread awareness. Helped by his brothers, the government and NGOs, his voluntary organisation works with missionary zeal.
READING THE PULSE
Dr Arjunan is a master at pulse reading (nadi pariksha), an intrinsic part of Siddha practice. It takes him 30 seconds to a minute to read your pulse and diagnose your illness.
Dr T. Sivakumar, Field Publicity Officer in Puducherry knows Arjunan for more than a decade. He recalls that some weeks ago, he was suffering from fever. Arjunan came to know. He rushed to Puducherry with medicines for fever. "But after he started reading my pulse, his face turned pale. He told me, "This is not an ordinary fever. It is a sign that you have higher pitta in your bone marrow. As a result it is malfunctioning. The medicines I brought won't work for you."
Arjunan returned without even drinking a cup of coffee. He sent his youngest brother Selvam, a botanist, with freshly prepared medicines. The next day Sivakumar's blood test showed his white blood cell count was a low 4,500. A week later it rose to 6,000 and after seven days, it was 7,000.
Arjunan explains that modern diseases like dengue, HIV, chikungunya and cancer can be diagnosed by pulse reading. He says he can't get rid of HIV, but he can contain it and enhance the patient's quality of life. Arjunan has travelled to Sri Lanka, Thailand, Germany, Turkey and the Netherlands to share his knowledge on reading the pulse.
Earlier patients with a variety of diseases would approach him for a cure. Today he gets patients with serious ailments like paralysis, hemiplegia, paraplegia, orthopaedic problems, lung and kidney disorders and cancer.
To meet him, a prior appointment is needed. Arjunan practices in his clinic for half a day if he is in Vellore. He sees between four to 20 patients a day. His cases have now narrowed down to cancer and kidney failure. On an average, 60 to 100 cancer patients approach him every month.
Arjunan has patients with serious ailments in Andhra Pradesh, Chhattisgarh, Odisha and other states. He doesn't hesitate to catch a flight to see them. But he remains stationed in Vellore for 25 days a month. "The entire family is devoted to Siddha healing. Arjunan never seems to tire," remarks Hariramamurthi.
Arjunan doesn't prescribe over-the-counter medicines. A team of five to six people prepare 300 essential medicines, supervised by the family. These are not branded or sold to outsiders.
Vellore's old jungles have vanished. Arjunan says that although medicinal plants can't be found near the foothills, climbing uphill yields results. "Fort Hill has about 250 herbs now. Whatever is not available, we get it from other parts of the state through our network of contacts," he explains.
He says there is reference to cancer in old Siddha texts. "Cancers of the throat, eyes, breast, penis and brain tumours are clearly dealt with. Even in ancient literature, there is mention of puttru, which means an extra growth. Cancer is similar."
Each cancer requires a distinctive line of treatment. Generally he prescribes seven types of medicines for internal and external use for three to five months. Arjunan says that doctors from well-known medical institutions who know the limitations of allopathic treatment send terminal patients to him.
SPREADING AWARENESS
Arjunan also works with the Union government, the state government and NGOs to spread knowledge of Siddha medicine. Tamil Nadu is the only state to offer post-graduate degrees in Siddha medicine apart from one college in Kerala.
Although Arjunan is very busy, he spares time to spread knowledge and heal people for free. He spends money that he earns from his practice in organising free medical camps.
A few traditional healers and doctors are taken along to his medical camps. Every patient is kept track of and given free medicines for the entire length of treatment. Each patient's medical history is carefully noted down and documented into a spiral bound book.
That's how Arjunan can tell you that he has held 3,878 medical camps, not just in Tamil Nadu, but in Andhra Pradesh, Karnataka, Pudusserri, Kerala and in the Andaman and Nicobar Islands.
If the patient needs more medicine he has to just send a simple request along with a photocopy of the prescription. Any change in medicine or dosage is discussed over phone. In general, patients require medicine for three to six months.
At the one-day herbal awareness camp, about 100 local herbs were exhibited. Instructions were given on how to use about 50 fresh plants to make medicine at home. The use of 20 herbs was explained in detail. The workshop concluded with a demonstration of essential home medicines.
The SPMSMSC and the Field Publicity Office of the Union Ministry of Information and Broadcasting have organised about 100 herbal awareness programmes in Vellore and Pudusserri districts in the last 10 years.
Arjunan also reaches out to remote areas where it is difficult to get healthcare. He has organised 232 camps with Tamil Nadu's Forest Department in the Kalvarayan Hill in Viluppuram district which has a significant population of Scheduled Tribes. The SPMSMSC is also collaborating with FRLHT.
His brother Selvam has helped the forest department set up 80 herbal gardens with 110 plants each to educate people. These are in Vellore and Tiruvannamalai districts. Each plant has the same number and nameplate in every garden.
Selvam explains why. "Even if forest department employees are transferred to another garden, they can easily identify every plant because it has the same number. If a plant dies they know where to get a replacement." These herbal gardens are becoming popular with children, students of Siddha and Ayurveda, forest staff and local communities.
Arjunan has also helped traditional Siddha physicians come together and form the Tamil Nadu Parambariya Siddha Vaidya Maha Sangham. He is the founder-president of the Sangham. Around 13,000 traditional healers in 126 taluks have enlisted and their work has been documented.
What motivates him? He replies that he wants to help poor people in remote areas who don't have access to medical facilities. He also wants to create awareness of Siddha medicine. "Our hard earned knowledge shouldn't vanish with a few senior healers like me," he says. Arjunan dreams of starting a Siddha Medical College and a hospital. Several well-wishers have assured help."We should be able to start in a few years," says Arjunan, hopefully.
Shree Padre went to Vellore to profile K.P. Arjunan