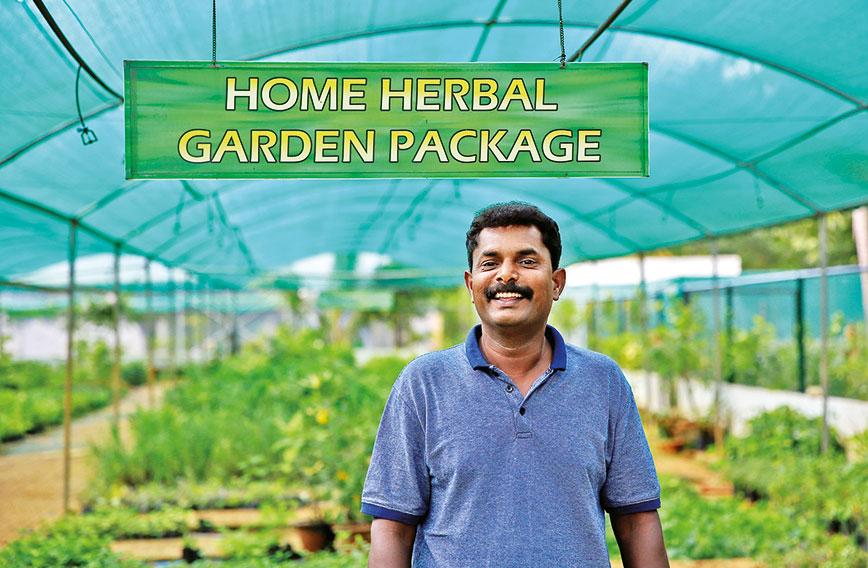 Ganesh Babu with rows of medicinal plants at the FRLHT campus
Ganesh Babu
Published: Aug. 29, 2019
Updated: Feb. 13, 2023
A garden shouldn't be just a visual delight, believes Dr Ganesh Babu, a botanist at the Foundation for Revitalisation of Local Health Traditions (FRLHT) in Bengaluru. Flowers and plants should enhance your health and environment, he says.
Dr Babu has painstakingly collected some 1,400 medicinal plants from deep inside forests and nurtured them on the FRLHT's leafy campus. Adept and insightful in identifying plants and their medicinal properties, Dr Babu believes plants grow according to the feelings you have for them.
In Bengaluru he has been promoting the idea of planting medicinal gardens, instead of decorative plants. The FRLHT offers packages of plants for a nominal fee that can tackle routine ailments. A one-year course in plants which have therapeutic value is also on the cards. Dr Babu is developing a conservation park of red-listed medicinal plants in Bellary.
Below is a piece that appeared in Civil Society's September-October 2017 edition. Read on.
You can see hundreds of medicinal plants blooming on the leafy 15-acre campus of the Foundation for Revitalisation of Local Health Traditions (FRLHT) in Bengaluru. This vast and rare collection from the forests of India is the accomplishment of Dr Ganesh Babu, a botanist at FRLHT. He has painstakingly scoured jungles, spotted medicinal plants, understood their qualities and brought them here.
"Just take a look at our campus," says Darshan Shankar, managing trustee of FRLHT. "We have the best landscape in the world. Noted landscapists from New York were amazed to see this unique experiment. We have 1,500 medicinal native floras in the same campus."
The plants aren't just a visual delight, a feast for the eyes. They are for the people of India to take home and nurture and heal themselves.
A garden, believes Ganesh, should enhance your health, your environment. He has pioneered the concept of landscaping with medicinal plants or 'functional gardens' as he calls them.
FRLHT has been marketing herbal gardens in rural and urban areas since 1994. The idea has taken root. Ganesh says in 15 years an estimated 400,000 urban herbal gardens have been raised throughout India. Half of them are in Bengaluru.
"Our vision is to make people self-reliant in primary health care. We tell them how to make herbal medicines at home. There are about 30 ailments, from diabetes to ringworm, that can be successfully managed with herbs," says Ganesh.
The city would be cooler too if native shade bearing trees were grown instead of exotic species. Bengaluru's avenues are lined with flowering exotic trees like Tabebuia argentea and Jacaranda mimosifolia. But the trees don't have an extensive canopy and once their flowering season is over, they are pretty useless.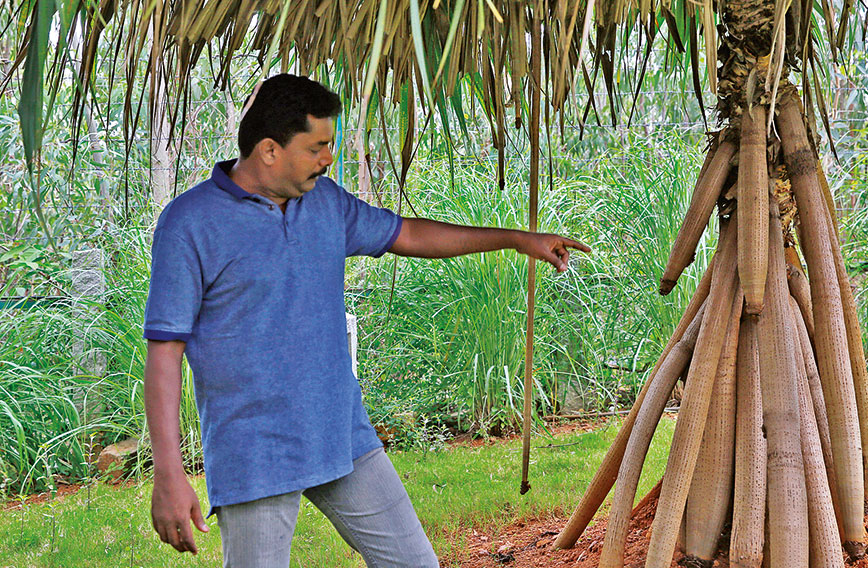 Pandanus odorattissimus, an intelligent medicinal tree
Ganesh Babu was born into a very poor family in Tamil Nadu. His father, Muthu Kamachi, was a newspaper seller and his mother Amirtha Valli worked as a farm labourer. He has three brothers and two sisters. "We used to work as labourers on farms and construction sites on some school days. One by one my siblings dropped out of school due to poverty. I kept studying with hope in my heart at the Schwartz Higher Secondary School where Dr A.P.J. Abdul Kalam did his schooling", he explains.
Ganesh scored high marks in botany. His teacher, Ida Mercy Sudantira, encouraged him to take up the subject seriously. But during his final exams in Class 12, his father passed away suddenly. The family was forced to migrate to Madurai city where they took a place on rent. "For the first time we had electricity," he recalls.
Ganesh began working in a powerloom. His sister Geetha got a job as a government health worker and Kavitha became a tailor in a local garment shop. His family started insisting that Ganesh go to college. "If not for my two sisters and mother, I would have continued life as a dropout," Ganesh recalls his eyes looking into the distance.
He joined the American College, opting for a bachelor's degree in botany. It was at this college that two lecturers became mentors for him. Ganesh could only afford a very sparse meal. Fed up of eating the same food every day, he stopped taking his lunch to college. John Jebaraj, his botany lecturer, noted his passion for botany and that he wasn't eating lunch.
One day he told Ganesh, "I will provide you lunch every day" and handed him a very light tiffin box. "Go to the lab and open it." "Must be dosa or chapati", thought Ganesh. When he opened it, he found it was neither. It was a plant!
He went back to the lecturer who coolly said, "Yes, that's your lunch. I will give you a plant every day. You identify it. This knowledge will help you in future." Jebaraj had 300 plant species on his terrace. He made Ganesh identify all of them.
"Unlike the other students who graduated with bookish knowledge, I was a trained botanist in plant identification," says Ganesh. Another lecturer, Winfred D. Thomas suggested that he study further and offered to pay his fees but Ganesh's priority was to earn Rs 2,000 to support his family. Thomas advised him to join the FRLHT. He was hired almost on the spot. "I was jobless for only one hour", he recalls.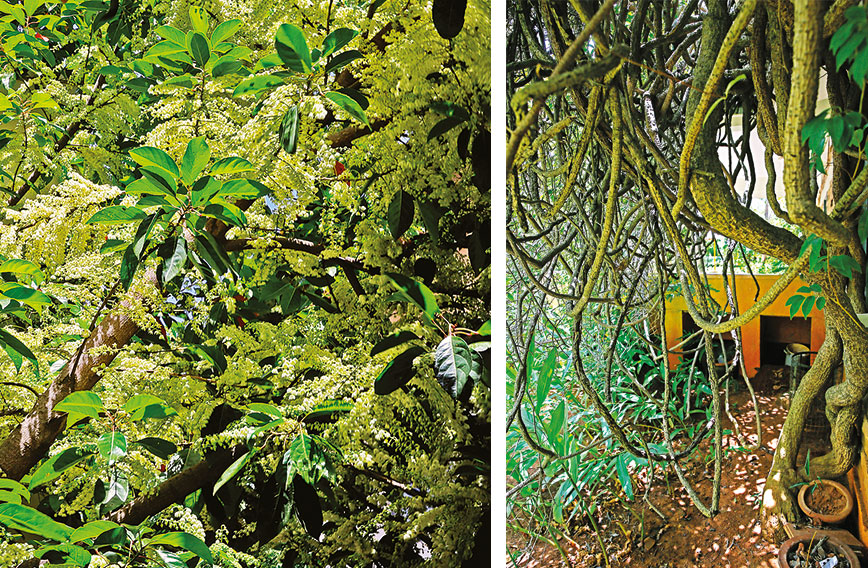 Elaeocarpus floribundus or Edible Rudraksh from Arunachal Pradesh | Vayu Vidanga grew with love and affection
Ganesh joined the Medicinal Plants Conservation Park, an FRLHT-DANIDA initiative to conserve medicinal plants at Madurai. His job was to maintain the nursery onsite. He created an ethno-medical forest, after interacting with herbal practitioners and carrying out an extensive botanical survey of Madurai and its surrounding districts.
He says he practically lived in forests from 1997 to 2000 and learnt a lot from tribals. "They have profound knowledge. I acquired more knowledge from them than from books. They showed me Centella asiatica, a medicinal plant with the fragrance of lemon," he says.
In his search for medicinal plants Ganesh also came across many amazing herbal healers. He mentions Ambalthady Kalyani Vaidyar, a bonesetter, 40 km from Madurai who treats people free of cost and Thippeswamy from Lakshmisagara in Chitradurga, an expert on snakebite. Thippeswamy told Ganesh about the plant he uses as a remedy for snakebite.
In 2003, after being appointed as botanical consultant at FRLHT he undertook a survey of the forests of south India. With the money he earned, he completed his M.Sc. in botany from Annamalai University through distance education and subsequently his Ph.D. Ganesh now works as an assistant professor with a team of 20 botanists and is always on the move. About 6,000 medicinal plants are used in Ayurveda. Ganesh's contribution to FLRHT's herbarium is 4,000 medicinal plants.
SHAPES AND USES
An aloe vera plant sits in a glass container on Ganesh's table. He asks us a rhetorical question: "How did our ancestors identify medicinal plants without testing methods?" We don't know. So he asks us to follow him to the garden.
The first plant he shows us is Centella asiatica. "What does the shape of this leaf resemble?" he asks, and then answers, "the brain." "This plant is used for memory enhancement. In Tamil, they call it Saraswathy Vak. The name suggests that it is linked to education. Our ancestors gave local names to plants after a lot of thought."
Mangroli (Mangaravalli in Kannada), is a vine whose stem has four angles. "This is Cissus quadrangularis. It reminds us of bones. Yes, it is used in bonesetting and has a high quantity of calcium. In Tamil Nadu people eat it as a food, as papads or chutney."
Local names provide clues to researchers. The Kannada name of Shatavari (asparagus racemosus) is Halavu Makkala Thayi (mother of many children). "The plant's decoction is given to increase lactation. The name suggests that a mother can bring up many children with this plant's help."
A huge 13-year-old vine, called Vayu Vidanga (Embelia ribes), partially masks a small building in the campus. Ganesh recounts the amazing story of how this plant was raised in FRLHT.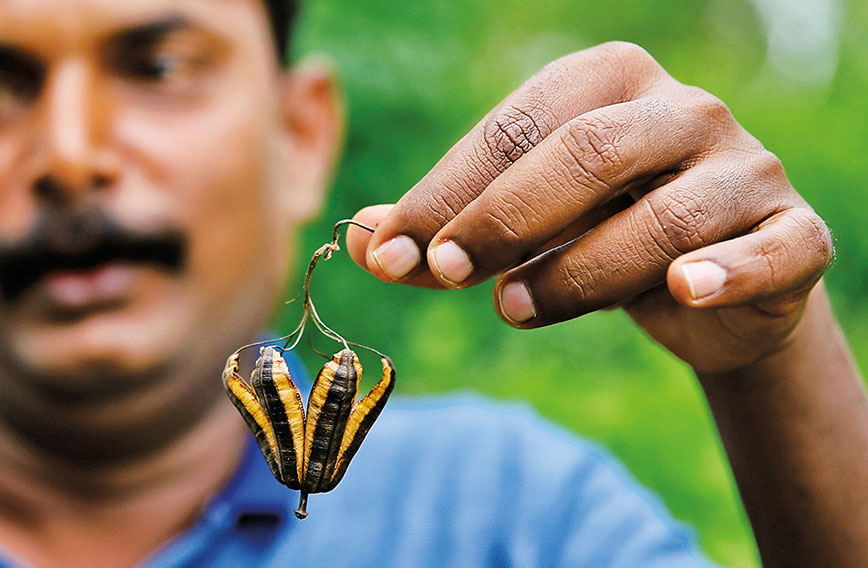 Aristolochia littoralis, also called Lady's Purse
Attempts to grow Vayu Vidanga by many botanists failed. When Ganesh brought the plant to the campus he thought it would meet a similar fate. After planting, he observed it for many days. Vayu Vidanga remained weak and stunted. It just wouldn't grow.
Then Ganesh got a brain wave. He started talking to the plant. He appreciated its virtues. He asked some of his colleagues to 'keep the plant in good humour' by frequently 'talking' to it. The plant started responding. It grew bigger. Today it's stout and sturdy. "The plant will grow according to the feelings you have for it. If you throw it somewhere, forget about it, the plant may not grow. Instead, if you express your love, talk to it, spend time with it, like it was your relative or friend… just see the results," explains Ganesh.
We are then introduced to a vine whose flower resembles a bird. "This is Aristolochia littoralis. It is used to tackle malaria and poisonous bites," says Ganesh. He picks up the vine's dried seed. It opens up like a small umbrella. "This is called Lady's Purse. After drying, the seed has this inbuilt mechanism to tilt a little with the wind. It goes on dispersing seeds for 18 months to ensure some seeds fly into a conducive climate and its progeny continues."
We come across a tree whose stems have a thorny outgrowth. This tree (Bombax ceiba) is called Kempu Booruga in Kannada. Ganesh was surprised to note that the thorns of the tree were frequently removed by girls living in a hostel nearby. He found out that the girls used it as a remedy for pimples. The thorn was crushed with a few drops of lime and the paste applied on pimples. "How did the girls get to know? The thorns in a way look like pimples on the face", he interprets.
As Ganesh takes us around FRLHT's acre campus we realise each plant has a lesser known trait, a special feature, a story, a meaningful name in some language or the other. "This huge ex-situ collection of medicinal plants is a great opportunity to researchers to document the behavior of each plant outside its original habitat," says B.S. Somashekhar, Associate Professor, FLRHT. "They don't have to travel to a distant forest anymore."
CITY OF PLANTS
Delving into history, Ganesh explains that practitioners of traditional medicine or vaidyas started the concept of nurturing gardens. The vaidyas needed medicinal plants when the king became ill. But they couldn't get these plants quickly since many were located at a distance. To overcome this problem, the vaidyas began growing medicinal plants near the palace. These were the first gardens.
"Slowly the aesthetic angle crept in. Over the years, gardens lost their original purpose of curing ailments and turned into ornamental objects of beauty," he explains.
Ganesh realised that people were stuck with the notion that a garden merely needed to beautiful. "We visited some families who had taken medicinal plants from us. They had placed our plants in an obscure corner. We asked them why. They said our plants weren't good looking. So I decided to bring these plants upfront by relocating them in the landscape. The plants would get showcased and and the gardens would get upgraded into functional ones."
Nandini D., a consultant at FLRHT who campaigns and trains people to develop herbal gardens says at first it was hard to make people understand the concept of a medicinal garden. "In institutions which had horticulturists it was difficult to make inroads because their mindset was fixed on specific colours and plant species for aesthetic value", recalls Nandini. "Now the situation is far better. We are able to get people interested by showing them gardens we have already developed."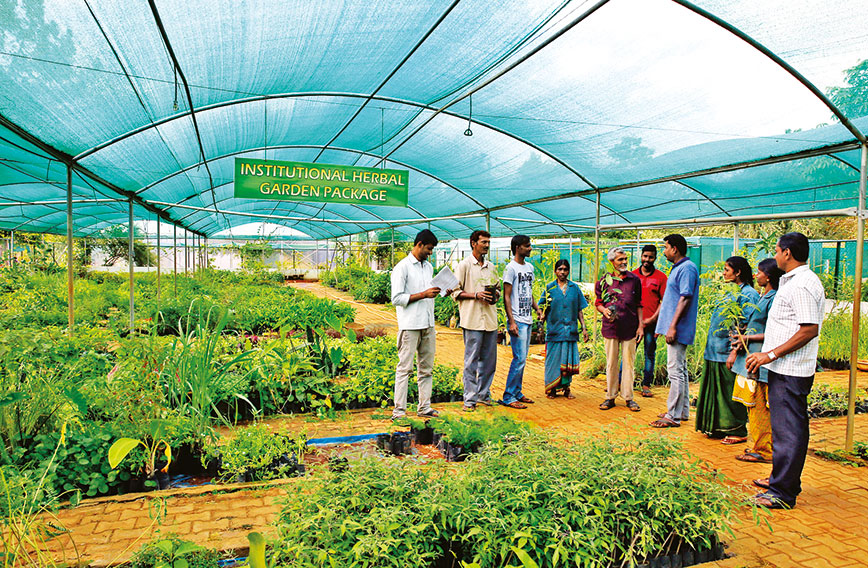 FRLHT has 450 medicinal plants and offers three types of packages for people keen to raise a herbal garden
COMPLETE PACKAGE
Most nurseries in Bengaluru don't have more than 20-25 medicinal plants. FRLHT's Amrutha Vana herbal garden has about 450 medicinal plants. For those keen to buy plants, FRLHT offers three types of packages. You can select your plants according to the space you have.
A complete package contains 60 plants priced at Rs 1,200. The advanced package has 40 plants and the basic package has 20 plants. The plants are priced very nominally thanks to the support FLRHT gets from the National Medicinal Plants Board under the Union Ministry of Health. A free guide with information on identification, method of growing plants and use for various ailments is provided along with the plants. Two publications, Angaiyalli Arogya in Kannada and I love my healing garden in English, published by FRLHT, have information on how to prepare medicines from these plants. More details are available on the FLRHT website (www.frlht.org)
"Earlier we used to offer plants that had to be combined with three to four plants for tackling ailments. Then it dawned on us that this creates problems. For urban families, getting the other recommended plants is not easy. So, now we have prioritised single plants that can be used for a few ailments," explains Ganesh.
Lots of people live in small apartments but would like to have a herbal garden. FRLHT provides advice. They have identified plants that can be grown in cocopeat, in grow bags or vertically on a wall.
The institution keeps an ear to the ground for information on new plants. "If someone says a plant in a particular area is good for a disease, we check its efficacy. Only then do we recommend its use to people. It's not like anyone can use any plant. We offer one-day training mostly on our campus," says Ganesh.
Two new state-of-the-art courses are being introduced by Trans-Disciplinary University (TDU) keeping in mind the interest shown today by practitioners of allopathy. "Horticulture therapy is now being accepted. Several hospitals have realised its importance in post-operative care and have appealed to us. Shortly we will be starting a one-year course on horti-therapy that will include medicinal plants," says Dr Balakrishna Pisupathy, Vice Chancellor, TDU.
"Every year students who graduate don't do anything innovative. They stick to the same old ideas and business plans. Landscaping with medical plants will give them much better job opportunities," says Ganesh.
Currently Ganesh is developing a conservation park in Bellary which is likely to become a landmark. It is for red-listed medicinal plants. "If we conserve these endangered species in one area, we can reintroduce them whenever necessary." The park already has 2,100 plants and 100 are rare and endangered species. Its another feat by Ganesh, the botanist with green fingers.
Contact: Dr Ganesh Babu: Phone: 9900239450; ganesh.babu@tdu.edu.in
Shree Padre and Photographer Yajna travelled to Bengaluru to meet Ganesh Babu and see the FRLHT campus with its many wondrous plants.