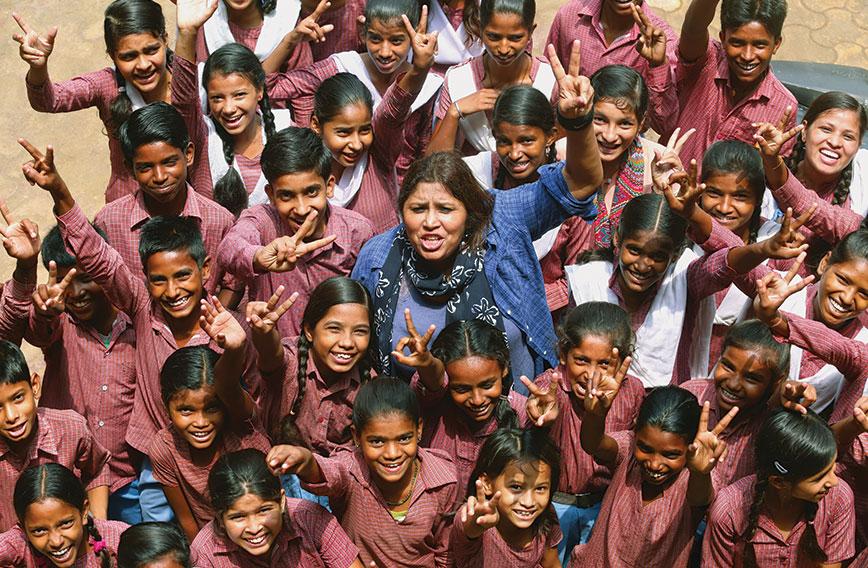 Indraani Singh with a group of cheering students
Indraani Singh
Published: Aug. 29, 2019
Updated: Sep. 24, 2019
In 1995 when Indraani Singh became India's first female pilot to be Commander of an Airbus-300, she was an inspiration for young women. Yet the attractive pilot wondered how she could do more. A chance encounter with a vegetable vendor, who requested her to help him pay his daughter's school fees, motivated Indraani to start Literacy India, a non-profit in Gurugram that provides education and vocational skills to children, youth and women from low-income homes.
Indraani first set up a mobile crèche for children of construction labour. The going was tough but she persisted. Twenty-four years later, Literacy India has a campus at Bajghera in Gurugram with a full-fledged school, a vocational centre and a factory that rolls out recycled paper.
Women can learn driving, tailoring, block printing and more. Children have earned laurels in movies and sports. Digital Dost, educational software Literacy India developed with an IT company, helps children learn language, maths, social studies and science, and even tells them how to open a bank account.
Below is a piece that appeared in Civil Society's September-October 2015 edition. Read on.
In 1995, Indraani Singh was appointed by Indian Airlines as commander of an Airbus-300, the first female pilot in Asia to fly the big plane. Accolades poured in. Yet the attractive pilot, an icon for girls, found herself in a reflective mood, wondering how she could do more.
She found her answer after a chance conversation with her local vegetable vendor in Palam Vihar, a colony in Gurgaon where she lives. The vegetable vendor approached her with a humble request. Could she help pay his daughter's school fees? He was a poor man and didn't have the money. Indraani said, she would, but the man's request got her thinking.
"I thought if I can help one child's education, I can definitely help many more," she reminisces.
Her mission, she decided, would be to spread literacy among the underprivileged.
With this idea was born Literacy India, a non-profit organisation that provides education and vocational skills to children, youth and women who can't join mainstream schools or enrol in courses because they don't have money or social status.
"That vegetable vendor's daughter is an engineer today, although her father still sells vegetables in the same locality," says Indraani.
Twenty years on Literacy India has a campus in Bajghera in Gurgaon with a school, a vocational centre and a factory that rolls out recycled paper. "This used to be a jungle in 1995," says Indraani. Literacy India's school now has more than 4,000 children on its rolls. It supports about 50,000 people — women, youth and children with education and skill-building programmes in 55 centres across the country.
Indraani's first shortlived venture though was a small mobile creche for the children of construction workers. In those years, Gurgaon was being transformed from a small sleepy town to a big city populated with the auto sector, BPOs, call centres and the garment industry. Residential colonies were popping up everywhere. But construction workers building the Millenium City lived in shacks in pathetic conditions.
"Their children loitered all over. We hired a teacher to teach them at the construction site and we took them for picnics. That's how we began a small mobile creche," says Indraani.
But in the dust, dirt and din of the construction site, children couldn't learn and teachers found it hard to teach. Chiranjeev Bharti School in Palam Vihar offered Indraani their empty classrooms after school hours. She also rented a building in nearby Choma village. But construction workers were indifferent about sending their children to her school. Initially, just five children enrolled.
"We bought a rickshaw to transport children from construction sites to our classrooms. The rickshaw-puller, whose services we hired, ran away with our rickshaw. In Choma village, there were incidents of eveteasing. The children used to steal as their parents didn't bother much about their basic needs," Indraani recollects.
She found herself battling a whole lot of issues with her son Kunal who was just four years old then. "I had to run to the police and deal with the local panchayat all by myself with my little son in tow. Juggling work hours and this mission was the least of the challenges I faced. Many of my pilot friends thought that I was preparing to venture into politics," she laughs.
All this while, she invested her own income in Literacy India. Then a friend from Kolkata, also a pilot, visited Literacy India on a flight break. He was so impressed by the non-profit's earnest work, he became its first donor.
Indraani believes she has been blessed by destiny. "The Bajghera campus was bought with money which came to us most unexpectedly. My pilot friend from Kolkata said he and his friends had collected about `50 lakhs for the medical treatment of a child but she had died, tragically. He said that they decided to give that money to me. And so I bought this land," explains Indraani.
Learn and earn
Right from the start Literacy India understood that they could never isolate education from employment. Most of the parents who send their children to Literacy India's school work as migrant labour. They come from Bihar, Odisha, Uttar Pradesh and Madhya Pradesh.
Then there are women who need to earn a livelihood. They are from farming families whose agricultural land was sold to builders. The men spent the money recklessly on alcohol and consumer goods. "Our holistic mission is livelihoods for all these people. If the women achieve economic empowerment, half my job is done. They become confident enough to fight for their own rights then," says Indraani.
Literacy India's school, called Vidhyapeeth, is from Class 1 to Class 10 and affiliated with the National Institute of Open Schooling (NIOS). Its Pathshala programme helps street children with basic literacy and dropouts with tuition so that they can rejoin mainstream schools. The Gurukul project sponsors higher education for meritorious students from an economically weak background.
Literacy India started Indha Crafts in 2004 organising women into a self-help group and teaching them skills. Indha is the name of a broad cloth cushion which Haryanvi women place on their heads to carry water pots. Indha Crafts produces attractive handbags, laptop bags, notebooks, photo frames, jewellery boxes and quilts.
"About 6,000 women have been trained under this project in tailoring, embroidery, block printing and making recycled paper products. Many work with us at the centre in Gurgaon while others work from home and send us the products here. Today, about 25 companies including Microsoft, the Fortune Hotels Group and even Confederation of Indian Industry (CII) buy products from us for corporate gifting which is our biggest market," says Satya Prakash, coordinator for Indha. Literacy India has its own recycled paper making unit that produces about 300 sheets per day from wastepaper and cloth.
Their Karigari project teaches youth and women skills that can help them become economically independent like tailoring, computers, driving and so on. Women, for instance, have learnt driving and got jobs with Maruti-Suzuki, the auto manufacturer in Gurgaon.
"In the economic strata where we work, vocational skills matter as much as academics. We can't aspire for all our children to get jobs that require very high qualifications. But we can help them stand on their own feet and take care of their families," says Sohit Yadav, lead coordinator of Literacy India's projects.
Children who lag behind in studies can learn AC repair, electronic operations, para-nursing and housekeeping, even as they grapple with schooling.
Since the last two years, students of Vidhyapeeth have been organising an activity called 'Feriwalla'. They stack up vegetables and repaired electronic products on a cart and go around selling these in nearby villages. "The idea is to teach them sales, marketing and even business management," says G.S. Dubey, in-charge of activities at Vidhyapeeth.
Tech tools
Literacy India also forayed into technology in 2010, inventing an education software called Digital Dost with an IT company in Bengaluru. Digital Dost introduces children to basic concepts in language, maths, social studies and science and even tells them how to open a bank account. It has, fortuitiously, sparked interest in education among indifferent learners and street children.
Digital Dost has helped Literacy India reach out to more than 20,000 underprivileged children. In fact, digital smart classes are the new fad in its centres across West Bengal, Rajasthan, Jharkhand, Andhra Pradesh, Karnataka, Himachal Pradesh besides Delhi and the National Capital Region (NCR).
"Too much technology, I understand, isn't a good idea, but again, with the kind of population that we deal with, our first task is to get children interested in studies and there technology helps a lot. I have seen street children, deep into drug abuse, very distracted and used to a nomadic life, getting engrossed in solving games and listening to stories on the Gyantantra software. Even if it isn't teaching them to write, it is exposing them to the world of visual and oral literacy," says Indraani.
Literacy India also discovered that technology was a great tool for motivating teachers. It helped them rethink and turnaround their methods of teaching. "Our students feel more confident thanks to this digital empowerment. They feel the world has opened up to them with the Internet. Many of them are working as data entry operators for their panchayats," says Indraani.
Literacy India's focus is on the 3Es — education, employment and empowerment. But it also has wider objectives, like raising a socially responsible younger generation. Under its "We the People" programme children learn about their fundamental rights and civic rights and use the knowledge practically.
So students at Vidhyapeeth have lobbied with the administration to construct and maintain a road in front of their school and remove garbage regularly from a nearby area. "There is no point in just teaching them theoretical civic lessons. They must be confident enough to use this knowledge. The students write letters to the administration with the teacher's help and a representative group even approaches government officials," says Sohit Yadav.
And, of course, Literacy India's foray into theatre and sports has won them laurels. Their Shiksharth programme encourages creative activity like painting, pottery, dance and theatre. Students from Literacy India have acted in movies like 3 Idiots and Bhag Milkha Bhag. They have taken part in football and judo tournaments at national level.
Wearing more than two hats has not been easy for Indraani. Her son, now 22, took time to understand and value her goals. Even as she plays mother to her father who is suffering from Alzhiemer's, Indraani remains unfazed and happy to be making a difference each day of her life.