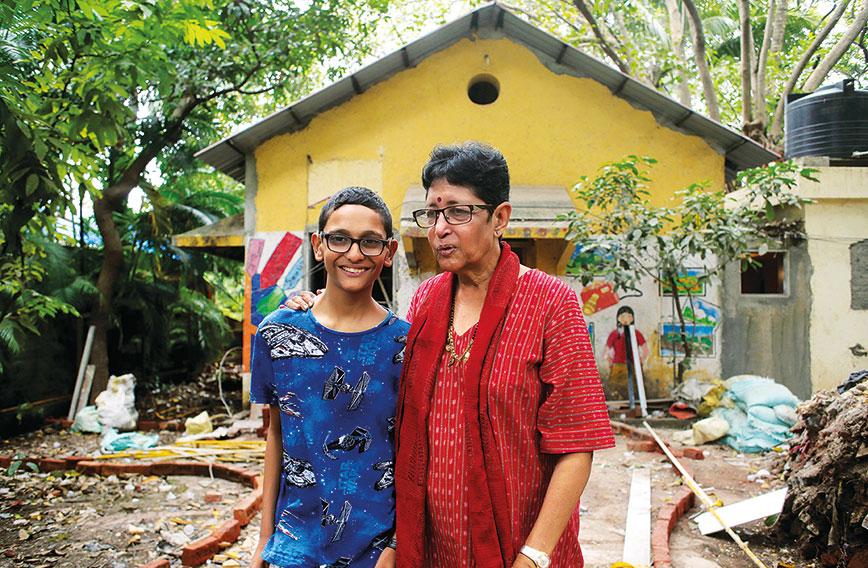 Aziza Tyabji Hydari with Ayaan Dalvi, one of the older children, at the AURED centre
Aziza Tyabji Hydari
Published: Aug. 29, 2019
Updated: Feb. 13, 2023
Aziza Tyabji Hydari was teaching in schools for deaf children for nearly a decade when she left her job in 1986. The centre she set up, Aural Education for the Deaf (AURED), was an experiment with auditory aural therapy.
A cochlear implant or a hearing aid is not enough because the child doesn't recognise sounds. At AURED, therapists help develop recognition of sounds and reactivate the circuit between the ear and the brain.
The leap she took has been hugely beneficial for children with hearing disability. She began in her kitchen, but now AURED is a proper facility at Mahalaxmi in Mumbai. More than 800 children have been helped to speak and live normal lives. Their success stories abound. Many of them come from the poorer parts of Mumbai. No one is turned away.
Below is a piece that appeared in Civil Society's September-October 2017 edition. Read on.
In 1986, a young teacher of the deaf gave up her job to start her own centre. It was in the kitchen of a south Mumbai flat with just a couple of children enrolled for therapy. But in that little space, she found the freedom to experiment with auditory aural therapy, which was then a new method of helping profoundly deaf children learn to speak and live normal lives.
Aziza Tyabji (later she added Hydari to her name) had spent almost a decade teaching in schools for the deaf and she could see that they needed to reinvent themselves. Young teachers like her required the opportunity to innovate and adopt new methods. But since the schools wouldn't allow that the only option was to step away.
Aziza was joined by her friend and fellow teacher, Sheila Naharwar. Together they set up AURED or Aural Education For The Deaf. Months later Kumud Misra, also a trained teacher, came to work with them. They were the frontrunners.
From the kitchen to a bedroom to a garage to its present location in the verdant and peaceful premises of the King George Vth Memorial at Mahalaxmi, AURED has been a small but spirited effort in changing the way deaf children learn to hear.
In 30 years, more than 800 children have received therapy and remain enrolled with AURED. Currently about 200 children visit the AURED centre at Mahalaxmi for personalised sessions. There are some 17 therapists at the centre. AURED also has a centre in Hyderabad and affiliate centres in Nairobi and Delhi.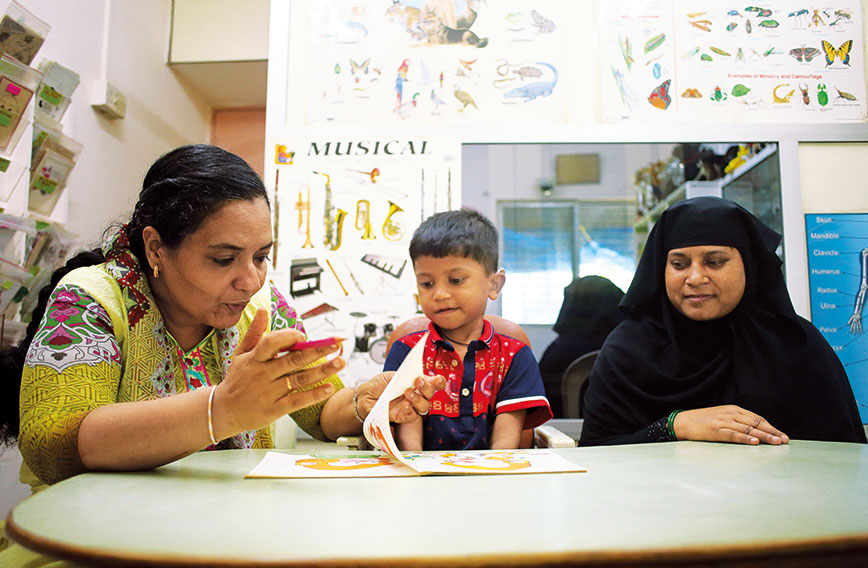 A therapist helps a child to recognise sounds instead of teaching sign language and lipreading
More than 80 per cent of the children who have come to the centre in Mumbai are from underprivileged families and can't afford the Rs 3,500 a month that AURED charges. But no one is turned away.
"We take in every child," says Aziza. "We tell parents to pay what they can. Wherever possible we also help parents find hearing aids and fund cochlear implants."
The AURED Charitable Trust funds the centre and the activities around it. Working with the poor is an important part of its mission. It reaches out to slum populations in Mumbai, screening 3,000 children every year.
Bringing in funds, however, has never been their strength. "If we thought about money we wouldn't do anything. We keep doing what we have to do and the money comes," says Aziza.
Asked how difficult it is to raise money, she replies: "Very. We keep sending out appeals and get no response most of the time. But we depend on donors and we do find them. Tata Capital, for instance, just asks us what we want to do and funds it. It is important for us not to be distracted by fundraising. We prefer to be focused on working with the children. The money always arrives."
RESIDUAL HEARING
Even a profoundly deaf child has residual hearing. By getting a child to listen and speak, auditory verbal therapy stimulates this residual hearing and restores the messaging between the ear and brain. A cochlear implant or even a simple hearing aid amplifies sound. But that is not enough because a child who hasn't been hearing from birth can't associate sounds with objects, people and emotions. A therapist helps make these connections.
At AURED, a therapist does not use sign language and lipreading to teach the child to communicate. The focus at AURED is on developing recognition of sounds. At first glance this may seem like simply repeating words. But, in fact, the therapy is complex and progresses through sounds at different levels of the child's development.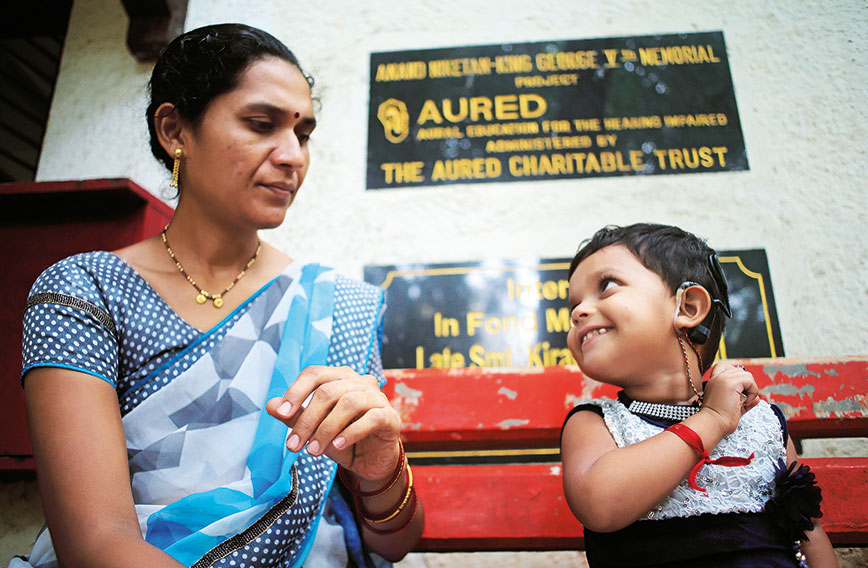 Parents participate in each therapy session
A normal child, who is not born deaf, listens to sounds and people speaking in its natural environment. Patterns begin emerging and the brain decodes and stores them. Progressively the child gets wired to using these sounds as speech.
But in the case of a deaf child this does not happen. Even if an external device like a hearing aid or a cochlear implant allows the child to hear sounds, the processing of the sounds does not take place. At AURED it is the therapist's job to reactivate the circuitry between the ear and the brain so that the sounds begin to make sense.
"We are exposed to language all the time after we are born and that is how we learn to understand before we learn to speak. Children who are deaf don't have this experience. If you just put the cochlear implant, nothing will happen without therapy. It is just sound which the brain has never processed before," explains Aziza.
Since hearing checks are not done widely enough in India soon after a child is born, deafness is detected late. There are children who come to AURED when they are two years old or younger but there are also a great many who are four years or older. The older they are, the more difficult it is to help them. It is best that they come when they are two years or younger.
"Stage by stage you have to expose them to frequencies which are age related and stage related. It can't always depend on age. If somebody comes in late they still go through all the stages of developing hearing. So, it is very scientific. It is complicated. You have to know what you are doing," says Aziza.
"The children who come to us with a cochlear implant done late, could be four years or older. Integration in such cases takes two to three years. Remember, they invariably also have other problems like mental retardation, slight autism, weak eyesight and abusive family environments. Some children take up to eight years to get integrated."
It is because of this that the therapist must work not just with the child but the parent as well. In fact, a parent sits through and actively participates in each therapy session to be able to continue working with the child at home. Often getting parents to engage takes time because they are invariably distraught after being told that the children can't hear. They begin by being in denial and acceptance comes over time with counselling.
The Pintos' little girl was two when they discovered that she was deaf. It came as a surprise to them. She was bright and alert and it seemed she was articulating the odd word or two. They had an elder boy with no disability whatsoever. So, they didn't worry about challenges with the second child. But because she didn't seem to be speaking enough for a child at the age of two, the Pintos took her to their pediatrician who said he saw a problem. The audiometric tests that followed conclusively showed that she couldn't hear.
There was more worrisome news in store for them when they went to the Hinduja Hospital. An MRI done there revealed that there was no auditory nerve in the right ear and in the left ear the nerve was very thin towards the brain. She was profoundly deaf. In most cases of profound deafness, a cochlear implant makes it possible to hear. But in this case, the doctor said, an implant wouldn't work. A hearing aid was fitted and they began taking her for therapy to AURED.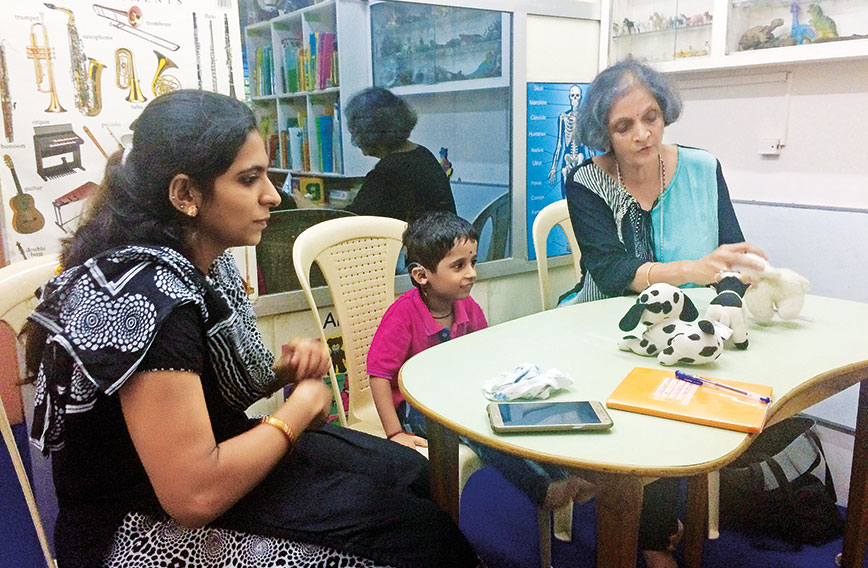 Kumud Mishra, on the right, in a therapy session with a child and his mother
Aziza was confident that the Pintos' daughter could learn to speak and that a cochlear implant would work. She went with the Pintos to Hinduja Hospital and persuaded the doctor there to do the cochlear implant.
Two years later, the improvements are beginning to be seen — slowly, but dramatically nevertheless. The Pintos' little girl is talking a little. She is self-assured and shows the ability to comprehend what is being said to her. She now uses words like finish, baba, bat, ball, bag, apple and banana. But more importantly, her responses are growing more and more normal.
Twice a week her mother brings her all the way from Borivili to the AURED centre at Mahalaxmi. Here she goes through intensive sessions in listening and speaking. Her mother is involved in every session so that the therapy can continue at home in an everyday fashion.
"It is not just speaking, she also understands a lot. If I tell her something, she understands what I am saying," says her mother. "She is going to school and is in the nursery class. She is learning."
TEAM SPIRIT
The AURED centre is located amidst grand old trees at the King George Vth Memorial in Mahalaxmi. It is near the racecourse and down the road from Famous Studio, another Mumbai landmark. The trees together provide a thick and cooling canopy. Many NGOs have been given space here and they occupy modest, lightly constructed structures with sloping roofs and ample surrounding space.
One such shed-like structure is where the AURED centre is housed. It has packed into the shed four air-conditioned therapy rooms, a tiny office space with tables, a kitchenette and two toilets. The centre has a busy and congested air about it but everyone and everything seems to have happily fitted in.
Across from here, about 100 metres away, AURED has converted an old and derelict storeroom into a set of tiny rooms from where tele-counselling is going to be done. Many children come to AURED from other cities. The tele-counselling will reduce the number of visits that they will have to make.
Parents who bring children from outside Mumbai need somewhere affordable to stay if they don't have relatives and friends they can camp with for a while. For such parents AURED is also preparing a room and bathroom adjacent to its main premises.
The mood at the centre on the three occasions we visit, is of camaraderie and bonhomie. There are shared lunches. About 17 therapists, a few office hands, a coordinator and two women helping with the housekeeping make up the staff. A large chart on the corridor wall tells us that everything is planned and lots of work is getting done.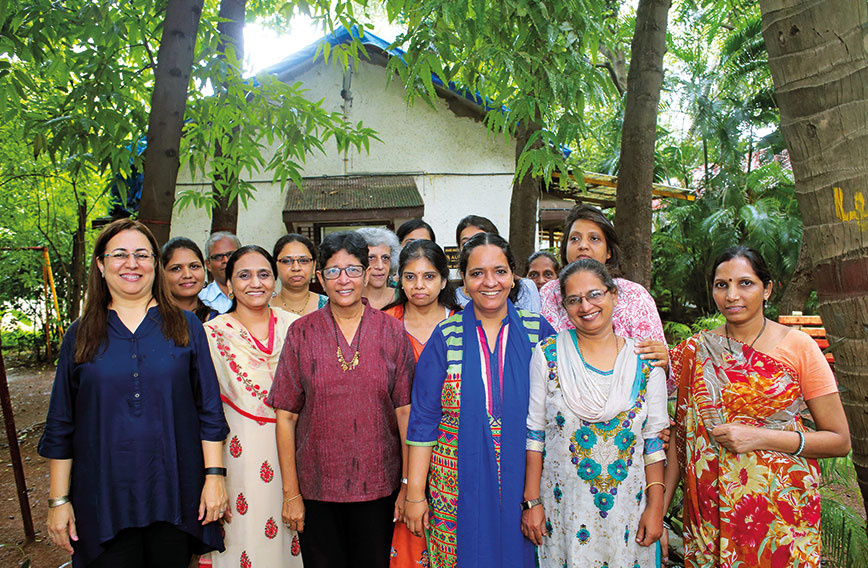 The AURED team
The atmosphere is tension-free as indeed it would have to be if very young children are going to be encouraged to lose their fears and discover the ability to speak. As you walk up a path and enter the centre, Aziza sits to the left. Being AURED's founder she is admired for her vision and the many sacrifices made over the years. It is apparent that in all matters she is the boss. But you won't find her ordering anyone around.
Auditory verbal therapy depends for its success on team work and conciliation. Children are involved and so there can't be deadlines. Each child is different and comes with his or her own set of problems. Ways forward will vary and be customised to suit each case — though the broad principles may well be the same. A therapist therefore should be secure and confident to innovate and seek advice. Everyone's work is constantly reviewed and yet accountability has its limits. Goals are best achieved when they are consensual and flexible. It won't do to be rigid and expect therapists to perform well in an atmosphere of fear.
Salaries at AURED are a pittance and yet everyone is okay with the money because the work is rewarding. There is also valuable experience to be acquired. Therapists come with a post-graduation degree in special education. However, they begin learning from scratch at the AURED centre. In their degree courses, they do not learn the auditory verbal approach though it is what is used elsewhere in the world. So, once at AURED they get the opportunity to upgrade themselves. They also get to attend workshops and conferences the year round so that they get exposure and keep growing.
Being part of AURED also means getting to participate in its innovations like using art and music for teaching language. These are much more evolved strategies than what gets taught in the degree-dispensing institutions. For instance, AURED has collaborated with Art1st to use art for gaining confidence and building relationships. Similarly, music is being used to enhance the speaking abilities of deaf children and reinforce the auditory verbal approach.
AURED also does audiograms and impedence tests and maps the hearing of cochlear implant wearers. It has developed a device which tests the hearing of infants as small as three to five months of age.
It is the spirit of voluntarism that has fuelled the outfit. "It is magic by Aziza," says Kumud Misra, who is also a member of the AURED Trust. "She is the one person who has empowered everyone."
"Everybody's ideas are considered," says Latha Dilip, who left the Hinduja Hospital in 2006 to join here and lead AURED's outreach. "It is a combined effort which ultimately benefits the child."
"There is a lot of bonding. You don't like not to come to AURED. You come to work even if you are not feeling well," says Armaity Khambatta, who has been working at AURED for 15 years. She is currently the coordinator, always busy updating the timetable board and getting things done.
"Aziza is the backbone of AURED," says Armaity. "She is not like a boss or anything. You are so free to talk to her and she listens to your problems."
Aziza was fortunate to learn the auditory verbal method from some of the best practitioners in the world who would visit India and continue to do so. By implementing it at AURED she was far ahead of what was being practiced in India at that time. Interestingly, special education courses in India still don't teach the auditory verbal method. But AURED's work shows what could be achieved if they did.
Umesh Anand visited the AURED centre in Mumbai. Lakshman Anand took the pictures.