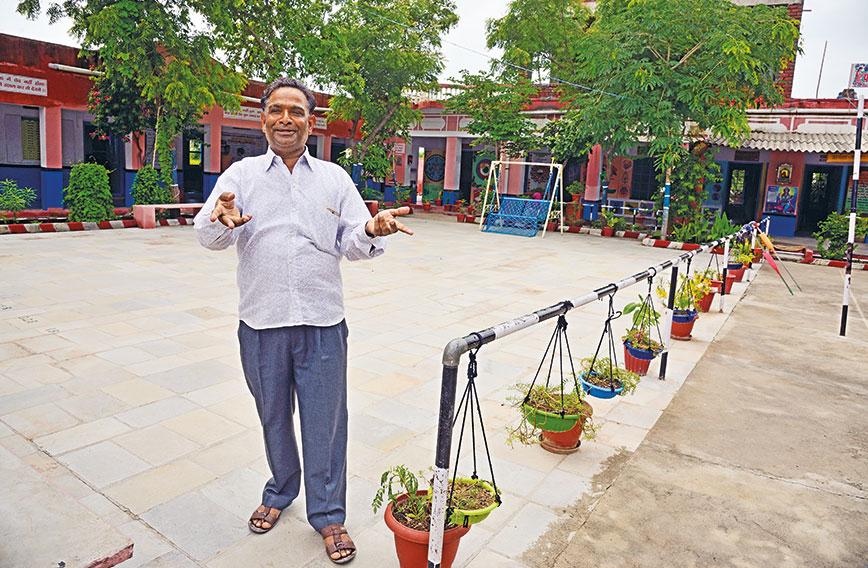 Mohammed Gafur Chhipa in his 'hanging garden'
Mohammed Gafur Chhipa
Published: Aug. 29, 2019
Updated: Feb. 13, 2023
Schools need good leaders. Mohammed Gafur Chhipa is a visionary. When he was made headmaster of the Government Upper Primary School in Titri, Rajasthan, he knew the school had a lot of potential. Over 13 years of uninterrupted service to the school, Chhipa has added five classrooms to the once three-classroom school. Building a courtyard, constructing toilets, ensuring access to safe drinking water have transformed the school.
Chhipa has built a small team of dedicated teachers. Yogesh Chander, the maths and science teacher, donated `15,000 from his savings because the school needed some repairs. He is a team player and has inculcated a sense of responsibility in everyone. He says, "officegiri se kuch nahin hota. It won't do to issue orders."
Every day, Chhipa is the first to arrive and the last to leave. In his time at the school, he has seen a student join the IAS and another the IPS. This is his reward. From his humble place as headmaster in Titri, he enables his students to aim higher.
Below is a piece that appeared in Civil Society's September-October 2017 edition. Read on.
When the Government Upper Primary School at Titri village opens every morning, it is Mohammed Gafur Chhipa, the headmaster, who personally unlocks the gates. And when classes are over in the late afternoon, it is he again who closes the school.
For 13 years since Chhipa took over, it has been like this. Not a day has been different. He has always been the first to arrive and the last to leave, bringing to Titri's school the systems and rigour that have earned it the distinction of being one of the best government schools in Rajasthan.
"I like to be here by 7.30 am, which is half an hour before the children come and the school day starts. There are many chores to be done such as making sure the classrooms are cleaned and that there is water in the overhead tanks. Children like to come to a school which is neat and clean and has functioning systems," says Chhipa.
As we talk, we are in Chhipa's hanging garden. It is no more really than a few potted plants strung from steel pipes that ring the school's courtyard. But it is prettily done and it is to him as he envisioned it — a hanging garden. Once, twice, thrice… he uses the words hanging garden as though to make the point that it can't be anything less.
It is in his mind's eye that Chhipa has first seen the transformations that this little government school has gone through under him. There have been no consultants to advise him, no model to go by. He is an original who has done things the way he imagined they should be.
Chhipa grew up not far from Titri, which is in the Bhim block of the Rajsamand district, a drive of a few hours from Udaipur. Incredibly, he has never visited any of India's big cities, except Jaipur, where he went briefly to get an award from the government for his neat school. Occasionally he has gone to Udaipur when summoned by education department officials. The death of a relative once took him to Ahmedabad.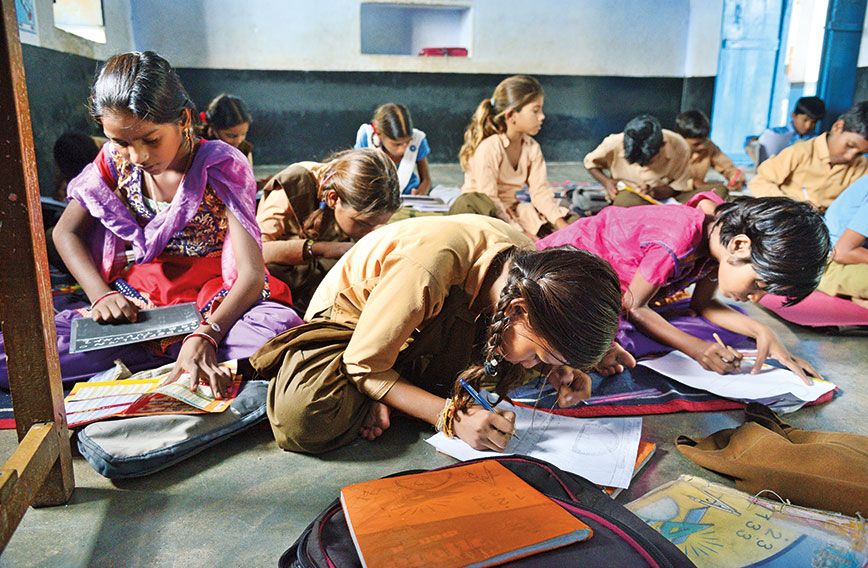 Children poring over their books. Classrooms are neat and well lit
But these brief trips apart, Titri has been his world. With only a school degree, he took a chance and got trained as a government teacher. That was in the eighties. After a few rural postings elsewhere, he found himself back as headmaster with an opportunity to grow the school of his dreams.
When he took over, the school consisted of just three rooms and they were poorly maintained. The toilets were in a mess. There was no boundary wall. No provision had been made for safe drinking water. Outside the classrooms there was just a muddy patch, which was partly a ditch.
Absenteeism among the students was high. Teachers wouldn't show up and when they did, they took classes indifferently. In the absence of an effective administration, they couldn't be held accountable.
But Chhipa has over time made many of these old problems disappear. "I am lucky to have been here for 13 consecutive years. It has made it possible for me to work consistently at implementing my ideas and improving things," he says. "Sometimes the government shifts you just when you have begun doing some good work. I have been here throughout," he clarifies.
The school now has eight well-lit classrooms and an office for the headmaster, where he sits. There are green boards and desks in the classrooms and rugs for the children to sit on. The walls and floors have been repaired and so there is no more the feeling of being in a dilapidated structure.
To further brighten up the atmosphere, there are charts and educational posters on the classroom walls. The corridor outside the classrooms is also full of pictures and drawings. There are notice boards and it is evident that they are being regularly used.
One of the noticeboards has the names, photographs and phone numbers of all the teaching staff, making it clear that nothing short of full accountability will do. Another board lists the names of donors who have helped fund the improvements in infrastructure.
"I have set up a users' group in the village to support the school. I go to them when I need money for small improvements. I also go to the gram panchayat. Funds aren't always available from the government though there are a lot of schemes which can be utilised if you know about them and can figure out ways of accessing them. For good work, if you are inventive and honest, you can invariably find money," explains Chhipa.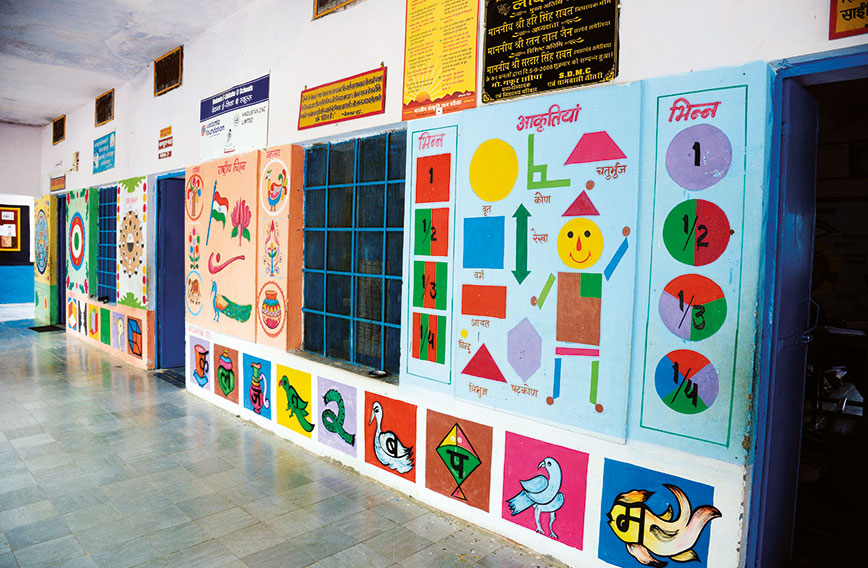 The corridors are full of colourful pictures and illustrations
The courtyard, which has white marble flooring, was funded by the panchayat at his request. It has made a dramatic difference to the way the school premises look. "The panchayat paid for the material and the labour charges and got the work done. But the idea and the design was mine. I got done precisely what I wanted, including a system for taking water directly to the plants on the periphery," he says.
"When the courtyard was made, I realised that there was open access to it. There was nothing to stop someone from bringing a motorcycle or a car on to it. But I wanted it specifically for the morning prayer and assembly and for the children to play. So, I made my hanging garden to cordon it off. A barrier of steel pipes and flower pots hanging from them was all I needed. Now it is protected and is only for the children."
Cleanliness and hygiene are emphasised. There are separate toilets with running water for boys and girls. A row of taps is for washing hands. There are bins for litter and nothing lies around. Water is pumped from the open well and when the level occasionally falls, a tanker is summoned.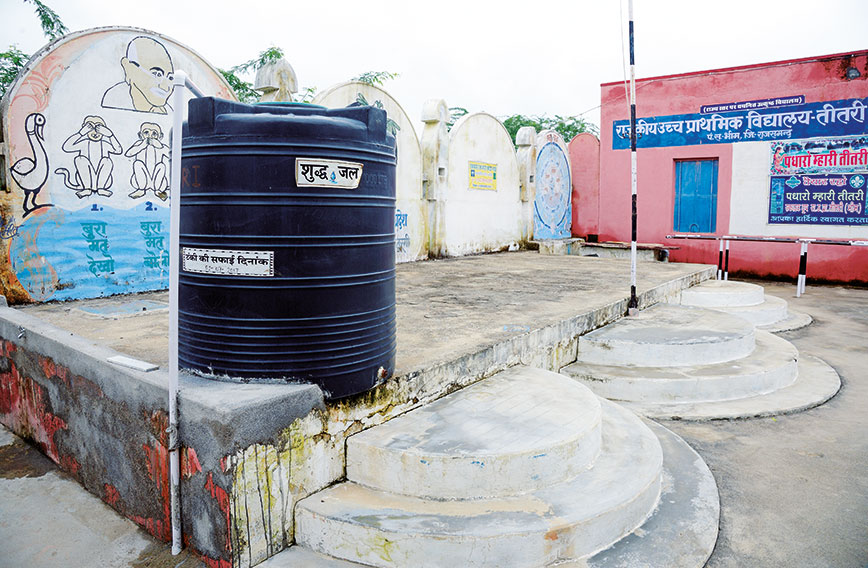 The school's rainwater harvesting system
A rainwater harvesting structure has been put in place for whatever little rainfall Titri gets in the year. Rainwater is collected in an underground tank and used for various maintenance purposes.
In terms of water, undoubtedly the most important addition has been a reverse osmosis unit which ensures that there is clean drinking water for the entire school. The RO is in the kitchen and on the wall outside there are taps from which children can drink directly and bottles and pans can be filled.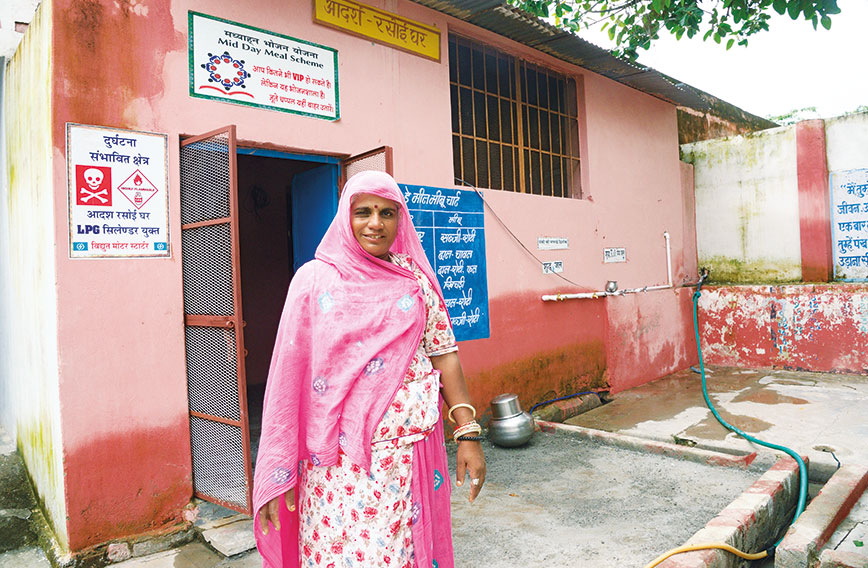 Nenu Devi, who has been making the midday meals for 12 years
The school's kitchen serves fresh midday meals and Chhipa says there is no problem feeding some 200 children every day. He has bought a few iron drums in which he stocks the supply of wheat and rice and dal that comes from the government. The drums ensure that the stocks aren't exposed to moisture and rodents.
Asked if it is a challenge to coordinate meals and ensure that they are of good quality, Chhipa replies: "We've been serving midday meals since 2002 and there haven't been complaints about quality. It requires some supervision and I check out the kitchen once in the morning, but for the rest there are three women who do the work and they are responsible people."
Chhipa is by nature a team player who finds it easy to be persuasive and consensual. "Officergiri se kuch nahin hota," he says. "Sab ko saath le ke chalna padta hai. It won't do to issue orders. You have to carry people along."
He has 10 teachers working with him. There are staff meetings and performance reviews. Lesson plans and teaching methods are examined. Sometimes he observes teachers in class and gives them feedback.
"He makes everyone feel like they are part of a large family," says Yogesh Chander, the maths and science teacher. "I belong to another side of Rajasthan and I am living here alone because of this job but Gafurji never lets that get me down." Chhipa inspires young teachers like Yogesh to commit themselves to the school. For instance, Yogesh has donated Rs 15,000 of his personal money to the school because some purchases had to be made.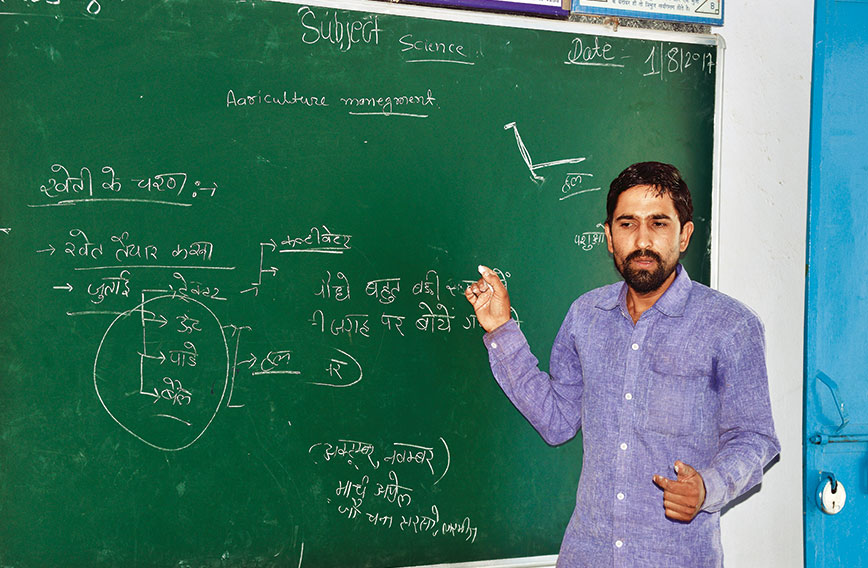 Yogesh Chander, the maths and science teacher
Questions to Chhipa on teaching methods and course content don't get very detailed responses. He prefers to talk about his administrative achievements. But it is laudable that most of the children from this school go on to the higher school and do well for themselves.
"In 13 years, I've seen a student of mine join the IAS and another the IPS. There are others who have got jobs in the private sector. Our students go to the higher classes and most of them cope well."
For the Titri school under Chhipa this is the best measure of its success apart from efficient administration.
Umesh Anand and Photographer P. Anil Kumar visited Titri village.