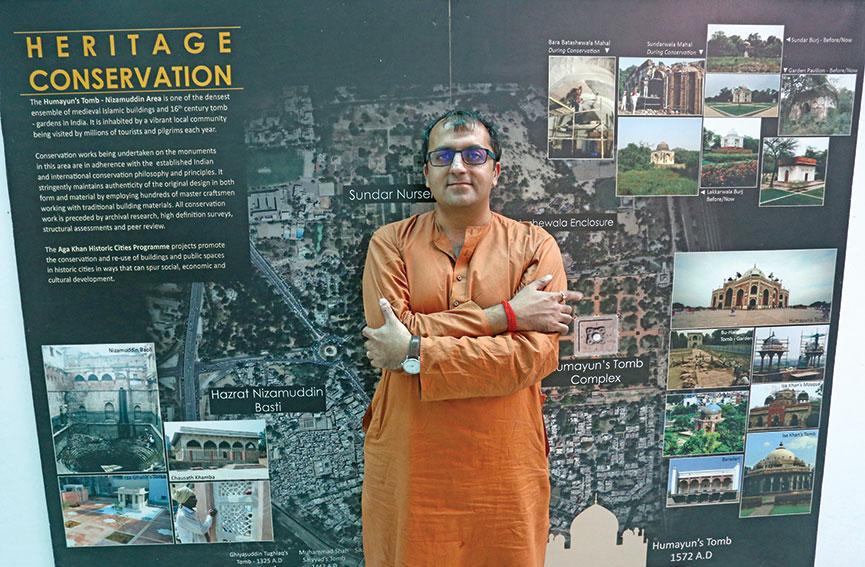 'Urban heritage should have wide ownership'
Civil Society News, New Delhi
Published: Nov. 01, 2016
Updated: Aug. 21, 2018
As urbanisation spreads, how can heritage be saved? In the rushed transformation that Indian cities are undergoing can traditional homes, monuments, old engineering, rare water systems be conserved?
One such effort in New Delhi has produced outstanding results. Humayun's Tomb has not just been restored, but now serves as an important historical landmark of the city. Tourists and schoolchildren in tens of thousands now visit the tomb, its splendid gardens and adjoining smaller monuments as well.
The tomb is part of a larger urban renewal initiative for the once-neglected and crumbling Nizamuddin Village area, which has got back its historic sites and status as the cradle of Hindustani culture.
The Aga Khan Trust for Culture (AKTC) has worked closely with the government to make all this happen through several years of meticulous work.
Ratish Nanda of the AKTC, who has headed the programme, spoke to Civil Society about what has been achieved for the rest of Delhi and the possible takeaways for other Indian cities.
What have been the spin-offs of the Nizamuddin Urban Renewal Initiative for the city of Delhi?
Across the world, wherever we work, the Aga Khan Historic Cities Programme looks for three critical components: one, a grand site, second, an urban situation in which the community can benefit, and three, ecological considerations or green space.
The Nizamuddin Urban Renewal Initiative, which includes the Humayun Tomb, like all our Aga Khan Development Network (AKDN) projects worldwide, aims to improve the quality of life.
We started with garden restoration at the site of the tomb. That led to a significant increase in tourist numbers. But, apart from restoration of Humayun's Tomb, we did conservation work on 45 monuments. Since Independence I think this is the only privately undertaken restoration effort in India. We believe it has influenced conservation thinking. Also, everybody in Nizamuddin Basti has benefitted from what we do.
But the larger spin-off for the city is that we have walked more than 100,000 children through Humayun's Tomb. We have created awareness. We have demonstrated that conservation and development can go hand in hand. Once the project is over, Delhi will have an additional 200 acres of green space. Delhi is very rich in green space. The challenge is to manage it and create spaces for a lot of things that are not there like street performers or an arboretum. You know, Delhi has 17,000 parks but not a single arboretum. As a result, children don't even know their city's trees.
So we want Humayun's Tomb, Sundar Nursery and Nizamuddin to become the green hub, brown hub and cultural hub of Delhi. That would be the eventual success.
Is there ownership of these ideas?
India has liberalised in every sector: healthcare, education, universities, utilities…yet somehow, there is this general perception that conservation of built heritage is the responsibility of the government. I think steps need to be taken by the government to involve a large number of civil society organisations in urban conservation.
The government has started doing that. The Ministry of Urban Development (MoUD) has started the HRIDAY (Heritage City Development and Augmentation Yojana) in 13 historic cities. They are trying to improve infrastructure keeping conservation in mind. But there isn't much attempt by the Archaeological Survey of India (ASI) to replicate this and form additional partnerships.
Is that because of policy or because of inadequate knowhow?
I think it's a bit of both. The ASI and other cultural organisations are hugely under-staffed. We employ 300 people full-time on this one project. It's a multi-disciplinary team. I am working with teachers, health workers, designers, archaeologists, engineers, historians…everybody. That's what makes decision-making in conservation well-informed. But policymakers in India see conservation as a burden and not as an economic asset. Unlike the environmental conservation movement there isn't any demand for greater people's involvement.
Is that why most urban development projects leave out heritage conservation?
HRIDAY has a major heritage thrust. Heritage is a subject on the concurrent list. The ASI is responsible for monuments, the state department for locally important monuments, the municipality for heritage buildings. There needs to be a lot of coordination among them. There is talk but very little action.
I mean, one of the biggest problems is a law like the National Monuments Authorities Act. It marks 300 metres around a monument as a prohibited zone. You get no incentive, no transfer of development rights, change of land use, abolition of conversion charges, or tax incentive grants for conservation. You can't convert your home in this restricted area into a bed and breakfast place. You have to maintain it.
If conservation has to succeed you need incentive. You need recognition. We are trying to demonstrate that conservation and development can go together. We have to be flexible. Our historic cities will be richer for it.
The project also led to restoration of old skills. But why are skills like water-harvesting, building of lakes, tanks or traditional eco-friendly techniques not inculcated into present-day urban planning?
I think we need to look at what is becoming of our cities rather than at what they once were. We revived craft because we did not have a choice. The principal purpose of any conservation effort is to ensure long-term preservation of the site.
At Humayun's Tomb we had to go back to the same craftsmen whose forefathers built the tomb using the same tools, techniques and building material. Inappropriate alterations in the 20th century had severely accelerated decay.
In India we have been building for 3,000 years. You know, the moment you build your house, you need to start repairing it. So if we have been building for 3,000 years we have also been doing conservation for 3,000 years. Kings like Feroz Shah Tughlaq in the 13th century were repairing the Qutb Minar. They proudly proclaimed that they had restored the previous Sultan's building.
We adopted a Make in India approach and that's where craftsmen came in. I think one of the biggest reasons for our success is that we involved craftsmen in the decision-making process. They sit with our engineers and decide what the correct approach would be. It is difficult. For the last 200 years our craftsmen have been so badly treated that advice has to be cajoled out of them.
Fortunately we now have a master stone carver, a master mason, a master carpenter, and a master plasterer on our payrolls. They are employed. They are not engaged on a per day basis. That's really made all the difference to our work.
But to revive historic cities you have to revive those crafts?
Absolutely. If we have to revive historic cities like Varanasi or Ajmer, we have to go back to the same principles that were employed in building them. It is today very easily possible to introduce modern services in historic cities without disturbing their historic fabric. Conservation needs to be built into every city's planning process just like transport. It takes both incentives and enforceable laws.
Do we have the people with expertise to include heritage in urban design?
In recent weeks I have been quite aghast to realise what we were as a culture till 200 years ago and what we have become. Historically, the craftsman was the designer. He was familiar with material and worked closely with clients. That's how we got these beautiful buildings — till things started getting mass-produced.
This has affected the quality of our buildings because architects design for just 5 percent of India's population. The rest 95 percent live off the mistri using materials right out of a bag. Where are the opportunities? There is no lateral entry into the government for a craft-builder.
Does academia produce enough conservation experts?
Unfortunately, in India conservation is taught only in a Master's programme. There are no multi-disciplinary universities teaching conservation. Conservation is not the domain of architects alone. You need historians, craftsmen, archaeologists, designers and engineers. The biggest problem is that conservation training is limited to architects.
Second, there are very few opportunities for mid-career training for people in conservation. I used to work in Historic Scotland. Every technical employee had to go through a week of training in any field of his or her choice. You could choose from 100 courses. In our field, new developments, new ways of thinking take place. Training opportunities don't exist here. But then, the opportunity for employment is also not there.
Would you replicate this project elsewhere in India?
We are replicating this project in Hyderabad. We are doing the Qutb Shahi tombs, a site spread over 100 acres with 75 monuments. We don't have such a large social and economic programme there because the community is not so needy. But we are trying to engage people through conservation.
What is important for us is to demonstrate that projects can be replicable. Any foundation, a Residents Welfare Association (RWA) or academic institute can do it. Our projects are models and show how things can be done.
Take Hauz Khas in Delhi. It has 15 monuments. It has an RWA and probably has a slum too. The RWA should be able to conserve the monuments and carry out social and economic development. Funds are available. Every colony has people willing to give money.
What is critical is a Public-Private-Partnership. Neither the government, the RWA or the NGO can do it alone. They need to do it professionally, using a multi-disciplinary approach.
In Gurgaon historical sites and waterbodies have been built over. The historic Guru Dronacharya tank, after whom the city is now being named, is full of garbage. What should be done?
That can be fixed. Everybody needs water. In Hyderabad, we found that the Qutb Shahi site has six baolis (stepwells) and all were dry. We needed water so we spent a lot of time trying to figure out where the water came from in the past.
Then we realised the baolis were tanks that held water. They were empty because the ground slopes had all changed. We spent six months before the rains trying to fix the baolis. We cleaned the stepwells before the monsoon. Just one baoli collected 33 lakh litres of water. Outside the site, there is a tank. It remains empty. Do you know how much this cost us? Just `2,000. All we needed to do was figure out where the collection point was and connect that with an underground pipe.
When the baoli filled up, we investigated further. We then realised that historically there was a terra cotta pipe that took excess rainwater from this baoli into the next baoli. We found the terracotta pipe. Instead of repairing it we put in another pipe. All the baolis are interconnected.
I don't need 30 lakh litres of water. All I am doing is conservation and irrigation. These baolis were constructed to irrigate the orchards. We have managed to throw away hundreds of years of wisdom.
So why aren't these techniques inculcated in modern-day planning?
You can't cut a tree because people have realised its value. People have yet to realise the value of tanks, lakes and monuments. These are just seen as worth the land they are built upon. We work in partnership with the government. Our job is to assist and demonstrate.