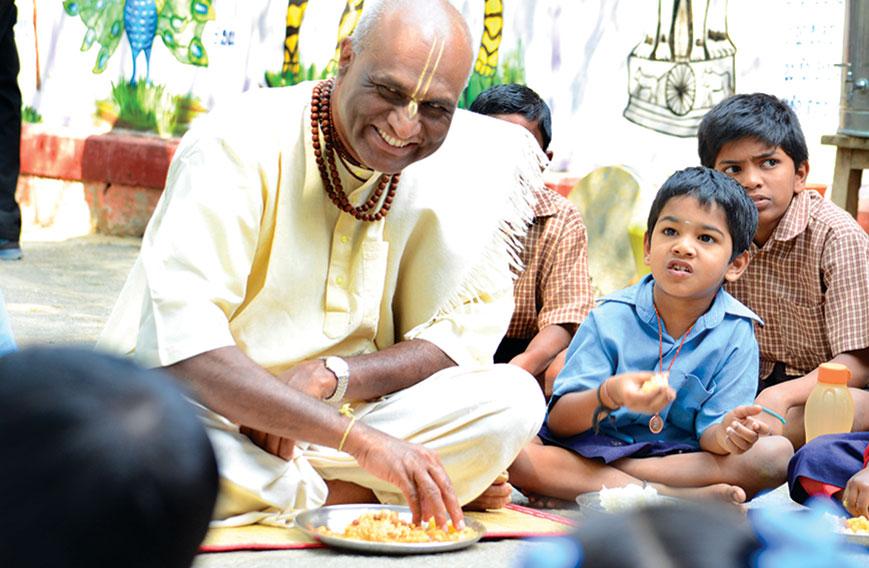 Madhu Pandit Dasa: 'The number one impact of midday meals is the elimination of classroom hunger'
'Midday meals for children are a national investment'
Civil Society News, New Delhi
Published: Dec. 07, 2016
Updated: Aug. 21, 2018
Madhu Pandit Dasa oversees the world's biggest midday meal programme. He is chairman of the Akshaya Patra Foundation. The figures are stupendous. Every day, rain or shine, freshly prepared midday meals are delivered to 1.6 million children from poor families studying in 13,210 government schools across 11 states. Not only is the meal nutritious and hygienic, it has been adapted to the culinary preferences of children in north and south India.
Akshaya Patra began sending out meals in 2000, before the landmark Supreme Court order of November 2001 in the Right to Food case mandated that all government and government-aided schools serve midday meals to children.
The Akshaya Patra midday meal programme is a massive, efficiently run operation. It is undoubtedly a lesson in what commitment and leadership can achieve and is the subject of business school case studies.
Shri Dasa is a devout follower of Shri Prabhupada and heads ISKCON (International Society for Krishna Consciousness) in Bengaluru. He also has a B.Tech degree in civil engineering from IIT-Mumbai. He has used both technology and compassion to put in place the midday meal programme.
Shri Dasa spoke to Civil Society on Akshaya Patra's amazing growth and how he hopes to take the programme further.
Tell us how you began the Akshaya Patra midday meal programme in government schools?
The government spends crores building infrastructure, paying teacher salaries and so on in government schools. But children are sitting hungry in the classroom. That's why educating the children, giving them knowledge won't be effective.
So in 2000 we thought of starting a midday meal programme for 1,500 children in five government schools. The response was tremendous. Mind you, at that time the government midday meal scheme hadn't started.
We just wanted to do a few hundred schools. But within two months we ...