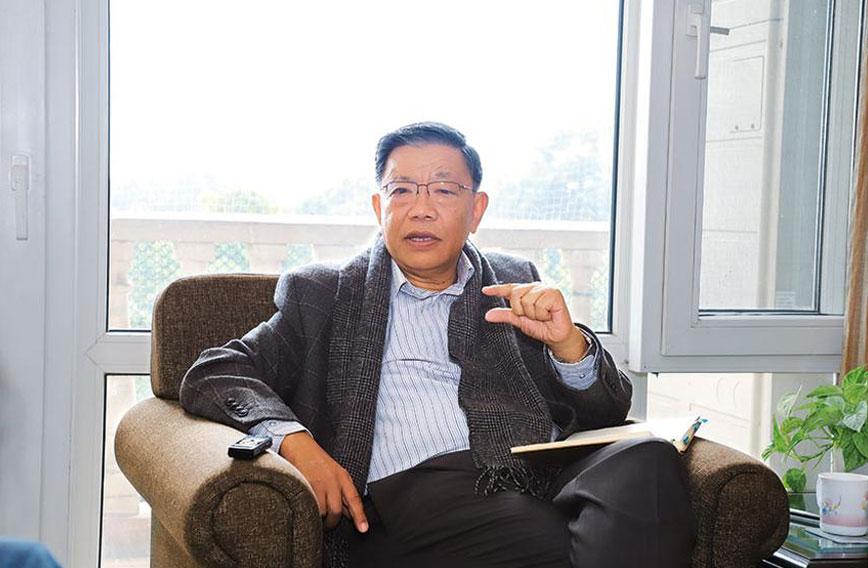 P.D. Rai: 'What we are really staring at in India is unemployment. It is unimaginable' | Photograph by Shrey Gupta
'A basic income will enable youth to make choices"
Civil Society News, New Delhi
Published: Mar. 02, 2019
Updated: Mar. 24, 2020
Sikkim has a lot going for it. The state's economy has been growing at 12 percent. It has the third highest per capita income in India. It has also been successfully organic in agricultural practices for some time now. It produces and sells a whole lot of hydropower.
Even as an agrarian crisis swamps the rest of India, Sikkim's farmers command a premium on their produce. They bolster their incomes through tourism, turning villages into idyllic destinations with beautiful homestays that are much sought after by travellers from all over India.
The state also boasts of political continuity with Chief Minister Pawan Chamling, a charismatic leader, having been happily in power for 25 years.
In an India beset with problems, Sikkim seems to lead in achievements. Most recently, it was back in the news for announcing, much before anyone else, that it would be declaring a universal basic income (UBI) for its people.
But why UBI in a state which is so well-off and evidently far removed from poverty? To find out we spoke to Prem Das Rai, the Sikkim Democratic Front MP in the Lok Sabha. Rai is a loyal Chamling supporter.
Rai has an IIT degree and also went to IIM, Ahmedabad. When we first met him in 2009, he was a newcomer to Delhi and was camping at Sikkim House in Chanakyapuri.
Now with two terms under his belt he is a seasoned politician who puts Sikkim's aspirations in perspective as only a well-honed insider can.
Sikkim seems to do things ahead of everyone else. And now Universal Basic Income. With high growth and high per capita income, what has prompted this?
Well, why does Sikkim do things ahead of others? I think it's because of the leadership of our chief minister, Pawan Chamling, and our core ideology. You can call us a green party. We talk about nature. Nature worship is a core article of faith with our communities. Since we are up in the mountains, the mind works clearer.
Actually, I have been asked this question a lot. Right now there are two or three basic factors that have placed us in this happy position. One is peace, which our chief minister has maintained. The other is continuous good governance for as long as 25 years. Education levels are very high in Sikkim. Certainly, high literacy is going to show up in economic development.
As for our pillars of economic development, the first one is tourism. To buttress tourism, and provide health benefits to our people and whoever else wants to join in, we have organic farming. We are now ensuring that every piece of fallow land gets cultivated. A lot of young people are being propelled into tourism and organic farming. In fact, there is a whole village called Chalamthang in south Sikkim that has created a tourism buzz. They have a lot of homestays. The entire village came together and decided to make it the cleanest village and an organic one.
We have more than 40 pharmaceutical companies that employ a lot of our people. We generate 2300 MW of hydropower. Sikkim is one of the clearer stories of hydropower in the country. We use less than 200 MW. The rest is sold. So we get 15 percent free power except in one hydropower project in which the state government has a stake. The Government of India (GoI) pays for the rest. We have a network of roads that is the envy of many.
I think we are in a really good position to think ahead. So Universal Basic Income or UBI for us is a leap of faith. In 1999, Pawan Chamling said we will make everyone in Sikkim a lakhpati. People were sceptical. That too was a leap of faith. We have given pucca houses to everybody. Housing gives dignity to people and a sense of pride. Given this scenario, UBI is the next best thing to attempt.
But why is it needed at all?
It's an interesting question. We need to wean our people away from this continuous subsidy regime and we would like our youth to get some income so that they can make choices which otherwise they would not be able to — choices related to careers, education or micro-financing. If we give everyone UBI, people will be able to pool resources. UBI is an income, not a subsidy. Everyone will get it. It is untied and not means tested. What I am saying is that if you have an income, then you have the confidence to do something different.
What we are really staring at in India is unemployment. I mean the numbers of the unemployed are at 12 to 13 percent. It's unmanageable. We have the same problem. We need to address this jointly at state and central level. If you have artificial intelligence — and it comes in surreptitiously, by the way — and robotics and drones, you don't need so many people. Where are people going to find jobs? We have to start firewalling for that. The earlier we do it, the better.
It is interesting that Rahul Gandhi announced a basic income scheme but his is means tested. It is meant for the poor. We are a small state. We don't have a large population. Our TFR (total fertility rate) is 1.2. In future we are going to have problems with demography.
Things will transform by the time we put UBI in place. There is a dramatic shift in what India was like five years ago. So at a time of rapid change we need a drastic way of energising our youth. Why is UBI so stupendously different? Because the State says the responsibility shifts to you. All this while you thought that the State garners resources and will do something for you. But now the responsibility shifts to your end.
But if you are assured of a certain income it could also become a disincentive to do things?
See, if you get money every month in your bank account after some time the family will think, let's do something with this money. We can't really predict the dynamics of UBI. A number of people from all over the world have written to us, offering help. Because everybody feels that if the government turns employment on its head then it will work. It's not about poverty or about equalising society.
You will be giving this money to households or individuals?
To individuals. Our UBI scheme will be universal in its purest form. If the rich want to give it up, like the LPG subsidy, we will be very happy. We will put it in a fund and use it for some other purpose.
How much will you give?
We have not as yet calculated that. But we will make it meaningful. It will take us three years to develop it. We are going to have consultations. We will also look at it from the paradigm of the SDGs (Sustainable Development Goals). It can't be a standalone scheme like all Government of India schemes. We will look at it holistically and use a participatory approach. We will get the people of Sikkim involved. We want everybody to understand clearly what it means and how impactful it can be.
What are the subsidies that you will subsume into the UBI?
Just look at the way subsidies and reservations are going. We really need to relook at all this but I don't know who is going to take the initiative. Either we can align these in a more meaningful way with the UBI or they can add to the UBI at some point of time. When we do this entire exercise we will be certainly undergoing one of the most massive consultation processes ever. What the outcome will be, we don't know.
We are already in touch with the Basic Income Earth Network (BIEN) and others. We are going to look at UBI minutely and see how to apply it to our people. But I have done some initial work and the reaction from people is that it is a good idea.
Also, I think it connects the income accrued through natural capital and economic processes to the stakeholders, the citizens. Supposing we use part of our tourism revenue for UBI. This is our natural capital that we are selling and tourism connects it to the income. You can talk about other resources as well, whether it is forests or hydropower.
Does Sikkim have a lot of schemes and subsidies?
We have all the schemes that every state has. My chief minister has done more. We provide an income to senior citizens. We are giving farmer pensions, pensions to senior journalists as well. These could be subsumed into UBI. Some funds we can't take away. Like money spent on health, education and scholarships.
In which sectors do young people in Sikkim find jobs?
Employment patterns are in the services sector right now. We can become an education hub. We have two or three universities and several good schools. Already lots of people from the Northeast come and study in these educational institutions. We are making a name for ourselves in education. There is the health sector as well. We have good hospitals. We also have fresh air and organic food.
What about entrepreneurship?
It is happening. We would like a lot more of our young people to become entrepreneurs. Everybody talks of a job, a government job. It's crazy. How do you wean people away from that?
Does the Sikkim government employ a lot?
Oh, yes, we employ a lot. Like in Nagaland. Because, willy-nilly, there is nothing else.
Does Sikkim have a solid database of its people? Do you have a good banking system to transfer UBI?
Yes, we have a good banking system and database. See, 25 years of continuous good governance have ensured that we have one of the best banking systems in the country. We have 25 banks. Our rural areas are growing and banks are setting up brick and mortar branches in villages. In telecommunications, we probably have the highest density of data usage. So all our villages are connected. Direct Benefit Transfer (DBT) is not a problem for us.
What about subsidies for organic farmers?
No subsidy is given to organic farmers. In fact, we are fighting with the Government of India over this. Their policy is warped. They give subsidies for chemical fertilisers but not to organic farmers who are giving you natural foods. In 2016 we were declared organic.
What difference has organic farming made to your agrarian economy?
Narendra Modi talks of doubling farmers' income. Recently, a Parliamentary Standing Committee visited Sikkim and found our farmers had increased their income more than two times. That was news for me.
I did not know our farmers were doing well. We now have young 'agripreneurs', as we call them. They are exporting foods like shitake mushrooms to Japan. Both ginger and turmeric are doing very well. Because of the organic tag farmers get a premium.
So UBI is not going to affect your fiscal deficit in any way?
I am only saying we have taken this leap of faith in order to be ready for the next decade. Our young people should be able to make more choices. Today the mindset is — I am a graduate or a postgraduate so give me a government job.
The prime minister talks of cooperative federalism. What does that mean? It means push more development ideas to the states. States must be able to start planning properly. After the Planning Commission was disbanded and the last Twelfth Five Year Plan ran its course, there is no planning. There is no perspective. Where are your priorities? My state should not be without a plan. Let Sikkim make its own plan.