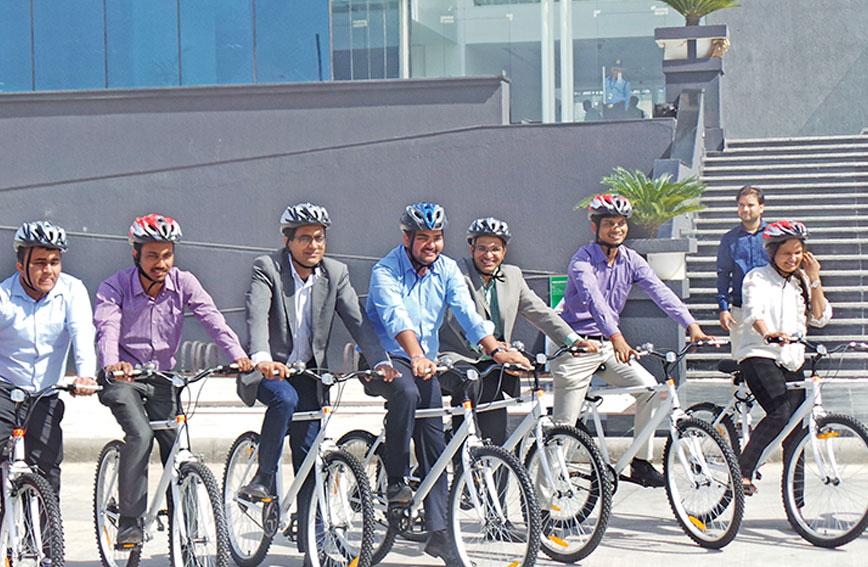 Manas Fuloria (third from left) cycles to work and encourages his employees to cycle or use a carpool
'Gurgaon can be a walkable, cyclable city one day'
Civil Society News, Gurgaon
Published: Jan. 31, 2017
Updated: Aug. 21, 2018
Gurgaon's rapid growth has come with wide roads, lots of cars, gated communities and shopping malls. It is the exact opposite of the evolved urban experience elsewhere in the world, which is defined by mixed land use, integrated transport, low emissions and inclusiveness.
India's fastest growing and newest city is, in fact, out of date in the priorities it has chosen for
itself. But can it be reinvented? Can the clock be turned back?
There aren't many who are ready to give Gurgaon half a chance because its problems seem to have shot out of control. Garbage, traffic, drainage, foul air, crime, water — you name it.
But there are also those who are solid believers that change is possible and they aren't giving up. They think the right trigger can make all the difference. When cities like New York have gone through transformations, why not Gurgaon?
Among the believers is Manas Fuloria, CEO of Nagarro, a software company. He's been cycling to work every day and encouraging Nagarro's thousands of employees to do likewise or at least use carpools.
As the Chairman of NASSCOM's Haryana Regional Council, he has also brought the World Resources Institute (WRI) and the Haryana government together for Vision Zero, an initiative which seeks to eliminate deaths in road accidents.
The idea is that if road accidents can be eliminated through urban design and traffic engineering, and space can be created for pedestrians and cyclists, a great many other changes can follow. People can actually begin to envision life in a city differently.
Civil Society spoke to Fuloria on Vision Zero and what he believes can be achieved.
NASSCOM is teaming up with WRI and the Haryana government for Vision Zero. What is this all about?
Vision Zero is a concept that started in ...