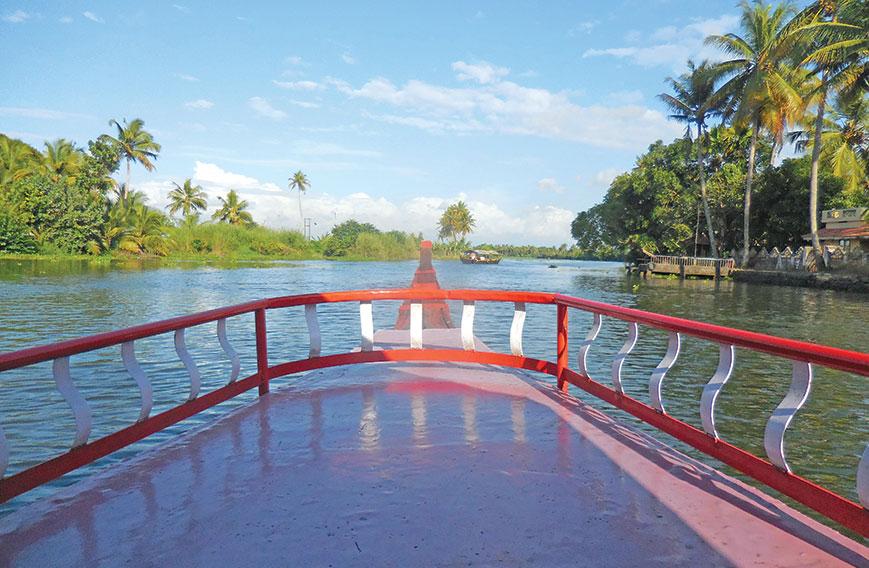 Sail down the Vembanad lake in a languid country boat
Tourism makes the people of Kumarakom smile
Susheela Nair, Kumarakom
Published: Dec. 23, 2016
Updated: Jan. 29, 2020
We zigzagged amidst a cluster of tiny picturesque islands around the Vembanad lake in a languid country boat, intrigued by the landscape unfolding before us. We were in Kumarakom, known for its lake, its pearl spotted fish (karimeen) and the scenic beauty of its lush, dense landscape.
Sandwiched between the immense lake and its network of backwaters, this small water world forms part of the Kuttanad region. As the boat weaved its way through a maze of canals, we enjoyed the gentle pace of life and soaked in the stunning view of nature. The innumerable resorts, hotels and homestays have transformed this once sleepy settlement into a much sought after destination.
We were there to sample the Village Life Experiences (VLE) package, which took us right into the heart of Kerala and gave us an insider's perspective of the land. The package offered us a slice of rural life and culture and a chance to explore, observe, discover, interact and learn from villagers. We watched Ajeesh clamber up a coconut tree to tap toddy, Sati make screw pine products, Latha spin coir strands, Gowri weave coconut leaves, a fisherman demonstrate traditional fish catching methods, a skilled artisan deftly craft country boat models, and villagers share their life experiences.
Also included were interesting packages like 'A day with farmers' and 'A day with fishermen', all of which are part of the Responsible Tourism drive in Kumarakom. We felt elated to be part of these packages which encouraged conservation of natural and cultural heritage, protection of traditional livelihood and shared 95 percent of earnings with the local community.
Explaining the genesis of this mammoth project, Rupesh Kumar, State Responsible Tourism Field Coordinator, said, "Realising the detrimental impact of over-exploitation of natural resources, the shrinkage of the Vembanad lake, the environmental degradation and the ...