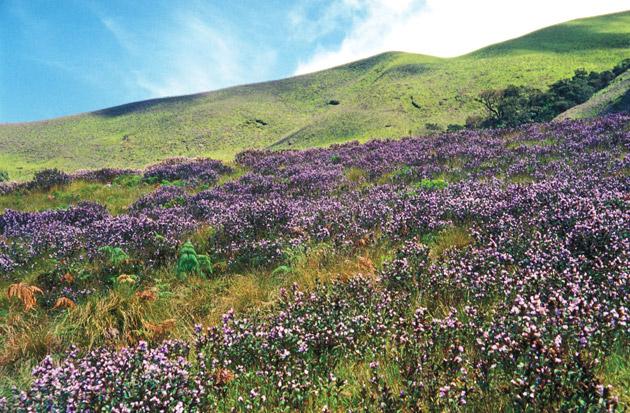 Great park gets back rare goat and more
Susheela Nair, Idukki (Kerala)  
Published: Oct. 13, 2015
Updated: Apr. 18, 2016
Ensconced between the high ranges of the Kannan Devan Hills in Idukki District and the Annamalai hills, the Eravikulam National Park encompasses 97 sq. km. Within the park you can experience the breathtaking natural splendour of undulating emerald grasslands interspersed by wooded valleys, shrub land and shola forests, crisscrossed by cold, clear streams.
But the pride of Eravikulam and its mascot, is the incredibly agile Nilgiri Tahr, a highly endangered animal, listed in the IUCN Red Data Book. The park's other claim to fame is the spectacular blooming of the purplish blue flowers of the neelakurinji shrub (phlebophyllum kunthianum) once in 12 years. Anamudi, the highest peak in South India, which towers 2695m (98841ft), also resides inside this park.
The history of the Eravikulam National Park can be traced to the colonial era when tahrs began to be slaughtered by British settlers. The widespread killing of the Nilgiri Tahr goats started when the army of the Duke of Wellington, who camped here during his offensive against Tipu Sultan, began killing the goat resulting in its population going down drastically.
Tame and friendly, the tahrs unfortunately became a favourite item on the camp menu. The goat was poached into extinction in the 1950s, before an NGO stepped in and ensured their mountainous habitat was declared a sanctuary. The goats learnt to keep aloof from human beings. Salt licks were put out and Clifford Rice, an American biologist, who spent time researching this unique species, succeeded in taming tahrs by enticing them with salt.
You can see a profusion of red rhododendrons, flame of the forest and myriads of orchids and balsams in this shola-grassland ecosystem. An orchid (Brachycorythis wightii) that was long thought to be extinct was rediscovered in this part of the park. Once in ...