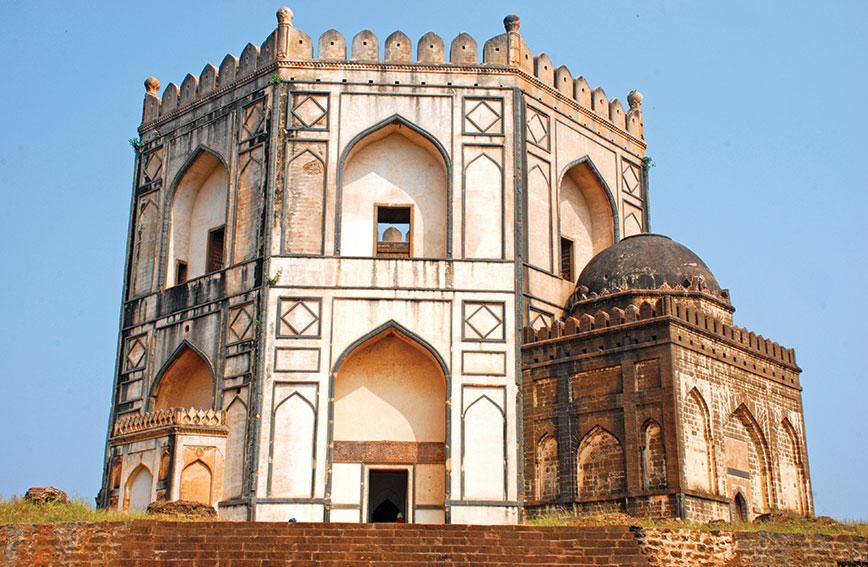 The Chaukhandi of Hazrat Khalil Ullah, an octagonal mausoleum
Medieval India's sights and sounds in Bidar
Susheela Nair, Bidar
Published: Jan. 12, 2017
Updated: Jan. 29, 2020
The silence of the morning was broken by the chorus of birds. Several colourful butterflies flitted around. Langurs pranced from tree to tree and peacocks sprang a surprise by making a sudden appearance. We were on a nature trail in Blackbuck Resort, a unit of Jungle Lodges and Resorts Ltd. Perched on a hillock behind a barren facade, between the Honnikere Reserve Forest and the Vilaspur lake, this nature retreat is an 18-km drive from the town of Bidar in north Karnataka. It gives added zest to a weekend getaway as one can combine bird-watching and boating. The cottages here are well spaced out and built at various elevations following the natural contours of the hillock. Spanning three categories, the cottages come in varying sizes with each offering a unique view of the pristine lake.
Escorted by Hussain, our driver-cum-guide, we ventured into the surrounding open grassland in Dumsapur village, five kilometers from Bidar. We sighted herds of free-roaming blackbuck grazing their way across the grassland. The light brown fawns, easily camouflaged by the tall grasses, are a lovely sight to behold. The males looked graceful as they flaunted their corkscrew horns. The blackbuck sprinted off the ground as we drew closer. From there we headed to Bidar, the historic town founded by the Bahmani dynasty during the medieval era.
Entering Bidar was like being caught in a time warp. Encircled by eight imposing gateways and intricate battlements, Bidar was for centuries the capital of two of the most illustrious dynasties in south India, first the Bahmanis and then the Barid Shahis. I took a leisurely stroll to the innumerable forts, palaces, Sufi shrines and Bahmani-era mosques that dot this pleasant little town and the neighbouring villages. From here, we rambled through the crumbling ruins of the former ...