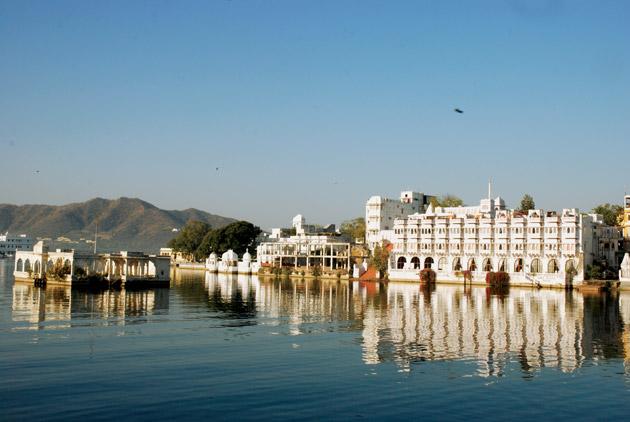 Living heritage is what Udaipur offers
Susheela Nair, Udaipur
Published: Oct. 13, 2015
Updated: Apr. 18, 2016
I watched an amber sun sink behind mountain tops as I sat in the Sunset Terrace of the Fateh Prakash Hotel in Udaipur, the fairytale city of lakes, havelis, marble palaces, impregnable forts and resplendent maharajas in Rajasthan.
As I savoured the restaurant's Mewari delicacies, I could see in the distance the Taj Lake Palace Hotel glimmering in the aquamarine waters of Lake Pichola and gradually acquiring a spectacular glow with the illuminations at twilight.
The hotel is just a boat ride away. It has archways embellished with intricate carvings and scenic courtyards filled with lily ponds and fountains. Taj Palace was also one of the filming spots for the James Bond movie, Octopussy.
Encircled by temples, family mansions, bathing ghats and palaces, Lake Pichola is the star attraction of Udaipur. Equally fascinating is the Jag Mandir Palace, the first island palace of Lake Pichola and the inspiration behind the world- famous Taj Mahal in Agra.
I was in Udaipur to attend the World Heritage Living Traditions Festival, jointly organised by UNESCO in New Delhi and the Maharana of Mewar Charitable Foundation (MMCF) in Udaipur, at the City Palace Complex. Apart from thought-provoking talks by dignitaries from global and national organisations, NGOs, educational institutions and foundations, there were craft workshops, music concerts, a photography exhibition, and a Heritage Walk through Unnoticed Udaipur.
After the conference I embarked on a tour of the City Palace Complex which is dotted with art galleries, museums and award-winning heritage hotels. Equally spectacular is the City Palace, a masterpiece in marble and granite with massive gates, a maze of corridors and inter-connected courtyards and rooms. A quick tour of the City Palace Museum provided me with a sense of Mewar's history. I saw rooms extravagantly decorated with mirrors, tiles ...