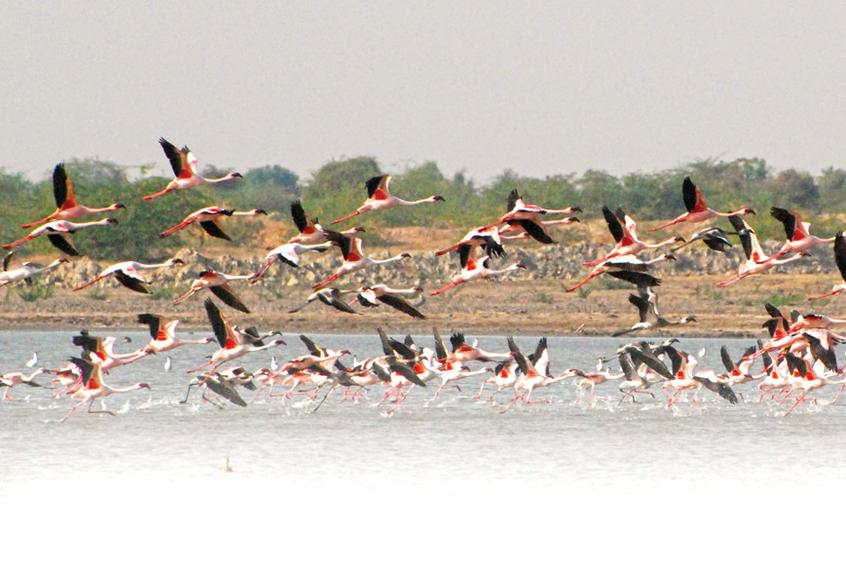 Little Rann of Kutch is teeming with wildlife
Susheela Nair, Ahmedabad
Published: Apr. 18, 2016
Updated: Nov. 01, 2016
It was twilight when we checked into Rann Riders, an ideal base to explore the Little Rann of Kutch, a wildlife sanctuary in Gujarat. Located amid agricultural fields and wetlands, near the hamlet of Dasada, Rann Riders is an ethnic eco-resort built in Kutchi village style, using locally sourced materials and crafts of the region.
Sprawled over 4,953 sq km in the five districts of Surendranagar, Banaskantha, Patan, Kutch and Rajkot, the Little Rann of Kutch is the largest sanctuary in India and has the added advantage of being recognised as a Ramsar Site.
We were ushered into our cottages resembling the bhungas of the Rabaris of Kutch. Each cottage is circular in design, made of mud paste, dung and twigs, and has a dome-shaped bamboo-and-thatch roof. A traditional carved wooden door marks the entrance to the hut. The use of intricate arts and crafts is very obvious as soon as one steps into the room. The walls are decorated with inlaid mirror work and paintings. The interiors are a medley of traditional décor and modern comfort. As Aditya Roy, managing director of Rann Resort, shepherded us around, he showed us the cottage where Hindi film actor Amitabh Bachchan stayed during the filming of a commercial promoting tourism in Gujarat.
Shivering with cold, we set out at the crack of dawn the next day for a jeep ride into the Little Rann of Kutch, famous as the world's last refuge of the endangered Indian wild ass. The territory of the wild ass once extended from western India through Sindh, Baluchistan and Afghanistan to southeastern Iran. Currently, the animal's last refuge is in and around the Little Rann of Kutch.
Locally known as khur, the wild ass looks elegant and majestic with its dark mane running from the back of its ...