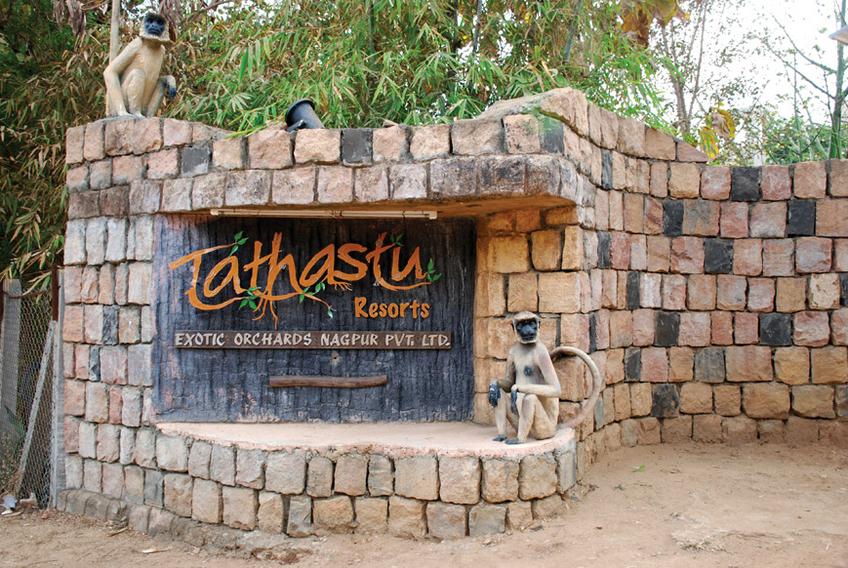 Tathastu: A rustic retreat near a jungle
Susheela Nair, Nagpur
Published: Apr. 18, 2016
Updated: May. 02, 2016
Tathastu resort is a charming weekend getaway located in a hamlet on the fringes of Pench National Park in Madhya Pradesh. Drive down there for an ideal break from the urban chaos of Nagpur city.
"What started as a personal retirement plan soon metamorphosed into a magnificent obsession to create a multispecialty world-class destination. When we took our first step, we felt as if God had just said Tathastu! Instinctively, we froze on this name," says Anil Agarwala, managing director of this wildlife and recreational resort.
And what is the meaning of 'Tathastu' which is a Sanskrit word? "It means 'so be it'. In Indian mythology, God grants you a wish by raising his right hand in blessing and saying 'Tathastu...granted as you desire…so be it'!" explains Agarwala.
Tathastu resort is a rustic retreat and it exudes the air of the jungle. Two langur statues perched on a compound wall greeted us. The tribal design of the gate and the reception area with its rustic furniture and animal paintings were equally arresting.
What instinctively captures attention is the aesthetic juxtaposition of design, luxury and art in detail. Each room has been done up to give the visitor the feel of the forest and its habitat. Everything and anything here is a work of art. Drawing inspiration from traditional tribal dwellings, the resort offers a wide range of ethnic accommodation: villas, tents, caves and even a tree house.
Interestingly, each of the seven villas is christened after the prominent features of different birds: Bulbul's crown, Kingfisher's catch, Hoopoe's stripes, Oriole's gold, Woodpecker's peck, Flamingo's streak, Hornbill's beak and Drongo's tail. The vibrant earthy tones and the natural materials used for construction blend perfectly with the surrounding landscape.
The architecture is a mix of Indian concepts and modern comfort. Rustic chic defines ...