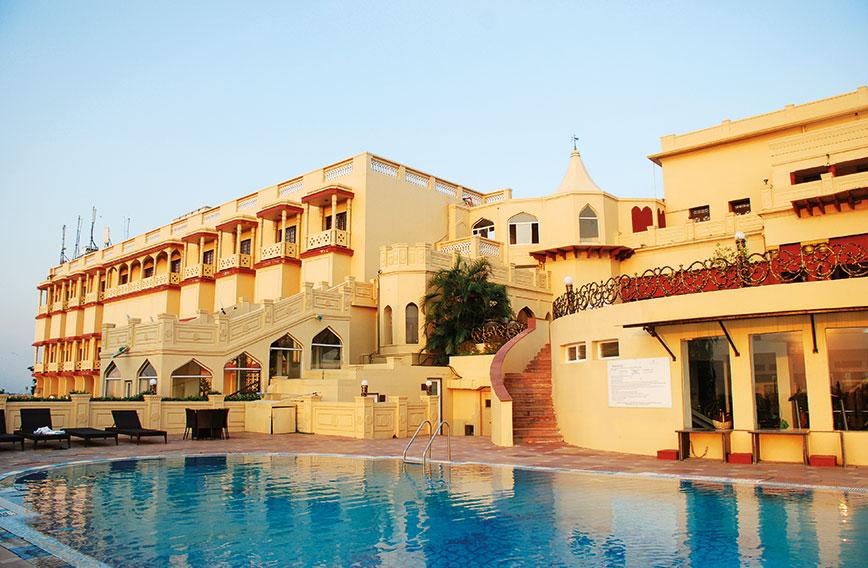 The grand Noor-Us-Sabah Palace Heritage Hotel | Photo: Susheela Nair
Go to Bhopal for museums, monuments and palaces
Susheela Nair, Bhopal
Published: Jan. 11, 2019
Updated: Jan. 29, 2020
Sitting in the balcony of my room at the Noor-Us-Sabah Palace Heritage Hotel in Bhopal, I watched a magnificent sunset over a picturesque lake. Noor-Us-Sabah, which means 'light of dawn', was formerly a palace belonging to the royal family of Bhopal. At the entrance, a portrait of the begum who was on the throne when it was built, heralds a welcome. There is also the royal palanquin and opposite it the former princely state's insignia, which used to be carried before the royal carriage during state functions. And there is a 10-gear vehicle which members of the royal family used for hunting.
The begum was a descendant of the Afghan chief, Dost Mohammed Khan, who is credited with having laid the foundations of the city as it is today. Dost Mohammed was in charge of Bhopal during Mughal emperor Aurangzeb's reign and, after the latter's death in 1707, took over the region. For two centuries after his death, it was his descendants who ruled the nawabi state.
Bhopal is as exceptional today as it was in the past. The Islamic influence in old Bhopal dates back to the early 15th century and to Dost Mohammed. However, the city existed before that. It is said to have been founded in the 11th century by Raja Bhoja who is also credited with creating the twin lakes. Named after its founder, Bhopal was earlier known as Bhojpal and Raja Bhoja's legacy is the huge Bhojeshwar temple, some distance from the city. Devastated by successive invaders, the city was finally rebuilt in the 18th century by Dost Mohammed.
The history of Bhopal is distinctive among the princely states in India. Its most interesting facet is that it was ruled by four consecutive begums over a century, unlike any other preceding or contemporary princely state of those times. ...