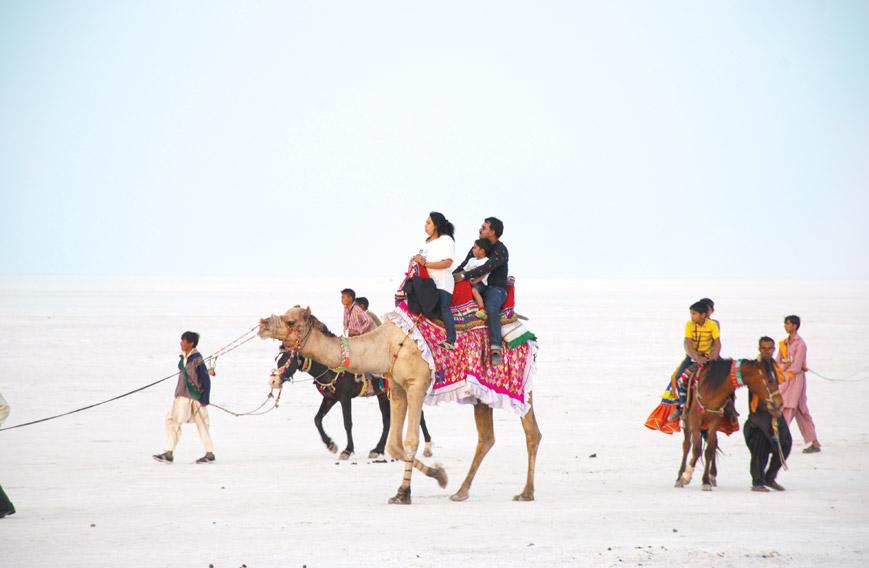 The many colours of the Rann and its Utsav
Susheela Nair, Ahmedabad
Published: Jun. 11, 2016
Updated: Jan. 29, 2020
Dawn was breaking when we walked on the crusty Great Rann of Kutch and the crumbling underfoot added to the magical experience of watching the sunrise. The Great Rann stretches for miles, from Kutch district in Gujarat to Sindh province in Pakistan. That morning we seemed to have the entire Rann to ourselves. But there was a nip in the air and we shivered.
On full moon nights in winter the Rann glitters with encrusted salt. It is a surreal sight and tourists arrive in droves to watch the glorious sunset. The Rann springs to life with vendors, traditional musicians and camels ferrying guests from the entry.
During the monsoon the Rann changes colour. Its landscape is flooded first by seawater and then by fresh riverwater. We were indeed fortunate to be there to see this geographical phenomenon. The ocean recedes once the monsoon is over and the Rann is blanketed by crystals of salt.
In the dry season, the Rann becomes a vast expanse of hard, dried mud. The salt in the soil makes the low-lying marsh almost barren. Standing in the salty desert, I remembered Amitabh Bachchan, Gujarat's tourism ambassador, strutting around the white desert and intoning the catchy tagline, 'Kutch nahin dekha, toh kuch nahin dekha,' in his trademark baritone.
We returned to our luxury tents at Dhordo village. The Tent City springs up only during the winter or during the Rann Utsav, a three-month carnival that showcases Kutchi culture and handicrafts. This tiny village appeared on the tourist map thanks to the vision of Gulbeg Miyan. A chance meeting with Narendra Modi 30 years ago gave him the opportunity to put forward his idea of hosting a festival in the village. It would help villagers earn an income and promote their native arts.
His son, now the ...