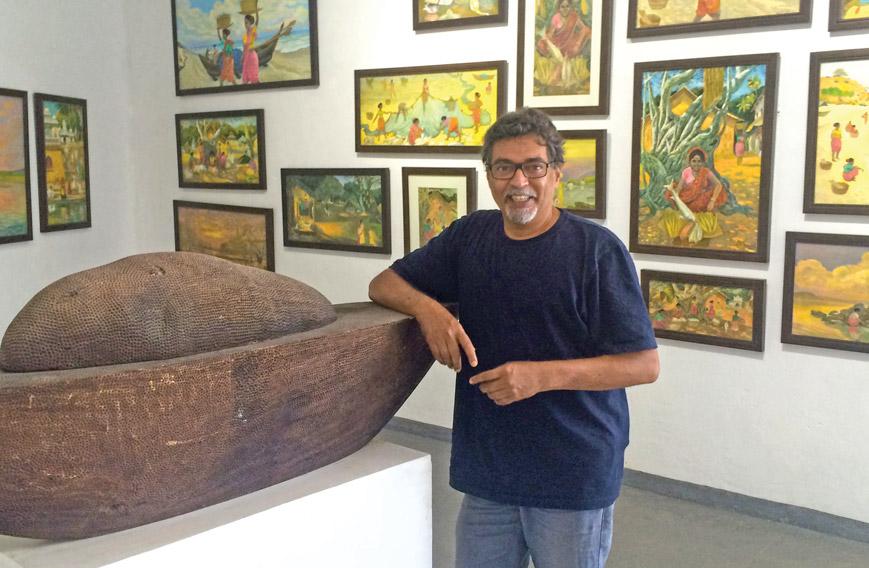 When in Goa next visit this museum of modern art
Civil Society News, Candolim
Published: Jun. 06, 2016
Updated: Jan. 29, 2020
From the outside, it is a high and yet somewhat boxy structure in an industrial estate, but inside is a provocative diversion from the sun, sand, beer and curry holiday world that Goa has come to be known for.
Bright indigo figurines point the way to the Museum of Goa on a very short drive from the commercially busy Candolim and Calangute. There is a lot more indigo in the frontage as you arrive. From there on unfolds a passionate effort to showcase contemporary art. It is a world far from the beaches and shacks and loud parties.
The museum is the brainchild of Subodh Kerkar, a sculptor and installation artist. His studio used to be located here till he sold a house in Calangute and put the money into constructing the museum, which at 1,500 square metres lays claim to being the largest private museum in India.
"It is my mission to take art to the masses," says Kerkar as he settles into his sofa in his second floor office. It is not a planned interview, but he is easy to find as one climbs through the museum discovering what it has along the way.
He is also happy to talk. So, the chance sighting of a leaflet at the Fortune Hotel leads to both museum and founder. "Contemporary art is mainly for the elite these days. I would like to break that cultural barrier," Kerkar explains. "I don't want to be known as an art dealer. This museum is a kind of hybrid between an institution and gallery. We do sell our works, but our objective is much greater."
Contemporary art is what is created at one point of time. It is the "expression of an era". So, Kerkar's museum is open to the whole range — realistic, ...