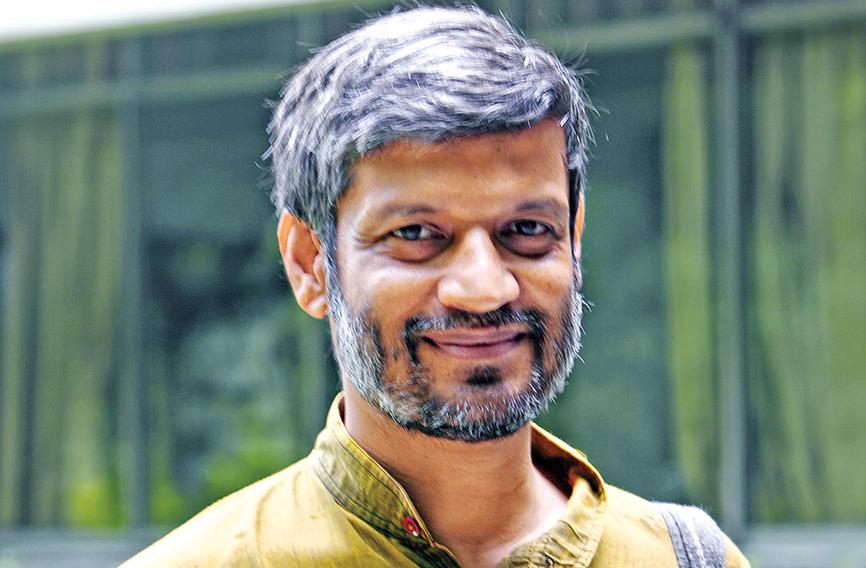 Nikhil Dey: 'We got roughed up. We did not lift a finger'
'We are facing a backlash for fighting corruption'
Civil Society News, New Delhi
Published: Jul. 28, 2017
Updated: Mar. 15, 2019
It's an open secret that corruption flourishes at the grassroots. As money gets siphoned off development plans suffer and villages don't get the roads, irrigation, drinking water, health facilities and so on that they deserve. Invariably, it is the sarpanch of a village who orchestrates the corruption.
The Mazdoor Kisan Shakti Sangathan (MKSS), led by Aruna Roy, Nikhil Dey and Shankar, has been fighting this kind of entrenched corruption in Rajasthan for many decades. They realised early on that information was their most potent weapon against corruption. Thus, they launched the epic Right to Information (RTI) movement which culminated in a strong national law in 2007.
But taking on entrenched local interests remains fraught with challenges. Recently, four MKSS comrades — Dey, Naurti Bai (in the Civil Society Hall of Fame), Ram Karan and Chotu Malakar — found themselves sentenced to four months in jail by a Kishangarh court on trumped-up charges of 'voluntarily causing hurt' and trespassing.
This obscure case dates back to 1998 when the activists were merely trying to get information from the obdurate sarpanch of Harmada gram panchayat, a liquor contractor named Pyare Lal Tak. Villagers had complained to the MKSS that they weren't getting their entitlements to a slew of government schemes including one for housing and toilets.
Nikhil Dey spoke to Civil Society about the case and why the fight against corruption at the grassroots is running into rough weather and getting derailed.
Tell us how the MKSS got involved in the fight against corruption.
We began fighting against corruption and for basic legal entitlements like minimum wages, employment, and food back in the mid-1990s. That's the time when MKSS and its activists were always being called liars. Those who were thieves were taking the high moral ground. One example: people weren't being paid their minimum wages and being told, you are kaamchor, you do less work so you get less money.
We realised it was extremely important to get the papers out and expose the real thieves. When those muster rolls came out it became clear that 20 people who had worked were being paid less and 40 people who had not worked at all were being paid full wages. The whole picture became clear. Fighting on the basis of truth is impossible until the papers come out.
Our first set of public hearings took place in 1994-95. The government closed all access to records, saying that our public audit was not acceptable. We not only got the papers out, we showed it to the people. It became clear that there were a whole lot of 'ghost works' that existed only on paper.
So our battle for information began. In 1996-97 changes in the Rajasthan Panchayati Raj rules allowed us access to information through inspection in 1996 and copies of records in 1997. We went on a 40-day dharna in Beawar in 1996, a watershed in the Right to Information movement, and a 53-day dharna in Jaipur in 1997.
What happened in Harmada gram panchayat?
What happened in Harmada was the immediate consequence of us using those provisions to get information from the panchayats. Harmada, in fact, is one of the first excellently documented cases of the MKSS trying to get information.
The country owes Harmada a lot because Ram Karanji, one of my co-accused and co-convicts, documented every one of our instances of trying to get that information. We went there 73 times. The government issued several orders to the sarpanch to give information or action would be taken against him.
We used the Harmada documentation and example even in the Parliamentary Standing Committee and various places while negotiating for the national law to show that if you don't bring in penalties then people will never get information because you will keep issuing orders that will get ignored. So what do you do? That's why you need an independent appellate authority like a commission, and penalties. We showed them the documentary proof from Harmada and that's why it's significant.
Did you eventually get the information?
Well, we got roughed up. We did not lift a finger. But what we did do was to go back. Aruna immediately sent a fax to the Collector, the SP and the Chief Secretary. To cut a long story short, they filed an FIR two days later. We decided not to file an FIR since for us information was more crucial. We have been roughed up hundreds of times, shouted at, threatened, we don't want to make that the fight.
Unfortunately, those guys filed an FIR, so we filed an FIR. The decision was that if they file, we will file but we will give a reference that we have informed the Collector and the SP. Our FIR copy has a reference to our letter sent two hours after the incident.
After that the police filed a final report saying that there was nothing worth prosecuting. But their case got reopened three years later in the court. And we were served notice nine years later. By then we had totally moved on.
We pursued this guy for information. We went there 73 times. We have all that documentation. We finally got the information. He returned Rs 4-5 lakh to people he had stolen money from so for us that was enough.
What we do is we get out the papers, we show publicly the corruption taking place, the money is returned, we say don't do it again and we move on. We don't want everyone in jail. We want a change in the paradigm of the way governance works. That is the power of RTI.
How much has the RTI helped in curbing corruption?
The biggest jump was the really powerful RTI law with all its shortcomings but still powerful and a rare instance in India where a law becomes a big fillip to the movement.
Often, a movement results in a law but it is so poorly implemented. This law still results today in six to eight million users. Every one of those applications has elements of Harmada in it. There is someone who is trying to hide and you are asking that someone to reveal himself. The eventual aim is to change the culture of governance and democracy from one of secrecy to one of openness.
Today, yes, there is corruption but ghost works in places where RTI has been used have come down nearly 90 percent. At that time, when we were getting records out, there were works upon works only on paper. Now, what you have is collusive corruption. Muster rolls, bills and vouchers are now pro-actively disclosed everywhere. They are on the Internet, painted on walls and so on. It's a revolutionary change. It's not like things have reached their zenith. There isn't a limit to transparency or the truth.
Do you see a backlash from vested interests?
There is a massive backlash because in our culture of opaqueness, even though people in government accept that they have to part with information, there is not a single government, including the Delhi government, that has put in place Section 4 of the RTI Act to pro-actively create transparency. It actually saves the government money.
People are asking for information and getting it reluctantly. So you get half the information you want and then get caught in the commission's long waiting list. Ninety percent of that can be avoided if governments tell their various officers to put out all their information in the public domain regularly. We can then have a more open government and we can move into the next level of openness which is how policy is formulated. But despite 10 years of the RTI law governments are not implementing Section 4.
What are RTI activists facing now?
During the Congress rule the RTI had an impact. Many officers were sharing information. Now there is a bleak atmosphere of fear even among officers and the Modi government has said, don't talk to the press. Public consultations have come down to a trickle. Access to information is reducing.
At the ground level getting information, whether on mining, on land, liquor, MGNREGA, the PDS, mid-day meals, cases against women and Dalits, GM foods… you can face violence, because vested interests are threatened by your asking for information. All of us face threats day in and day out. The second level is where they use violence and the third is where they kill people and then there are false cases. What has happened with us is an inversion of justice. Actually, we were roughed up and we were convicted in a case going back 19 years.
Sanjay Sahni (also in the Civil Society Hall of Fame) has six false cases against him. Two of them are attempt-to-murder cases. In both he wasn't even present. In one case he was with Jean Dreze in Ranchi, in Jharkhand, a different state. Jean has written to the DGP in Patna, saying there are a series of these cases. They are all being filed by MGNREGA employers. They are going on dharna against Sanjay, demanding his arrest.
Basically, the department is being forced to part with information. Sanjay takes it one step further because he has built a sangathan to use the information. He is trying to sort out the system, not just one individual. MKSS has been more fortunate. We have more experience, more people and we speak English. Sanjay is a Hindi-speaking village saathi, an electrician. Who can he turn to? He will spend his life in court.
What can be done?
The whistleblowers law that was passed by Parliament during the UPA rule has still not been notified. I think a government that is not putting this law into effect has blood on its hands because it can at least provide some help, some succour, some support to all of us. They want to amend it and reduce its effect. The Lokpal law was passed and also not put into effect. They want to reduce its powers too.
The fight against corruption is important to ensure government schemes work in reality.
Absolutely. The government, instead of seeing allies, is buckling under its own corrupt employees and standing by them. None of us are paid people. We are going out of our way, putting our lives at risk.
We are told, oh, people misuse RTI. This question was put to me in the IAS Academy by several officers. Their batchmate said, let me answer. Everyone in this room knows I was unfairly targeted in an inquiry. If it wasn't for RTI I could never have proved the truth. I would not have been sitting here among you.
We knew the Modi government was not supportive of MGNREGA, the right to food or the right to education. They dismissed these as doles. We are sceptical of all government structures but we thought that at least in transparency and accountability they will be active. But their record on this is abysmal.