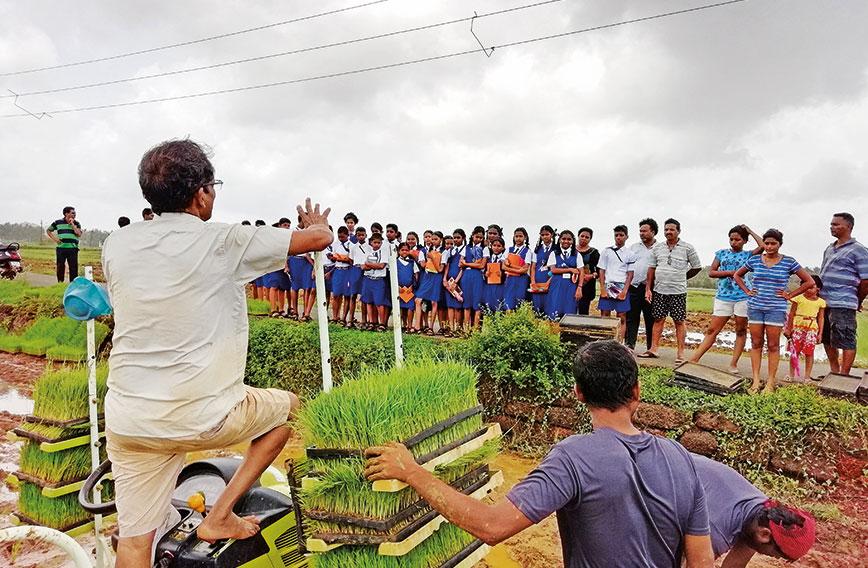 Fr George explaining farming methods to students | Photo: William Rodrigues
Goa village digs in, grows paddy to stop builders
Derek Almeida, Panaji
Published: Jan. 01, 2019
Updated: Jan. 28, 2021
When residents of the island village of St Estevam found that they were going to lose their land to a jetty for loading coal, and almost certainly also to builders, they decided to stop protesting and take decisive action.
Led by the young on the island, they decided that the best strategy would be to put the land to use by cultivating paddy which would provide financial returns and also make acquisition difficult.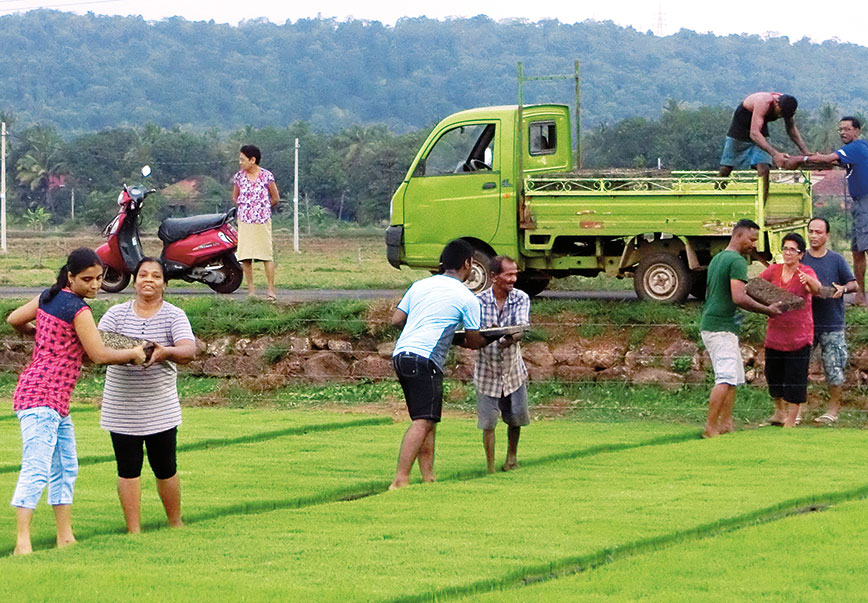 Young people lend a helping hand in the nursery | Photo: William Rodrigues
In just one season after putting their strategy into operation, they succeeded in bringing 450,000 sqm under cultivation and harvested 65,000 kg of paddy, thereby stopping acquisition of their land.
Landowners on St Estevam had long given up farming. The gram sabha, panchayat and communidade (an institution for community ownership of land, unique to Goa) had been discussing a revival of paddy cultivation, but there were many hurdles to contend with. Labour was hard to find and returns not high enough to justify investment.
Three factors came together to speed up community action — the coal jetty, builders who had their eye on this green island just 15 km from Panaji and filling up of khazan lands (low-lying areas reclaimed centuries ago through construction of sluice gates and bunds).
The Ilhas Verde Farmers' Club was set up with an 18-member executive committee. Ilhas Verde, which means green island, is the name given to this island by the Portuguese.
The committee was aware of the practical problems associated with cultivation. "We knew that members of the village couldn't till the land," says Ashwin Varela, 21, a young member of the core committee which did most of the legwork. "But we had heard of the work undertaken by Fr George Quadros of Don Bosco at Loutolim in South Goa in mechanised farming and we decided to use him as a service provider."
It proved to be a brilliant decision because Fr George had the necessary experience and machines to undertake seed germination, transplantation and harvesting.
"In a way, we were outsourcing the back-breaking work," admits Ansyl Gonsalves, 22, another young member of the core committee.
While the effort was guided by Nestor Rangel, an electronics engineer-turned-horticulturist, and Shailendra Alfonso, a retired merchant navy employee, the role of the parish priest, Fr Eusico Pereira, in galvanising the people was crucial to its success.
As the residents got their act together, awareness programmes were also held by the Agriculture Technical Management Agency (ATMA), affiliated to the agriculture department of the state government.
Rangel took up the task of coordinating with ATMA, the zonal agriculture officer, Old Goa, and other government agencies.
But before getting the tractors to plough the land, they first had to identify the landowners and get their permission. Along with another young member, Swizel Gonsalves, the three-member team set about the task. To their good luck, a former parish priest had obtained a survey of the village which contained plot numbers.
Since most land records are available online, they downloaded Forms I and 14 of all plots, put them on an Excel sheet and gave it to ward members of the parish council to identify the landholders.
Accordingly, landowners or heirs were divided into four categories —those willing to cultivate on their own; those willing to cultivate their land through the club by paying a predetermined sum; those willing to give the club the right to cultivate without paying or expecting returns, and those unwilling to cultivate.
With the help of Fr George, the core group worked out the cost of cultivation at Rs 3.5 per sq m which would include seeds, ploughing, transplantation and harvesting. According to Rangel, this is less than half the cost of using manual labour.
The response from villagers was encouraging and accordingly it was decided to undertake cultivation on 500,000 sq m in three of the six khazan lands.
It was an ambitious target considering that this was the first time in more than two decades that land lying fallow was being revived for cultivation. "After consultation with old-timers from the village and the Indian Council of Agricultural Research (ICAR) we decided on two varieties of seeds — Jyoti for the non-saline areas and GRS-1 for the saline areas," said Rangel.
On May 9, the first tractor of the North Goa Mechanised Farming Association led by Dinesh Harmalkar started ploughing the land. "It wasn't easy," recalled Ansyl, "and there were incidents of tractors and transplanters sinking into the soft soil." Also, a large number of wild plants, boundary stones and glass bottles slowed down the process.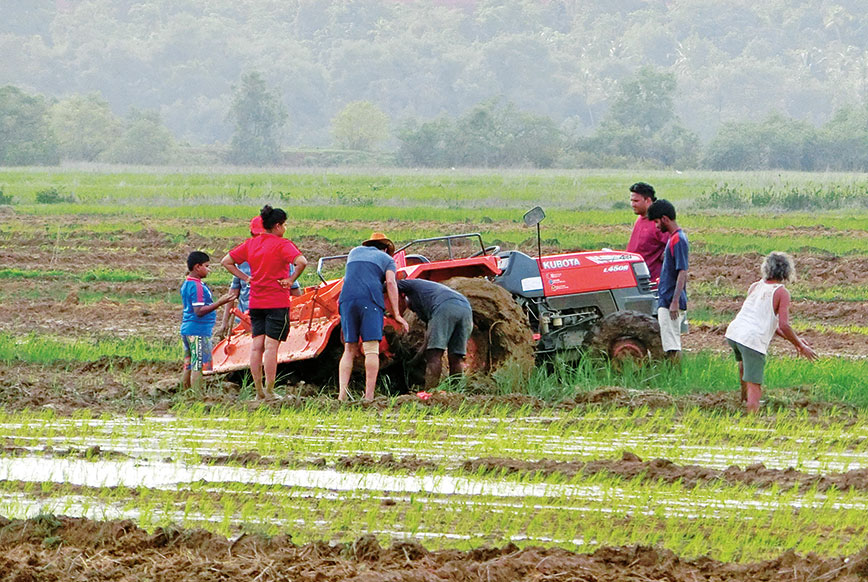 Sometimes a tractor sank into the soft soil | Photo: William Rodrigues
In the meantime, Fr George and his team went about preparing seedling trays which were kept in a nursery for about 15 to 20 days until they grew to the proper height for transplanting. After ploughing was undertaken for the second time, transplanting was started and this process was completed by the first week of August, half-way through the monsoon.
"The delay in the transplanting process was on account of Fr George's team's commitments in other villages and the fact that this was our first experiment with cultivation," explained Rangel. The rain gods also intervened, giving the village anxious moments. In September, during the grain forming period, the rain clouds disappeared and, as a result, some areas yielded empty grain shells.
What about the economics of the whole operation? "This year, we broke even," asserted Rangel, who, along with Alfonso, was a major investor in the effort to revive the land. "There are several reasons for this. Being the first time, we were not well-organised and ploughing started too late. De-weeding was an issue and our output should have been 350 gm per square metre. But we got half that amount."
Government schemes also came to the aid of St Estevam's effort by way of subsidies. Seeds were provided free by ICAR while half the standard cost of Rs 2,200 per hour had to be paid for the harvester and Rs 250 per hour for tractors instead of Rs 500. Finally, for ploughing, 37 paise per sq m and Rs 1.5 per sq m for transplanting was paid.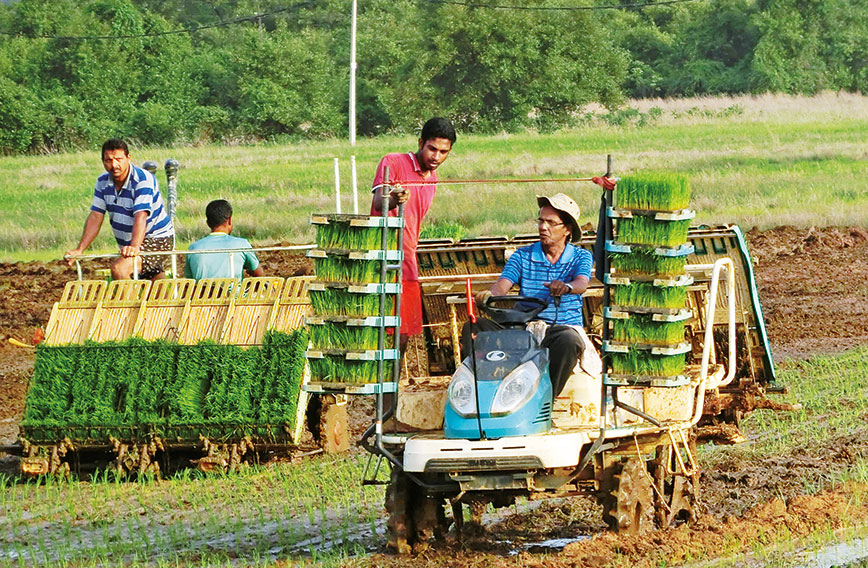 Mechanisation helped overcome the shortage of labour | Photo: William Rodrigues
The success of the first year has encouraged the farmers' club and residents to take on a larger area next year. Besides, there are also plans to hire an agency to undertake digital mapping of landownership and go back to the days of old when St Estevam was known for top-quality brinjals and lady fingers.
"Mechanisation and community farming alone can revive paddy cultivation because it brings down the cost by more than half. Besides, our youth team has gained experience and they should be able to do it on their own next year," said Rangel.
Published in the January 2019 Issue