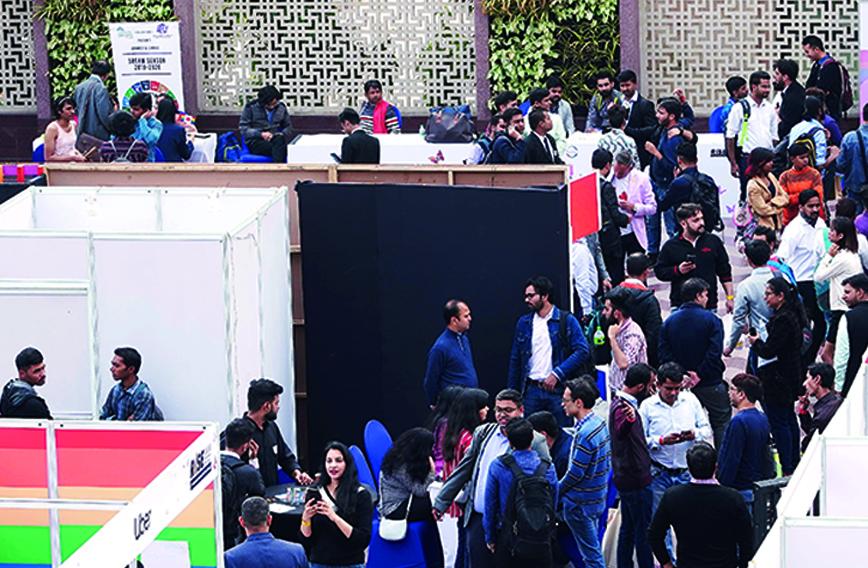 1,200 job seekers attended the LGBTI job fair on February 22
LGBTI jobs: Pride Circle has a good thing going
Sidika Sehgal, New Delhi
Published: Mar. 24, 2020
Updated: Jun. 29, 2020
People with different sexual orientations are finding employment opportunities easier to come by thanks to the Supreme Court striking down Section 377 in September 2018, declaring it to be unconstitutional, and ecriminalizing homosexuality.
Pride Circle, a diversity and inclusion consulting company founded by Srini Ramaswamy and Ramakrishna Sinha, held their second job fair for the LGBTI community in February 22 at The Lalit in Delhi.
The LGBTI community consists of people who identify as lesbian, gay, bisexual, transgender and intersex.
The event was attended by at least 1,200 job seekers armed with their CVs. There were MBAs looking for work in the finance sector, others seeking executive level jobs in general and those who wanted positions as consultants. There were jobs for skilled, semi-skilled and unskilled workers. American Express, HSBC, Uber, KPMG, Accenture, The Lalit Hotel and Microsoft were among the 21 companies present.
The job fair, called Reimagining Inclusion for Social Equity (RISE), is now Asia's largest fair for the LGBTI community. The first job fair was held in Bengaluru in July last year. It was a success.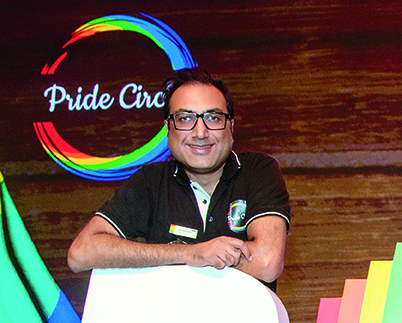 Srini Ramaswamy, co-founder of Pride Circle
A lot of this has been possible because Section 377 was deemed unconstitutional. "With 377 gone, there is no holding back by companies. Earlier, they still had an excuse. But now they can't say it's against the law or unconstitutional," said Ramaswamy.
The job fair connected progressive companies with those searching for inclusive environments. Ten job offers have already been made and other recruitment processes are underway.
Job seekers felt they were in a safe space. They emphasized the importance of being open about one's sexual orientation at the workplace. "You can ask for leave if your husband or wife is unwell. But if I'm a homosexual and not out at work, I have to say, 'a friend is unwell'. In the eyes of an employer, a friend is not as important as a spouse," a job seeker explained. Or if a company offers health benefits to spouses, a homosexual partner should also accrue those benefits. These daily experiences are not insignificant.
Recruitment processes have had to change to foster inclusion. Nita Baluni, general manager of human resources at The Lalit Delhi, said that there are questions they no longer ask during interviews. Questions about marital status or about parents' profession are not considered acceptable.
Workplaces need to have gender- neutral washrooms for those who don't identify as male or female. Companies should allow for people to specify the pronouns they prefer — he/him, she/her or they/them. At RISE, everyone's badges specified their pronouns.
Running parallel to the job fair was a conference where industry leaders and diversity and inclusion professionals discussed best practices for companies to follow. Other employees at the workplace have to be sensitized so that those from the LGBTI community feel welcome and safe at work. Companies need to make changes by way of policies. There has to be a non-discrimination policy and a zero tolerance policy for sexual harassment.
At the event, there was also a marketplace for LGBTI-owned businesses to display their products and services. There were tattoo artists, publishers, product designers, fashion designers and tourism companies who participated.
Pride Circle also introduced a Workplace Equality Index for India in collaboration with Stonewall, a UK-based LGBTI rights charity, and Keshav Suri Foundation. The index will be a tool for employers to measure their progress on lesbian, gay, bi and trans inclusion in the workplace. The first index will be out later this year or early next year.
Efforts to include LGBTI in workplaces started in 2017. Before Sinha and Ramaswamy started Pride Circle, they used to organize informal discussions with other diversity and inclusion professionals in 2014-15 in Bengaluru so that people could come together and discuss best practices in their companies on LGBTI inclusion.
The company, founded in 2017, has worked with nearly 150 firms to train and sensitize them on LGBTI inclusion in the workplace. Pride Circle also works with civil society organizations and NGOs who work in the community on skill building.
"Companies started reaching out to us. They had done through the training and felt they were ready to hire. NGOs began to ask us if we could help them place their trainees. So a job fair was a platform where the demand and supply could come together to interact," said Ramaswamy. The job fair was a natural next step.
Leanne Macmillan, director, global programmes, of Stonewall, said, "In our work with both civil society and employers globally we see how LGBTI people are excluded and discriminated against simply because of who they are!"
More needs to be done by way of policy. "Marriage equality, adoption law, inheritance, these things are yet to happen," he said. Housing remains a big issue — landlords don't want to give their homes to homosexual couples.
Ramaswamy, who is 41 years old and has nearly 20 years of experience in human resources, believes that the push for equality at the workplace is coming from millennials who are joining the workforce and want workplaces that are inclusive and celebrate differences. Access to information has allowed people to keep up with global trends and shed old prejudices.
Multinational companies like American Express and Microsoft have set a good example by participating in the event. The job fair shows that things are changing, slowly but surely.