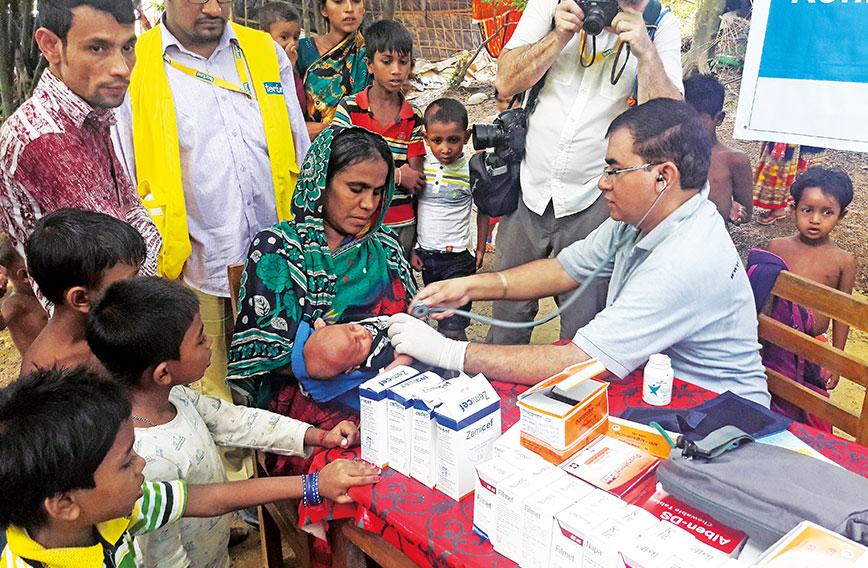 Dr Ravikant Singh at a Rohingya Camp
Doctors For You in Bangla Rohingya camp
Civil Society News, New Delhi
Published: Oct. 20, 2017
Updated: Jan. 29, 2020
As people of the Rohingya community continue to flee persecution in Myanmar, a major health emergency is unfolding in refugee camps set up in Bangladesh.
The camps are overflowing with people, most of them women and children who are undernourished and vulnerable to contagious diseases — prompting humanitarian physicians from all over the world to rush to Bangladesh to provide medical aid.
India's Doctors for You (DFY) founder, Dr Ravikant Singh, has been among the physicians staying at Cox's Bazaar and travelling 30 to 40 km to the camps each day. When we spoke to him on WhatsApp from Delhi, he had been there 10 days.
"I have been attending to people at the Hindu Rohingya camp, which has fewer inmates. But the overall numbers in all the camps are swelling and are expected to touch 800,000," Dr Singh said.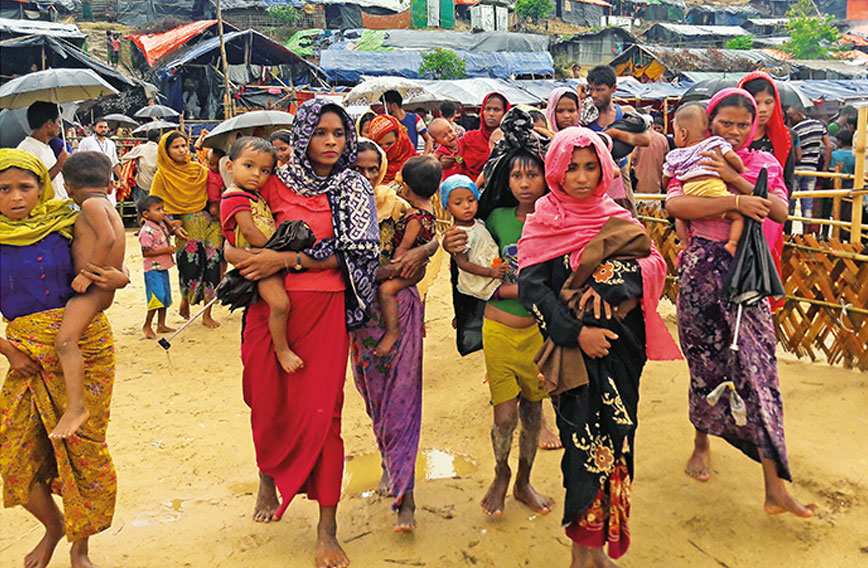 Women and small children largely make up the inmates of the camps
Rohingyas are mostly a Bengali-speaking Muslim minority community in Myanmar. There are however a small number of Hindu Rohingyas. Myanmar has never accepted the Rohingyas, saying that they came during the turmoil of Partition in the subcontinent as illegal refugees and have no proof of having settled in the country before 1948.
"Most Rohingyas are Muslims and a few are Hindus, but I don't see any evidence of religious antagonism or of the Rohingyas being terrorists and so on as has been reported in certain quarters. What is happening in Myanmar is genocide of the community," Dr Singh said.
"The refugees, as far as I can see, are just innocent women and children. Their physical condition is very weak, having had to escape from Myanmar on foot and in boats. Many of them haven't eaten in days. Since Myanmar didn't invest in their health and education in the first place, their state now after being uprooted and having to flee their homes is extremely serious. There are many pregnant women and lactating mothers. Since they are physically weak and lacking in nutrition, their condition is particularly precarious," said Dr Singh.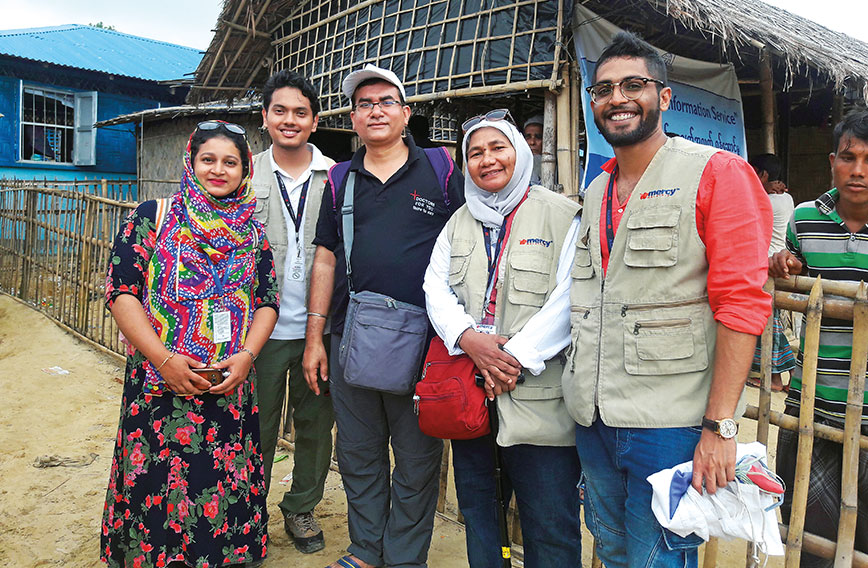 Dr Ravikant Singh, centre, with other relief workers
The only shelter that the camps provide are under plastic sheets and tarpaulins, which essentially means people are virtually living out in the open. There are about 100 people to one toilet, which is about five times the acceptable ratio.
"Malnutrition, diarrhea, lung and chest infections are widespread. If there is a cholera outbreak, the disease will spread rapidly. What is immediately needed are vaccination and nutritional initiatives," said Dr Singh.
There is danger that if conditions at the overcrowded camps don't improve and the disease burden increases, infections will spread in Bangladesh and to India and other South Asian countries. Rushing medical supplies, doctors and para medical staff to the camps to contain outbreaks is therefore essential.
Bangladesh has kept its borders open to the refugees at the request of the United Nations. It has had camps for Rohingyas since 2015. But the current flood of asylum seekers following developments in Myanmar has exacerbated the situation and escalated it to crisis proportions.
DFY was founded 10 years ago in Mumbai's KEM Hospital by Dr Singh and other young doctors to provide medical assistance during disasters and other crisis situations. DFY's members have served in Nepal after the earthquake, during floods in Uttarakhand and Kashmir, floods in Bihar and Assam and a great many other such situations. They have also served after the Kokrajhar riots in Assam.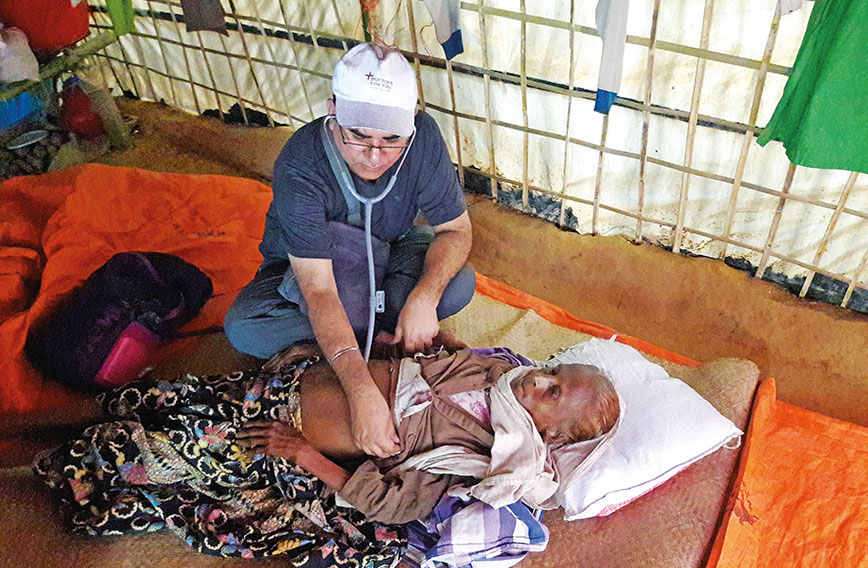 An elderly woman gets attention
DFY has received innumerable national and international awards for its humanitarian work. It is a recipient of the SAARC Youth Award and the British Medical Journal Award for the best medical team in a crisis zone.
DFY's strategy is to first send in a team to make an assessment of what is required and the role it can play in the aftermath of a crisis. It then gets its resources together and ensures it has local linkages to be effective.
DFY's involvement at the Rohingya camps will have to be an extended one. Dr Ravikant is currently assessing what it will entail. DFY already has important partner organisations in Bangladesh like the Coast Trust and the Dhaka Community Hospital.