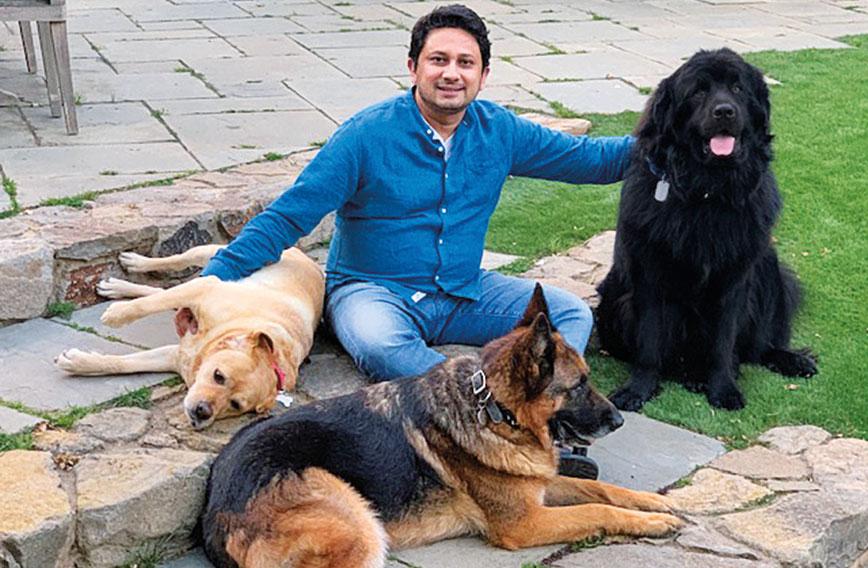 Srivatsava Gorthy with his dogs
Petpal is a pal to stray dogs during lockdown
Kavita Charanji, New Delhi
Published: May. 28, 2020
Updated: Jun. 29, 2020
After working for eight years at a job many would envy in Google Mountain View in California, Srivatsava Gorthy decided to quit. He took a year's break to recover from the stresses of a demanding job and to think about what he really wanted to do.
An ardent pet lover, he decided to set up Petpal (formerly Unikorn), an e-commerce platform that ships pet food, accessories, medicines and drugs to pet lovers across India from its office in Hyderabad. The company's product line includes plain leashes, cat and dog food and medicines for pets. It even connects customers to grooming and veterinary services for their pets.
During the lockdown Gorthy was worried about the plight of stray animals. Many strays can't find food and are bereft of the company of humans. Animal welfare groups are aware of their plight. They have come up with ideas like regular feeding times for strays and adoption. The government too issued an advisory to states to make medical aid and veterinary assistance an essential service during the lockdown so that animals don't suffer.
Gorthy ensured his company helped strays. "For stray dogs, we requested our delivery staff to carry treats and small food packets put together by us to feed any stray dogs that they came across while delivering supplies," says Gorthy.
The "pet parent" of three dogs, a labrador retriever, Steffi, a German shepherd, Tyson, and a Newfoundland, Leo, he understands that strays need respect and love. While he would like more people to come forward and adopt strays, he says more shelters for stray dogs are crucial.
"I would say controlled adoption is an answer. This would give strays food security and take animals off the streets to a safer space," says Gorthy.
"One of the biggest problems is that licensing and registration for animals is not mandatory in India. If someone gets a puppy and kills it after five days nobody will know what happened to the pet. So there should be a kind of count or registration to prevent animal cruelty," he says.
Gorthy's entry into the pet market has been timely. There aren't very many companies supplying services and products for pets. He also saw that Indians were more willing to turn pet parents. "I saw a shift in their mentality so I thought it was an appropriate time to enter that space," he says.
Gorthy set up Petpal in 2016. The company's monthly sales are in the range of `12-15 lakh. He is buzzing with ideas like the introduction of dog walking, dog sitting and dog day care. When, for instance, people go off on a business trip they can leave their pet in a safe environment and pick it up on their return.
Now Gorthy has drawn up more plans for the future. Petpal is in the process of building a platform to support crowdfunding for activists, NGOs and animal shelters. The company has tied up with over 50 NGOs so that they can run animal campaigns on Petpal's platform.
Among the NGOs with whom Petpal has forged ties is the We Love Animals Foundation. Then there are dedicated individuals like Dr Anju Bhattacharya who runs a shelter for 33 dogs and 60 cats at Kalamb village in Raigad district of Maharashtra. Bhattacharya feeds another 50 dogs and cats from a village in the vicinity and different parts of Mumbai. She also oversees vaccinations and sterilization of street dogs and cats, treatment of sick and injured animals and adoption of healthy pups and kittens. The monthly bill for the shelter works out to around `40,000-50,000 which covers food, medicines, shampoo, tick-flea powder, and overheads. The Petpal platform offers her just the right opportunity to worry less about the future.
Meanwhile, the We Love Animals Foundation runs programmes like feeding strays, fostering animals and providing medical aid, sterilization, vaccination, adoption and so on. The trust covers Mumbai with the hope it will eventually become a cruelty-free city. The foundation is in dire need of funds for expansion.
"Petpal has two priorities, compassion and education. I am at a very early stage now but tomorrow if I get funding, I want to reach out to many more strays," says Gorthy.