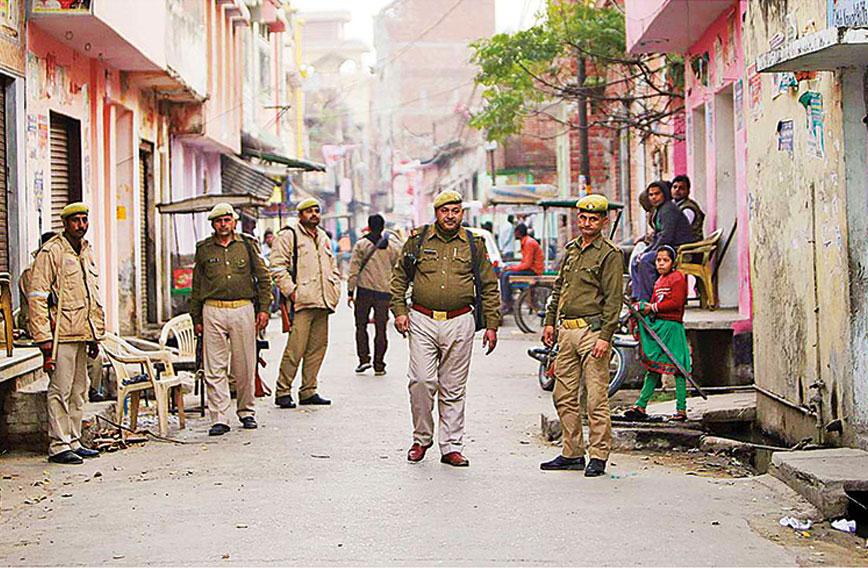 Policemen patrol a tense street
How peace-loving Kasganj went up in flames
Amit Sengupta ,Kasganj
Published: Apr. 04, 2018
Updated: Mar. 15, 2019
Kasganj is a quiet and laidback moffusil city in Uttar Pradesh. It is close to Aligarh and about 220 km from Delhi. There are the aromas of pakoras and gujiyas in its bylanes. People are proud of their friendships and are accustomed to coexisting in shared spaces which they have inherited.
Traditionally, there has been bonding between communities, including Hindus and Muslims. Families know each other and in associations built over time there has been no serious reason for bitterness.
On the contrary it is a city which has celebrated amity. The language is soft and polite, and the people are friendly, eager to talk to reporters like me, share their experiences and listen to stories from Delhi.
It is therefore surprising that Kasganj of all places should suddenly be swamped by communal violence and incidents that took place on 26 January, Republic Day. There was arson, looting and the death of a young man, Chandan Gupta, all of which has left people shocked.
Flag-hoisting ceremonies were being performed in many locations across the small city. Most of the police force was deployed at the official Republic Day function.
At the Veer Abdul Hamid Chowk (named after the famous Indian soldier who was martyred during the 1965 Indo-Pak war), the Muslim community had collected donations and were preparing for a flag-hoisting ceremony, reportedly with permission from the authorities.
It was then that trouble started and the Muslims were taken by surprise. Young men on about 70 motorbikes on a 'tiranga rally' roared aggressively into Veer Abdul Hamid Chowk. They belonged to the Sankalp Foundation and the Akhil Bharatiya Vidyarthi Parishad (ABVP).
How violence began
The motorbikes had set out from Praful Park at around 8 am. The young men were carrying the national flag and saffron flags. They had taken permission for their motorcycle rally, but Abdul Hamid Chowk was not on the route that they had said they would take. When they entered the chowk there were no policemen to stop them.
The young men disrupted the flag-hoisting ceremony at Abdul Hamid Chowk. Locals say that they requested the youngsters to join the ceremony. But they were combative and disruptive and in the hostility that ensued a scuffle broke out.
A few of the young men were knocked off their bikes and they fled, leaving them behind. The rest of the motorcyclists continued and reached Bilram Gate where bricks were taken from a tractor and thrown.
Soon firing started in nearby localities. Supporters of the ABVP were seen riding motorcycles and firing randomly. It was in this firing that a young man by the name of Chandan Gupta was killed. Naushad, a youngster, was shot in the leg by the police.
In violence that continued the next day, a Muslim man, not belonging to Kasganj and merely passing through the town in his car, was attacked and badly beaten up by a mob. He lost an eye.
Local people I spoke to across communities and even the police have still not been able to identify the person who fired the shot which killed Chandan Gupta. The bullet wound visible on his body was on his left forearm. Did he die of one bullet or more? It is still not clear.
Nor is it clear where he was shot and at exactly what time, or the sequence of events before and after the killing. According to the police, he was shot near the police station at Tehsil Road, close to the house of Salim, one of the accused.
But Salim could not have fired the fatal shot from his two-storied house, which is at a considerable distance. A shopkeeper said he believed that Chandan Gupta was shot somewhere else and his body was transported here.
Salim and his brothers are reputed shopkeepers, respected in the locality. They run a flourishing shop called Barki Cloth House which touches the wall of the Kotwali. His shop was not burnt in the arson that followed the next day; some Muslim shops weren't burnt because their walls were adjacent to Hindu shops.
Salim owns two licensed guns, which he has inherited. Locals say that he has never used them. Until the post-mortem report is revealed, the nature of the bullet-injury and the gun used will not be known.
Muslims said that several of them have been picked up on false charges, allegedly showing them with cartridges and so on and that all the people being accused of the murder are from the Muslim community. One young man this reporter met said he was in Aligarh and he has CCTV footage to prove he wasn't in Kasganj. But, he, too, has been picked up. So has his young, disabled brother.
Another shopkeeper, who runs a samosa shop, said that Chandan Gupta was right there in the morning when the ruckus started. Parents were waiting to pick up their children from the college nearby. They saw the violent crowd approaching, firing shots. "Both Hindus and Muslims got together to oppose them and pelted stones so that they wouldn't reach the college and harm the students. I did not see Chandan being shot here," he said with certainty.
Arson and looting
Tension had gripped the town on Republic Day, even as forces were rushed from the police lines. The next day, 27 January, after the funeral of Chandan Gupta, the atmosphere in the town was tense. Many Muslims and Hindus didn't open their shops.
A violent mob ran amok. Two mosques and 27 shops were looted and burnt down. All of them belonged to Muslims. Not a single Hindu shop, temple or property has been damaged. While many stood as silent spectators, several Hindu shopkeepers helped to restore some order in the Muslim shops, putting up locks, bringing back the looted and junked goods and saving whatever money was left in the safe. The famous Chamunda temple of the Hindus, located in a Muslim locality, was protected by the Muslims.
Sherwani Boots, another flourishing shoe shop at Ghantaghar, owned by Mansoor Sherwani, was looted and burnt down. The shop next door owned by a Muslim, Baba Shoes, was partially damaged. Sherwani looks like a broken man. "When a business is destroyed, it is like the death of a son or daughter in the family," said a friend, even as Sherwani withdrew into a tragic silence.
His Hindu neighbour, who owns a clock shop, says he was too afraid to intervene when the looting and violence was going on. "Sherwani saheb is a very good man. We are shocked."
Another Hindu shopkeeper right opposite Sherwani Boots was literally in tears. His voice choking, he said, "He is a thorough gentleman. A good and noble man. My heart goes out to him."
Hindu-Muslim unity floats in the debris of ruined shops. Known for its brotherhood, harmony and peaceful coexistence, people are shell-shocked as to why this violence was engineered.
Despite the violence, there seems little bitterness on the ground. A mithaiwalla, deeply saddened, said that his family has been around for 100 years in the town, but they have never witnessed such nastiness.
A jeweller, who has been around for decades, said that he had told Salim's younger brother to go home because the situation was getting tense on the morning of Republic Day.
Almost 181 plus people have been reportedly arrested, approximately 81 Muslims and 40 Hindus. Hindus, too, have complained that their family members were picked up arbitrarily. Muslims were not being allowed to register FIRs, not even those whose shops have been burnt.
They were made to run from pillar-to-post with their typed complaints not being entertained. Sherwani's complaint was not accepted.
The Muslims entered the police station for the first time on 2 February, and their FIRs were officially accepted, when a fact-finding team visited Kasganj and sought a meeting with the SHO.
The SHO made the team wait for a considerable time, despite the fact that the delegation included a retired Inspector General of Police from UP, a senior advocate from the Allahabad High Court, senior journalists from Delhi and Lucknow, social activists and a former JNUSU president.
"We will follow the process of law and justice," said the SHO. "Now the investigations will be taken over by a Special Investigation Team. We have restored peace in the area. We are not biased."
The writer was part of the fact-finding team which visited Kasganj on February 2, 2018. He is a journalist and academic based in Delhi.