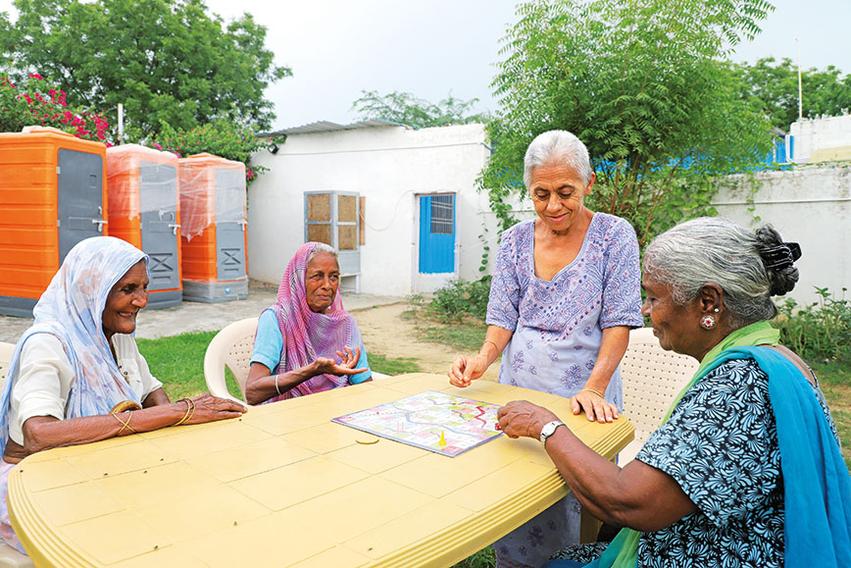 Rukmani (second from left) plays snakes and ladders with her friends | Photos by Shrey Gupta
For the aged, a home of their own in Delhi
Kavita Charanji, New Delhi
Published: Jan. 15, 2019
Updated: Jun. 29, 2020
Sixty-seven-year-old Rukmani, a widow, was the picture of misery when she first entered the gates of Mann Ka Tilak old age home at Maidan Garhi near Saket. Her distraught cries filled the air as she pleaded with her son, Ram Prasad, to take her home. But Ram Prasad was helpless. Although Rukmani had three sons and two daughters, he was the only one willing to look after her. One son had usurped her house. The others welcomed her only when she received her meagre pension. Ram Prasad and his mother lived with a relative but when that became difficult, he had no choice but to leave her at the old age home.
It took time for Rukmani Amma, as she is now called, to overcome the trauma of abandonment. But with care and affection she settled down and struck up friendships with four other women in the home.
"I like the food and general environment. All the women here are my friends," Rukmani Amma, who is a little hard of hearing, now says. Once a month she goes with Ram Prasad to collect her pension. She treats Mohammad Junaid, programme coordinator, and Kedar Shah, caretaker of the home, as her sons. "They have found a mother in me," she says with a smile.
Mann Ka Tilak, a private charitable old age home, was set up by Wishes & Blessings, an NGO, on April 25, 2018. "The home is for destitute women who need love, respect and dignity in the last stages of their lives," says Dr Geetanjali Chopra, founder-president. "Wishes & Blessings gets its name from our objective, which is to get the privileged to help others fulfil their wishes and receive blessings in return."
The NGO links donors with beneficiaries. "We started by working with visually impaired children and soon our family grew to include orphanages, old age homes and shelters for the homeless. At present, we work across age, gender, economic and social barriers and address nine pressing issues including education, food, health and happiness," says Chopra.
But managing an old age home is not easy. "The women have to deal with shock and heartbreak. To have their own children leave them in an old age home is the most heart-wrenching thing that could happen to them," says Chopra.
Mann Ka Tilak tries to make its residents comfortable. Mornings begin with bhajans. The meals are nutritious. There are timings for rest and medical facilities are provided. Each resident is first given a 'trunk of love' which has inside it a towel, a set of clothes, toiletries and other basics. The women play ludo, watch TV or play with Shah's two children. They are great storytellers and share personal anecdotes of their families and lives.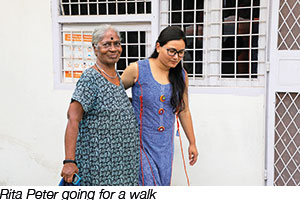 Rita Peter is happy to talk about her past life, even if she embellishes her story along the way. Her late husband, she says, used to work as a driver for an embassy in Delhi until he died of a heart ailment in 2005. She used to work as a nanny for families in countries like Jordan and Saudi Arabia.
Peter came to the home because, she says, she wanted to live independently. Her family of four sons and one daughter had no time for her. She doesn't want to go home now. "My family does call me but I left home to come here. My heart is not there," she says. Peter complains about her poor hearing and the fact that her family doesn't take her to church on Sundays. They only visit her after they have been to church, she says.
The need for old age homes like Mann Ka Tilak is acute, says Chopra. According to conservative estimates, only 750 old age homes exist in India whereas there is a need for 15,000 homes. More than 50 percent of elders testify to abuse, be it physical or emotional like lack of food, love or sheer neglect, says Chopra. Women, especially, need old age homes because they find it very difficult to fend for themselves. But old men require shelter too and the NGO's next project is an old age home for men, followed gradually by a string of old age homes across the country.
A PhD in international politics from Jawaharlal Nehru University, Chopra looked all set for a career in academics. She had written a book on international peace-keeping and developed expertise in non-traditional security issues, human rights and humanitarian law. For five years she was a fellow at the Centre for Policy Research, a respected think-tank.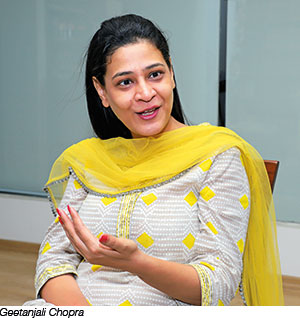 In fact, Chopra was caught up in a whirlwind of international conferences and invitations to speak at universities. But something was amiss, she felt. "There was no happiness or satisfaction in all that I did. I guess my heart lay elsewhere," she says.
It was her encounter with visually disabled children that put her on the path to social work. As a 10-year-old she used to go with her grandfather to a school for the visually disabled at Sadiq Nagar to celebrate her birthday.
During one such visit, a tiny girl asked her, "Didi, when is my birthday?" That simple question sparked her quest to make life happier for the children.
A Holi party she organised for visually impaired children some years ago encouraged her further to follow her heart. "These children had never seen colour before but there was unadulterated joy all around. I had never felt better in my life and told myself that this is what I wanted to do," reminisces Chopra.
Four years later, Wishes & Blessings has projects in orphanages, shelters for the homeless and old age homes as well. A new programme the NGO has started is called Bespoke. It customises short-term projects for vulnerable people. Donors can request projects that they want to fund.