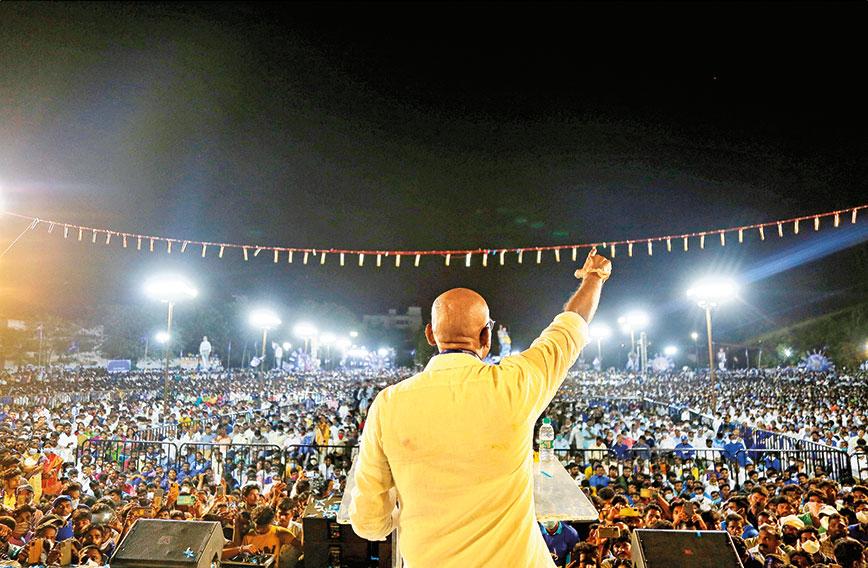 Praveen Kumar: 'We are getting a huge response'
'The oppressed classes don't know their power'
Civil Society News, Gurugram
Published: Nov. 06, 2021
Updated: Mar. 04, 2022
FEW people are blessed with R.S. Praveen Kumar's enormous energy. A tall and lean man with his head shaved, even at the age of 54 he cuts a striking figure with a pace of his own.
He is a decorated police officer who made a name for himself as a police officer when posted in Maoist controlled areas of Andhra/Telangana.
But it was as secretary of the Social Welfare Schools of Telangana, a large network of government-run schools, that he achieved the status of a hero. He transformed the schools, where some of the most deprived communities sent their children, into bustling hubs of modern education.
Recently, Praveen Kumar left all this behind to join the Bahujan Samaj Party (BSP), which has little or no presence in Telangana. Mayawati has made him the party's coordinator for the state.
Praveen Kumar comes from a scheduled caste and has known poverty. But having been in the IPS and then acquired a master's at Harvard and worked in government, what was it really that drew him to the party and politics? To find out, we spoke to him at some length in Hyderabad.
You have been a decorated police officer, you have been admired for the work you have done as an administrator in the Social Welfare Schools of Telangana. Why have you taken the decision to enter politics?
Great question. Both when I was in the police and when I was with the schools I always felt that I wasn't able to do much for people on a larger and wider scale. Maybe it is my nature that I am intolerant with the pace with which I am achieving things. But, as a police officer, there would always be a dilemma within me about whether I am protecting the rich from the poor or the poor from the rich. Out on the streets I would be clearing the way for politicians and leaders, but back in the police station these would be people accused of crimes. I would be clearing the streets for people accused of offences.
It was because of this that I chose to work in tribal welfare, in the schools run by the government. In the role of secretary of these schools, I had a lot of freedom. But in recent times I noticed the state government was more interested in throwing money at people to buy their support than in institution building, empowerment and transformation of the lives of tribal people and the lower castes. For instance, for the Huzurabad by-election which is due on October 30, formally the government has spent Rs. 1,000 crore just to get votes and win a seat.
My question is, where is that money coming from? Just for one assembly constituency, you design so many schemes. On the other hand, children are without education and in higher education there is a shortage of regular teachers. In Telangana, we have seven universities in which there are 3,000 professor posts of which only 800 are filled. For the past seven years 2,200 posts have been vacant. Our chief minister has never stepped into any of the institutions — neither the schools, nor the universities.There was no review of education at all.
With Rs. 1,000 crore I can build medical colleges, I can build engineering colleges, I can build nursing colleges. I can create as many opportunities as possible for the people to go to different countries, to go to different states, and to experience different things in life. But that is not what our chief minister wants and he says it is not what people want. According to him, they want to see the money in their accounts. Direct cash transfers to their accounts in huge numbers, not just Rs. 2,000 or Rs. 3,000. So he wanted to do this as a pilot project in direct cash transfer in Huzurabad because there is a by-election.
What I could do in the past nine years as a secretary of social welfare and tribal welfare is only one percent. There is 99 percent that remains to be done in this country, in this state. So that's why I thought I should put in my papers.
So it's actually to do your bit for raising the standards of politics, and simultaneously to be able to do more than you would be able to do in a single role?
Yeah, that's true.
Why the BSP?
The TRS (Telangana Rashtra Samithi) was out of the question for me, having seen it from very close. They have no interest in human development. The BJP is divisive and wants to create communal tensions. They will take India back into the dark ages.
What did you see in the BSP?
The very idea of the BSP came from a person like Manyavar Kanshi Ramji. And he got inspired by B.R. Ambedkar. Ambedkar in turn got inspired by Mahatma Jyotirao Phule and Savitribai Phule. These are people who gave their lives to bring equality in this country. These are the people who fought for social justice.
The Congress has promoted so much dissension, so many caste associations and those associations have become stooges. They are tools in the hands of the ruling classes and the people they're supposed to emancipate.
The BSP has a very solid ideological base, the ideology which says equal opportunity based on your population and your presence in society.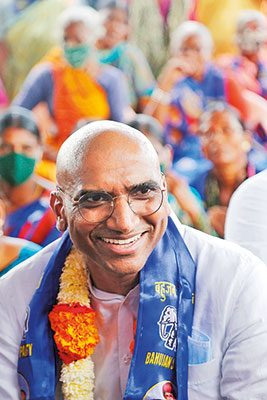 R.S. Praveen Kumar
Similarly, the BSP is a party which wants to protect the Constitution in letter and spirit. It is one party, to the best of my knowledge, which does not promote crony capitalism. It does not pay money for votes. In South India, every voter is given about 5,000 or 10,000. But BSP goes to people, collects money from them to run the party. It is crowdfunding.
Is there no corruption in the BSP at all?
My strong belief is, they are for the poor. All the allegations that are levelled against the BSP are absolutely baseless. You know, the Supreme Court itself has said that the corruption allegations against Behenji Kumari Mayawatiji are absolutely baseless and that she's innocent. The record of the BSP has been that it is tough on those responsible for corruption. Workers make up the BSP and they come with the clear agenda of liberating the poor.
There is a lot of personal glorification which happens around Mayawati, you know. In UP you have these mutiple statues, etc. Now these are things that have happened on public record. How do you react to this?
I think this is beyond my domain, but my feeling is this is blown out of proportion. I have myself visited the Samajik Parivartan Sthal in UP and Noida and what she had done is to create a history which was earlier conveniently pushed under the carpet. I didn't know about Periyar Ramaswamy till I became a graduate, till I started preparing for the civil services.
I didn't know about Narayana Guru. I didn't know about Savitribai Phule. What kind of country, what kind of education system do we have, where the people who actually contributed were made to fade into the wilderness?
So what Mayawatiji had done is to bring back that history which was made to fade away. Bring it back and give it shape. There is nothing wrong in what she had done. I disagree with the point that it is a kind of glorification. No, she in fact has brought the reality to the surface. The real history of India.
I was made to read about Gangadhar Tilak, Tatya Tope, or Madan Mohan Malviya and so on and so forth, and Veer Savarkar. But I was never told about Mahatma Jyotirao Phule. I was never told about Jhalkari Bai. I was not taught about Kabir Das.
How will you build the party in your state?
We don't have an MLA or MLC and our voting percentage is only two percent. So, people ask me what is the point. My answer is, the need for power is innate in the oppressed classes. Unfortunately, they have not been told about their potential in electoral politics. The oppressed don't always have to be at the mercy of the ruling classes.
In the BSP in Telangana what we are trying to do is popularize the symbol and the ideology and go into each and every village and make the elephant, our symbol, a part of their lives.
We are getting a huge response. Like, for example, I resigned on July 19. And then I joined BSP on August 8. On the day I joined, thousands of people came to the public meeting at which I was taken into the party. So my foundations are based on a great dream, which is still unfulfilled for millions in this country.
So what is the main agenda? What are the issues that you will give importance to in your state?
First is the best possible education and preferably in the English medium. There should be residential education in huge numbers. The syllabi should be chosen from the best in this country and the world. There should be an emphasis on the education of women.
Second is health. When I was down with COVID-19, despite having had two doses of the vaccine, I went to the Gandhi Hospital. Our government healthcare facilities are in urgent need of improvement. We want healthcare to be free. Not just at the tertiary level in our cities, but at the primary level too. We want to raise life expectancy to 100 years.
Third is self-employment. I know the government, beyond a point, cannot create jobs. But unemployment is a major problem in Telangana. And we want to take up unemployment in a big way.
Fourth is eco-friendly living. We have to stop destroying our basic ecosystems.
Fifth is social justice and preservation of the culture of all people.
Sixth is ensuring that major contracts aren't concentrated in the hands of a few industrialists and business houses. They must be awarded more transparently so that in a democratic manner they are also given to people who comprise the largest number, whom we call the Bahujan.
Finally, we want reservations in the private sector as well. Governments are encouraging the private sector, but where is social justice in private entities? Who is going to look into Adivasi employment? Who is going to look into Scheduled Caste employment? Who is going to ensure the gender balance? Who is going to ensure that the OBCs are taken in huge numbers in the private sector? Nobody. There is no system in place.
Right now a lot of the Dalit vote which you represent goes to the Congress and to the TRS.
We will have not only the Dalit votes — that's why I said the Bahujan votes — we also have a lot of the poor among the Backward Classes coming towards us. We have a lot of tribals coming towards us. Women and religious minorities too. I see all these people as future leaders. And for that matter, we want to represent everybody — including people from the upper castes.